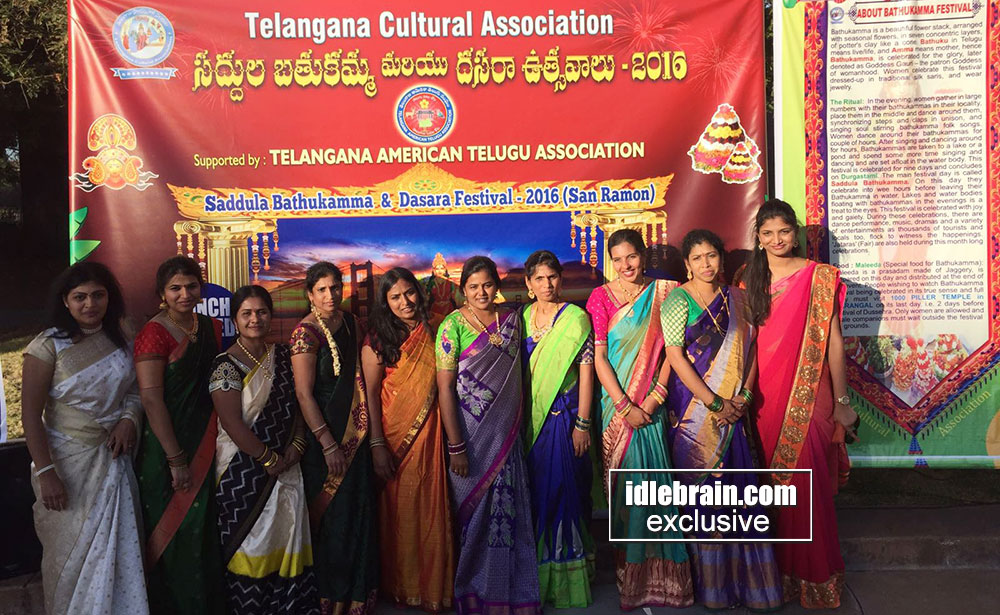 To feature your NRI communty news in idlebrain.com, please mail us at [email protected]
12 October 2016
Hyderabad
The week long bathukamma celebrations concluded by Telangana Cultural Association (TCA) Saddula Bathukamma festivities and celebrations in San Ramon, California, with Support from Telangana American Telugu Association (TATA) were extraordinary with outstanding Bathukammas, great Bathukamma songs and dances, kolatam dances, delicious lunch on Oct 9th 2016... at Central Park, San Ramon, CA
All attendees had a great time and a memorable Bathukamma celebrations .
The week long celbrations started in Fremont by Telangana Jagruthi President Smt.Kavitha Kalavakuntla who specially arrived from India.
TCA Executive team Madhavi Annam, Dhananjaya Boda, Vinoy Mereddy, Bhaskar Maddi, Krishna Gandra, Chandrakala Siramdas, Abhilash Ragineni, Uday Jonnala, Vijay Chavva, Biksham Palabindela, Buchanna Gaajula and TATA executive team member AppiReddy AnnapuReddy and Jhansi Reddy made sure these Bathukamma celebrations and this event was very memorable with excellent entertainment for all attendees... And many volunteers like Mahipal Annam, Srinivas Gujju, Praveen Tokala, Sagar Kotha, Venu Surakanti, Srinivas Marrapu, Sridhar Gurram, Harish Bhokre, Sadanandam Kanikaram, Sabitha Reddy Boda, Manjula Gujju, Raju Yasala, Vishnu Mettapally, Satish Rayapudi and Naveen helped immensely to make this event enjoyable for everyone
TCA with support from TATA, thanks all the attendees who participated with their bathukammas and enjoyed this event with their family and friends and won some wonderful prizes for their bathukammas and will cherish great memories until next year Bathukamma again!!!