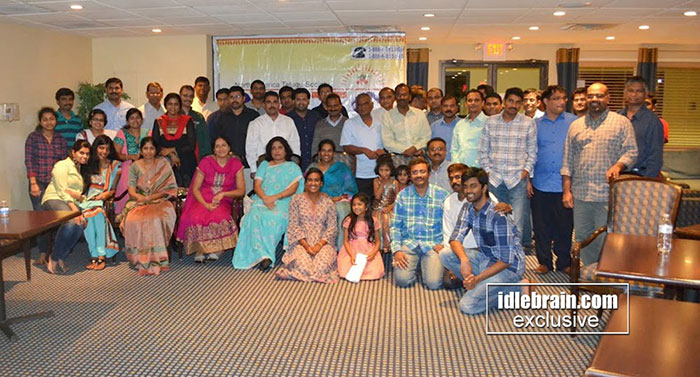 To feature your NRI communty news in idlebrain.com, please mail us at [email protected]
01 November 2014
Hyderabad
In true spirit of service, to help support cyclone relief efforts in state of Andhra Pradesh, NATS Philadelphia chapter organized a fundraiser in King Of Prussia, PA on the evening of Saturday, 18th October 2014. Around 100 NATS supporters joined hands and hearts in an endeavor to support rebuilding the cities, towns and villages that are devastated by monstrous cyclone, HudHud and made the fundraiser a grand success.
This event was planned and organized by NATS Board of director and Secretary of NATS Board, Sreedhar Appasani and local community leader Radha Krishna Alla supported by Babu Bayyana, Mallik Vagvala(Quadgen Wireless), Shakti Foundation, TAGDV leadership Madhava Reddy Morsala, NATS PA chapter and many others.
Radha Krishna Alla welcomed the gathering and thanked all attendees for such a good turn out with in very short notice of 48 hours to support a great cause. He provided few examples where Telugu people are always in the front line to serve community and requested all attendees to come forward and donate generously yet one more time.
Pavan Vallabhaneni, a software engineer who is a native of Vizag shared his family's personal experiences and grief caused by massive cyclone that hit northern AP a week before. He also explained on the ground reality of AP government efforts and accomplishments in post cyclone rebuilding and restoring normalcy. Krishna Konagalla, another engineer who hails from Yalamanchili of Visakhapatnam district shared his struggle to get in touch with his family for few days.
Sreedhar Appasani, NATS BOD, explained various charitable activities NATS has conducted in Philly region over past few years and promised NATS team will always come forward where ever Telugu people need help. He took this opportunity to announce NATS PA chapter consisting of Anu Donthineni, Radha Krishna Alla, Hari Bungatavula, Vijay Veeramachaneni, Deepthi Koppula, Leela Krishna Davuluri, Raja Panchumarthi, Raju Chukkana, Chaitanya Peddu, Pavan Vallabhaneni, Ravi Nakirikanti, Hari Kolluri and Phani Kadiyala. Newly formed PA chapter pledged to carry forward the NATS motto 'Serve the community' and organize many more charitable events in the region.
Shyam Addanki gave a very inspirational speech linking serving the humanity to existence of god (manava seve madhava seva). Sankar and Sailaja Musunuri of Shakti foundation addressed the gathering and asked Telugu community to involve more in charitable activities in mainstream USA.
Local Telugu association (TAGDV) president Mallik Budhavarapu also addressed gathering. He is accompanied by Vice president Hari B, Treasurer Kiran Kothapalli and member at large Ram Mohan Talluri.
All participants donated generously and approx. $15,000 was collected on the spot with $1000 more pledges. NATS thanks all donors for their generosity and assures funds will be disbursed in such a way that they will benefit end users directly. NATS is the first Telugu association in USA that responded to hudhud and reached out to community. NATS already announced initial contribution and similar fundraisers are being held by NATS local chapters across USA. NATS goal is to raise Rs. 1 crore for this cause.