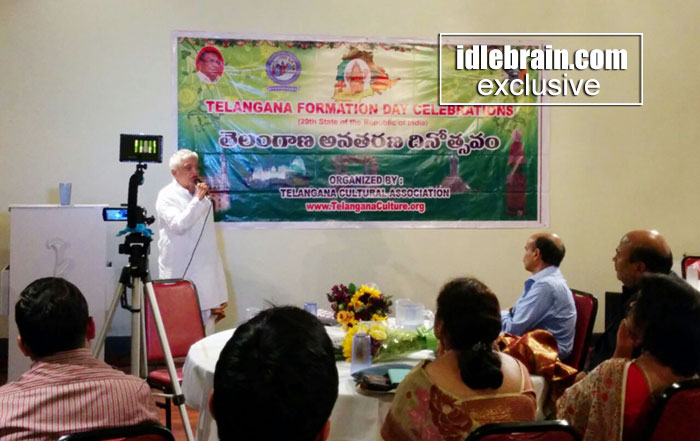 To feature your NRI communty news in idlebrain.com, please mail us at [email protected]
04 June 2015
Hyderabad
Telangana Cultural Association (TCA), an eleven year old American cultural organization, celebrated Telangana Formation Day on 2nd June at Ulavacharu restaurant in Sunnyvale. US Telanganites in Silicon Valley, San Francisco Bay Area gathered in the evening at Ulavacharu restaurant to remember the day and its importance in the history of Telangana. The formation day celebrations were held across Silicon Valley with pomp and gaiety, on the call given by TCA with the support of other national organization TATA (Telangana American Telugu Association).

The event started with noted educationist, former MLC from Telangana, Sri Chukka Ramaiah garu, popularly known as IIT Ramaiah, lighting a lamp in memory of Prof Jai Shankar who is considered as Father of the Telangana movement. Om Nalamasu, CTO of Applied materials was the other noted guest of honor gracing the event.

Moderator of the event, Vinoy Mereddy presented the history of Telangana movement and recognized the many individuals, their struggle and contribution for Telangana cause over decades. Well known Silicon Valley singer and Cultural Ambassador for the State of California, Srinivasa Manapragada, enthralled the crowds at the event by his rendition of the "Jaya Jaya Hey Telangana" song. Uday Jonnala, Executive member of TCA explained the Telangana govt. initiative "Mission Kakatiya" and its importance, and also announced TCA support for the program. Over 10 thousand dollars were raised by TCA in support of Mission Kakatiya program in an instant response from the attendees.

Addressing the gathering Sri Ramaiah Garu requested NRIs to rebuild the Telangana state by contributing in various fields. He requested visiting NRIs to visit schools and educational institutions and explain the need for a clean and effective environment, as it was the need of moment. He requested people to make this as mandatory item in their visit list and to do things. He said NRIs are biggest asset for India at this moment and also a big hope for the future, and asked them to arise to the situation. Also suggested NRI's to inspire individual village students about the importance of education and its importance in building a prosperous future.

TCA team members Ramesh Thangellapalli, Abhilash Rangineni, Mrs Sumana Rao, Santosh Kaparthi, and Srinivas Perumandla ensured all arrangements were in place to make the event a grand success.
Other local community leaders helped in orchestration of the program were: Vijay Chawa Founder Chairman of TCA, Bhaskar Maddi Chairman, Biksham Palabindela past president and one of the founding pillars of TCA, Chandra Kala Siramdas President of TCA, Parasad Gattu advisor and from Core TCA team, Jagan Bearelly from Vision Telangana Association