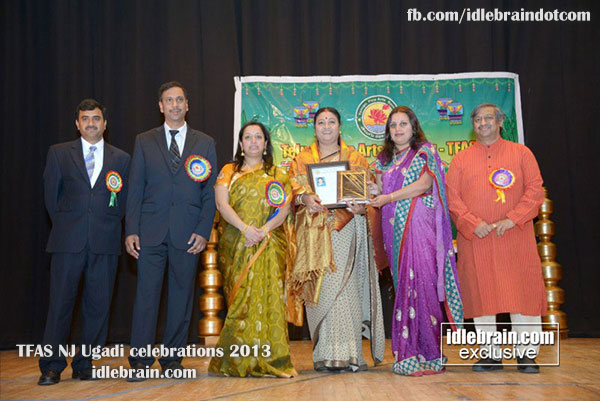 To feature your NRI communty news in idlebrain.com, please mail us at [email protected]
14 May 2013
Hyderabad
On April 21st 2013, Telugu Fine Arts Society, a.k.a. Telugu Kalaa Samithi(తెలుగు కళా సమితి), a New Jersey based Telugu Association celebrated its Telugu New Year, Viajaya Naama Ugadi Utsavaalu(విజయ నామ ఉగాది ఉత్సవాలు) at J.P. Stevens High school in Edison.
In a fun-filled atmosphere, with over 600 people in attendance, the event started at noon with a delicious and sumptuous lunch (విందు భోజనం) followed by a variety entertainment from both Local and Tollywood artists. Program chief guests, Assemblyman Upendra Chivukula and Edison Mayor, Antonia Ricigliano graced the occasion with a lighting of the lamp. Mayor, Antonio, officially inaugurated a 'Women's Forum' under TFAS umbrella with a focus to address women's issues and help each other in need.
President Manju Bhargava welcomed and thanked all the members of Telugu community for their support to TFAS over the years. TFAS revived its tradition and conducted its annual meeting. Secretary, Srinivas Gandi presented the annual report with the announcement of by-laws changes and Treasurer Suresh Makam presented its annual financial report.
A parallel literary session coordinated by Radha Kasinadhuni and Bharathi Bhavaraju garu on 'Telugu Janapada Sahiityam'(తెలుగు జానపద సాహిత్యం) as the main focus was held with presiding speaker Sri Rallaplali Sundaram Garu. Many literacy enthusiasts participated in the discussion. Later, TFAS executive committee honored Sri Sunadaram garu.
Local Dance and Music schools children performed various classical and semi-classical dances and songs. Children have participated very enthusiastically and impressed the audience.
Music director, singer Raghu Kunche, and a popular singer, Sumangali sang various movie songs and entertained the audience. Local youngsters danced to the melodies. Famous movie actor and comedian, Srilakshmi Garu, who acted in many hit movies over her 33 year career, enthralled the audience with her comedy skits. TV actor, Indraneel joined Srilakshmi garu in skits and danced to several songs including Subhasankalpam's Jalari song. TFAS honored SriLakshmi garu with a plaque and awarded birudu, Hasya Lakshmi.
Program witnessed a flawless execution of cultural programs led by our Cultural chair Bindu Madiraju, supported by our membership chair Anantha Sudhaker, Kanaka Tatikola and IT chair Satya Nemana. During the event, our community chair, Ramesh Chandra conducted a raffle to give away a Mac Book and an iPad mini.
Secretary, Srinivas Gandi thanked all the volunteers, Local School Teachers, Artists, Chief Guests, Vendors, Sponsors, Media Partners and many supporters in his final vote of thanks. The program ended at around 7:30PM with Indian national Anthem!