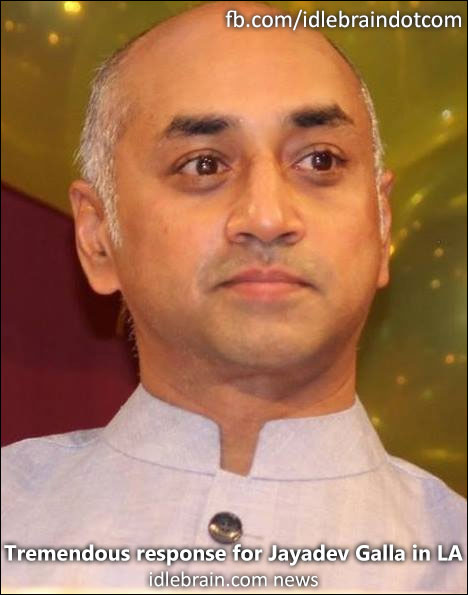 To feature your NRI communty news in idlebrain.com, please mail us at [email protected]
10 Septemmber 2014
Hyderabad
Los Angeles, California witnessed a tremendous star studded event on September 7th, 2014. The spectacular show was not due to any of the acclaimed Hollywood stars but due to a reception event for India's emerging star politician, a globally renowned industrialist, a leader with a penchant for social service and noble charitable causes and he is none other than our young and dynamic MP from Guntur, Jayadev Galla. With a packed audience of over 400 telugus, the Meet & Greet with Jayadev Galla was organized by NRI TDP Los Angles at the Toyota Meeting Hall in Torrance.
Jayadev Galla is no stranger to the Indian diaspora and is rightfully considered as the beacon of hope for a rising India by all it's hopeful citizens. Speaking at a reception held in their honor, Jayadev's mother, Smt. Galla Aruna kumari garu gave a clear and detailed insight into the current political developments in Andhra Pradesh and Telangana. She explained the rationale behind her recent entry into the Telugu Desam Party and proclaimed her renewed confidence in creating a firm action plan for progress under the leadership of the Chief Minister of Andhra Pradesh, Sri Chandrababu Naidu.
Talking about her son Galla Jayadev's childhood in USA, she recalled that he used to read about president Lincoln when he was in 3rd grade and in those tender years had dreamed to become a president. The spirit of community service and the conviction to realize his dreams through sincere work were evident in the mind of the young boy. Staying in a foreign country with a tag of a "minority" reinforced his core beliefs about equality for all and opportunities for the under privileged. He relentlessly pursued his dreams to be a catalyst of change and harbinger of hope and entered into political service in Andhra Pradesh to employ his skills in a way to benefit the maximum number of people.
Galla Jayadev talked about his childhood and related how he started career as a business man and then joined politics. Stressing that ill winds sway only to help character and fortitude stay, Jayadev recounted the hardships and challenges he had faced in his childhood, which had groomed him into a capable business man and administrator and kept him focused on the goal of creating self-reliant opportunities for people to rise out of poverty. He expressed his sincere gratitude to all the Telugu people across the world for their belief in him and his values which he imbibed from his parents and vowed to continue his hard work till his dreams are achieved. To this end, he requested all positive thinking like-minded people of Telugu origin to consider doing their bit to partner in progress. He opined that buying lands in India is not enough to spark the growth of opportunities. Unleashing the collective entrepreneurial wisdom of the Telugu community across the world and investing in small industries in our homeland would be the fitting factor for harnessing our local potential and realizing our goal of making Andhra Pradesh a land of golden opportunity for generations to come.
Jayadev Galla later participated in a question & answer session and discussed on several different topics with the audience. He promised to be the bridge between NRIs and Andhra Pradesh government and promised to address their concerns and protect their interests. His message was loud and clear. He wanted all the NRIs to participate in building Navyandhrapradesh. He said he firmly believed in the leadership of Sri Chandrababu Naidu and reiterated that the visionary Chief Minister is the only one who can bring back the glory this state deserved. The standing ovation that Jayadev Galla received at the end of his speech was extraordinary and he was very moved. The audience were very impressed by his straight forward answers and his depth of knowledge.
Padma Galla briefly spoke about her experience during the campaign and thanked the audience for their confidence on TDP in general and on Jayadev Galla in particular. Madhu Bodapati who is the coordinator of NRI TDP in Los Angeles in his opening speech described various activities taken up by his team and expressed his intention to carry out more activities in this area. He vowed to raise awareness within the Los Angeles community to make them part of the development of Andhra Pradesh.
This event was well coordinated by Chandu Nangineni and Srikanth Kocharlakota. Other prominent telugus in Los Angeles area Ravi Alapati, Ramakrishna Nadella, Prasad Papudesi, Kishore Garikapati, Krishna Kishore Mallina spoke at this event. Vamsimohan Garikapati and Suresh Ambati proposed a vote of thanks. The four hour event concluded with delicious dinner from Irvine's most popular Vishnu Catering with some of their signature dishes.
A lot of effort and coordination was put into this event and it wouldn't have been possible without the efforts of the team behind this that included Naresh Dodda, Guru Konka, Aneel Gutla, Ramesh Yerraguntla, Ravi Tiruvaipati, Om Prakash Reddy, Sameer Nandan, Swamy Devineni (San Diego), Sreekanth Kocherlakota, Sudheer Kota, Srihari Atluri, Srinivas Kommineni(San Jose), Tilak Kadiyala, Veerababu Ambati, Benerjee Sunkavalli, Sridhar Addanki, Srinivasa Sure, Sunil Pathakamuri, Gautam Katari, Chinna Ponuganti, Pandu Chimata, Ravi Yalamanchili, Murthy Darbhala, Srinivas Yarlagadda, Ram Yalamanchili, Hari Katragadda, Sreedhar Bandlamudi and several others.