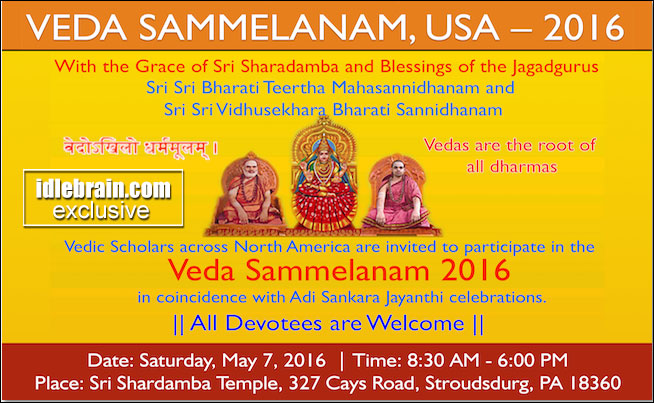 To feature your NRI communty news in idlebrain.com, please mail us at [email protected]
16 April 2016
Hyderabad
With the Grace of Sri Sharadamba and Blessings of the Jagadgurus Sri Bharati Teertha Mahaswamigal and Sri Vidhusekhara Bharati Swamigal, Sringeri Vidya Bharati Foundation Inc, USA (SVBF) Stroudsburg, PA is organizing a Veda Sammelanam to coincide with Adi Sankara Jayanti celebrations on Saturday, May 07, 2016.
Vedas are the sacred scriptures of Hinduism and embody the most ancient ritual and spiritual traditions of the world. They are exhaustive scriptures that have not been modified or edited since they were revealed and chanted thousands of years ago.
The Vedas have guided our religious and spiritual direction for ages and will continue to do so for generations to come. And they will forever remain the most comprehensive and universal of all ancient scriptures.
Their sanctity and purity have been ensured by many a lineage of teacher traditions (Guru Parampara). There are a number of Vedic scholars residing in North America who learned Vedic Scriptures through this lineage and fostering Sanatana Dharma to millions here in the West.
Vedic Scholars and Pundits from across the continent are being invited to participate in the Veda Sammelanam coinciding with Adi Sankara Jayant celebrations at SVBF Stroudsburg, PA. Honoring these Vedic Scholars during the Jayant celebrations is a way of respect and gratitude to the entire lineage of Gurus/Acharyas.
The program includes a ceremonious procession of the Vedic Scriptures, recitation of all four Vedas and other scriptures by the assembled Scholars and honoring of the scholars.
This event is being organized in line with SVBF's mission to foster Vaidika Dharma, encourage Vedic priesthood, and to protect the existing branches of the Vedas.
SVBF cordially invites everyone to join and witness this unique event and to seek the collective blessings of over 150 Vedic Scholars from all across North America.
Please mark the date and attend the event with your family and friends. Please visit www.svbf.org for more information about the event.