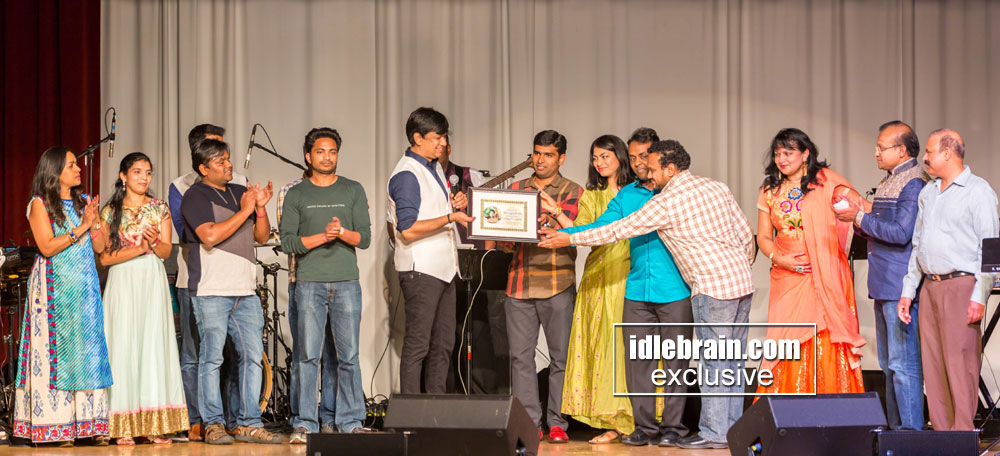 To feature your NRI communty news in idlebrain.com, please mail us at [email protected]
3 May 2018
USA

Bay Area Telugu Association (BATA) in association with CPA Sanjay from Sanjay Tax Pro, organized sensational singer Vijay Prakash live music concert on April 28th, 2018, at India Community Center, Milpitas, California. It was well attended by over 1000 guests. Vijay Prakash and team presented a mesmerizing live concert and enthralled the crowd with super/duper hit songs for over 3 hours.
The event's Grand Sponsor was Sunnyvale Peacock & other sponsor was Apex Consulting Services. Virijallu Radio was the Media Partner.
Vijay Prakash is very popular in Telugu, Kannada & Tamil movies, presented some of the most melodious and foot tapping songs. He was able supported by Anuradha Bhat (she sang over 1000+ songs).
Vijaya Aasuri (BATA Advisor) invited the artists on to the stage and mentioned BATA has always bought quality programs to Bay Area music lovers starting from Legendary Ghantasala garu, P. Suseela, Maestro IlaiyaRaja, S.P BalaSubrahmanyam, K.S Chitra, Keeravani, Devi Sri Prasad and others. The crowd welcomed Vijay Prakash and team with warm applause.
Some of the songs presented in the concert were Om Namasivvaya, E Hrudayam, Lalitha Priya Kamalam, NinnuKori, Kannanuley, RaasaLeela, Guruvaram, Hello Ramante, Dil Kya Kare (Tribute to Kishore Da) etc.
Vijay Prakash and team also presented medley of both old & new super hit songs – Oho Gulabi Bala, Prema Entha madhuram, Siri MallePoova, O Papa Laali, Keeravani, and O Priya Priya.

Next to follow were few classic keertanas and Vijay presented his most popular song "om Shivoham", the crowd was in trance and gave him a standing ovation with thunderous applause.
After the break the team presented some fast beat numbers such as Come to the Party, O Pilla Shubanalla, Aaradugula Bulletu, Andam Hindolam, Pakka Localu & Ammadu Let's do Kummudu, Ringa Ringa etc. He ended the program with his popular hit song "Jai ho"

BATA team thanked Vijay Prakash and Anuradha for presenting an mesmerizing program, they presented plaques to them. Orchestra was top class and amazingly talented. The team include Arun Kumar, Venugopal, Venky, Harsha Vardhan & Bruthuva Caleb. BATA Karaoke team members Krishna Kanth, Vijay, MeghaDeep, Madhav, Manasa, Esha, Navya, Sanjana & Saranya joined the chorus.
BATA team invited the sponsors Sanjay (Sanjay Tax) and Kamal (Peacock restaurant) and presented memento's. Speaking on the occasion Sanjay said, the program is great and congratulated BATA for presenting a wonderful program.
BATA president Yashwanth Kudaravalli thanked Vijay Prakash and audience for making this yet another grand event. He applauded all the volunteers for all their efforts. He introduced BATA executive committee consisting of Harinath Chikoti (Vice President), Sumanth Pusuluri (Secretary), Kondal Rao (Treasurer) & Arun Reddy (Joint Secretary)
"Steering Committee" includes Kalyan Kattamuri, Ravi Thiruveedula, Kamesh Malla & Sirisha Battula. "Cultural Directors" includes Sridevi Pasupuleti, Srilu Veligeti and Taraka Deepti. "Nominated Committee" Prasanth Chinta, Varun Mukka, Aparna & Hari Sannidi.
BATA "Advisory Board" Jayaram Komati, Vijaya Aasuri, Veeru Vuppala, Prasad Mangina, Karun Veligeti and Ramesh Konda congratulated the team for making the program a grand success.
Tour national promoters Bindu Madhav (Pampa Studio) & Raghu Halur (Kasturi Media) thanked BATA for a wonderful program.