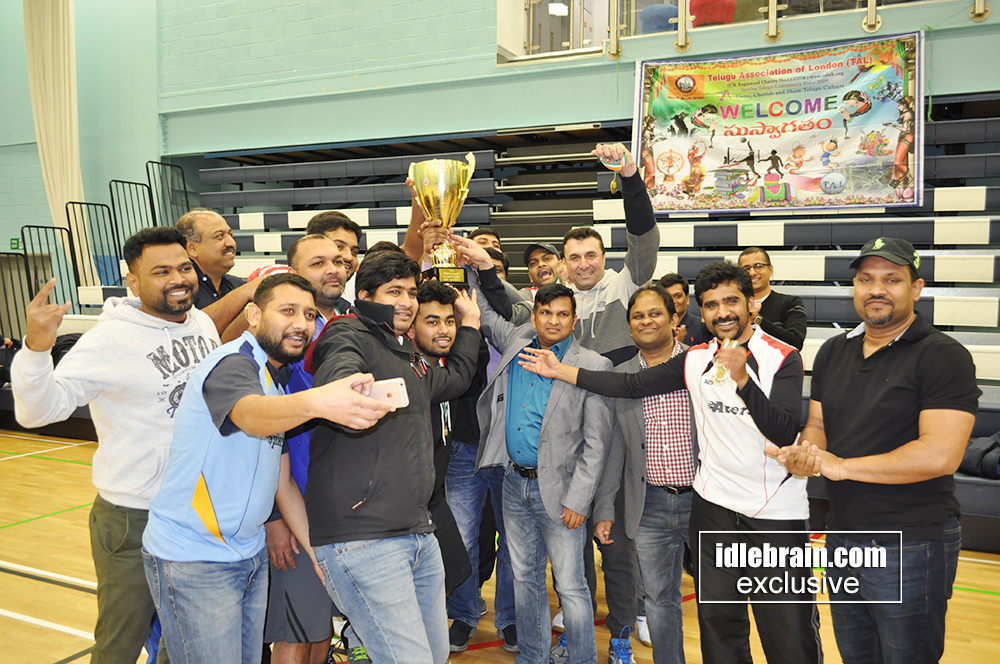 To feature your NRI communty news in idlebrain.com, please mail us at [email protected]
14 February 2017
London

Telugu Association of London (TAL) has conducted the 5th Annual Volleyball Tournament in University of East London, Sports Dock in London on 12th February 2017. TAL has opened its sporting year 2017 with Volleyball Tournament with many more events like badminton and the prestigious TAL Premier League to follow, for Telugu people in and around London.
TAL Chairman, Satyendra Pagadala, trustees Srinivasa Rao Kornepati(Vasu), Sridhar Somisetty, Ex-Chairman Sridhar Vanam, Ex-Vice Chairman Balaji Callur congratulated the tournament winning team Acers who excelled in their game. Reading Smashers team have claimed the runners up position while Eagles stood as the 2nd runners-up team in the tournament in which more than 45 games have been played in this Championship. The tournament has had participation from more than 150 Telugu players in 12 teams.

TAL Sports Trustee Srinivas Rao Kornepati (Vasu) has praised all the players for their sportsman spirit and commitment towards the sport. He invited all players to continue their support to sport and to the community. He requested everyone that have attended to encourage kids to take up sport and be active.
Vasu specially thanked the event coordinators Sunil Nagandla, Murali Thadiparthi and Ravi Sabba and the volunteering team who played a key role in successfully organising the event.
On this occasion, Chairman Sri Satyendra Pagadala invited all Telugu families living in London and Britain to join the 12th TAL Ugadi Celebrations in April. TAL Trustees Sridhar Somisetty, Vasu along with advisors, life members and several Telugu families have attended the tournament.
About TAL
Telugu association of London (TAL) is a not-for-profit widely known first ever Telugu charity organization in UK (UK registered charity organization No. 1137074). TAL was formed in April 2005 with a clear vision and objective to lay foundations for Telugu speaking community. The 16th-century Venetian explorer Niccolò de' Conti visited the Vijayanagara Empire and described Telugu as "the Italian of the east".
TAL motto: Unite, Cherish and Share Telugu Culture
TAL runs various events throughout the year under the following sub-groups. A few below.
1. TCC (Telugu Culture Centre) organises the following activities
. Telugu language classes for all
Violin, Bharatanatyam (Indian classical dance), Carnatic Vocal (Indian classical vocal), Bollywood Dance for juniors and adults
Children's day with performances by TCC students each November

2. TAL Sports organises the following activities
TAL Cricket 20-20 championships each summer
Badminton, Chess, Volleyball championships each winter

3 TWF (TAL Women Forum)
TAL Cricket 20-20 championships each summer
TAL has restored the Grave of the British Born Telugu writer/poet Sir. Charles Philip Brown (CP Brown) in London and also we started TAL Cultural Centres to teach Telugu Language and fine arts to preserve our language and culture and pass it onto the next generations. We had the greatest honour of felicitating Great Grandson of Sir. Arthur Cotton who built many dams across rivers in India.
In addition to this, TAL charity recognizes the achievements of various artists, performers and exponents and brings their works to the notice of thousands of new audiences through our most popular annual celebration on every Telugu New year day "Ugadi" in London. TAL conducts talent hunts and surveys.
Also brings out a colourful cultural souvenir "Maa Telugu" (means Our Language) every year with works from various artists, authors, writers, scientists, professionals, students, business community etc. We also encourage the artists by grandly felicitating and respecting their work by commissioning "Cultural Excellence Award" and "Life Time Achievement Award" every year. I am very pleased to say that 7 eminent people received life time achievement awards in due recognition to their dedication for the very development of the humanity and society in Britain and a total of 14 including local and international artists received Cultural excellence and appreciation awards.
Throughout the year in addition to other charitable, social, women's, sporting and youth activities TAL also provide opportunities for cultural sharing and skills development through our international arts performance and exchange program on various international stages in and around London. We support cultural practitioners, for example in the areas of music and dance, literature to have their work appreciated by others and their concerns staged and propagated at a local and global level. We are making every attempt to understand and develop projects to foster greater respect and understanding between different identities in London, particularly in the areas of education, music, dance, linguistics, sports etc. As part of our curriculum we celebrate Children's day every year on eve of the birth anniversary of India's First Prime Minister Shri. Jawaharlal Nehru.