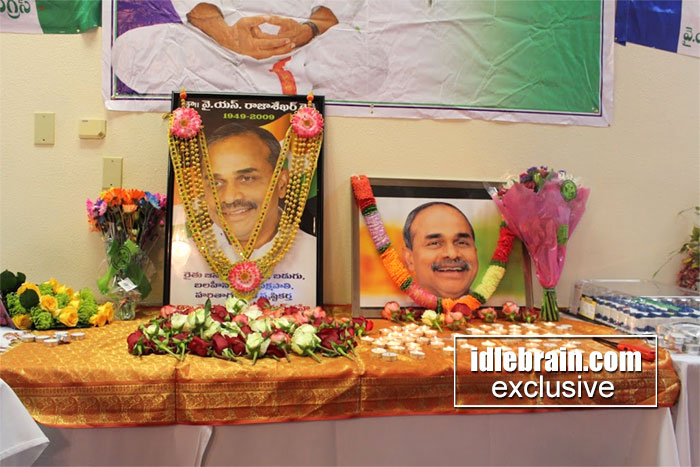 To feature your NRI communty news in idlebrain.com, please mail us at [email protected]
14 July 2015
Hyderabad
While the two states are moving towards progress and transformation, there are many who believe Dr. YSR the indispensable leader is all they need at this hour. An eternal leader who brought fame to the state and to the nation by his deeds. Remembering the conducts of Dr. YSR on his birthday was an honor. Dr. YSR Jayanthi celebrations happened in Dallas, TX at Ruchi Palace with over 250 people converging the event on July 11, 2015. The event was conducted by YSRCP Dallas committee in conjunction with YSR Fans Club.
Raman Kristapati and Dr. Darga Nagireddy welcomed the crowd and recalled the fond memories during the golden rule of Dr. YSR. Renowned stage artist Gummadi Gopala Krishna started off the proceedings with a prayer and paid tribute to the great leader with poems. They were received by the crowd in a standing ovation and brought everyone's attention on the greatness of the Dr. YSR life. Later Candle lighting and floral tributes paid to Dr. YSR by the eminent community leaders and guests of honor for the event.
Dr. Darga Nagireddy, NRI YSRCP-USA wing IT chair remembered how Dr. YSR's life is a great example as a leader, a mentor, a friend, a follower and many more, which are rare to find in one person in this century. Later, he introduced the newly formed committee. The members introduced were Rajashekhar Reddy Kessireddy, convener from California, Dr. Vasudeva Reddy, South Region In-charge, from Florida who visited Dallas followed by Dr.Raghava Reddy, Advisory committee, Dr. Ramireddy Buchipudi Social Responsibility chair, Viswanadha Kichili Web chair, and Dallas core committee team Ramana Kristapati, Mahesh Adibhatla, Dr. Pavan Pamadurthi, Jaychandra Reddy, Krishna Reddy Koduru, Madhu Mallu, Ramana Putluru, Thirumala Kumbum, Uma Mahesh, Ravi Arimanda, Krishnamohan Reddy, Uma Mahesh, Srinivasa Obulareddy, Jayasimha Reddy, Uma Mahesh Kurri, Chandra Sekhar Chinthala, Mallikarjun Murari, and Naseem Shaik.
Prominent speakers - Raj Kesireddy, Dr. Vasudeva Reddy, Dr. Raghava Reddy, Dr. Sridhar Reddy Korsapati, Dr. Tarakumar Reddy, Dr. Alla Srinivas Reddy, Dr. Pavan Pamudurthi, Obulareddy Srinivas Reddy, Pratap Bhimreddy, Mahesh Adbhibhatla, Dr.Darga Nagireddy, Ramana Putlur, Ramana Reddy Kristapati, Krishna Reddy Koduru, Srinath Pavalala, Dr. Rami Reddy Buchipudi, Subba Rao, Ajay Reddy and many other fans of Dr. YSR spoke in length and breadth about the achievements late Dr. YSR did for the people and the state. They praised the political journey of Dr. Rajasekhara Reddy is no short of peoples saga and mentioned YSR was one of the tallest leaders who stood by all sections of the society with his welfare schemes and by successfully implementing them during his regime. They reminded unconditional support and love he enjoyed from all Telugu people across the globe while serving the state of Andhra Pradesh.
Speakers went on to say how Andhra Pradesh rose from the bottom to become one of the leading states in the country and how it lost its charm and progress after the beloved leader departed. They recollected the wonderful instances Dr. YSR used to work and opined Dr. YSR will be remembered for the generations to come and said Andhra Pradesh is fortunate to have leaders such as Dr. Rajasekhara Reddy and Y.S. Jagan Mohan Reddy. They recalled how Rajasekhara Reddy became the leader of the masses who worked for the welfare of the people beyond regions, beyond caste and beyond self-interests
Dr. Darga Nagireddy and Ramana Kristapati delivered the vote of thanks to all who attended the birthday celebrations of Dr. YSR, Ruchi Palace for providing the venue and food, TV9, TV5 and the event and sponsors who made the event a grand success.