Andhra Pradesh's rich theatrical traditions - puppet theater, yakshagana, Burrakatha - seem to have impinged firmly on it's cinema as may be seen from its many ornate mythologicals and family melodramas. One of the most prolific producers among southern states, Telugu Cinema has been the slowest to change. Ironically, the main catalyst for the change has been three films in Telugu directed by 'outsiders': Mrinal Sen's Oka Oori Katha(1977) , Shyam Benegal's Anugraham(1977), and Goutham Ghose's Maa Bhoomi(1979). The last, in particular because of its unexpected commercial success, encouraged some film makers to take a fresh look at the reality around them.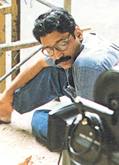 B Narsing Rao's (b 1946) interest in cinema grew after his collaboration with Goutham Ghose on the production of Maa Bhoomi. Prior to this he had been involved in a theater group which he helped found. Its extreme radicalism forced Rao to go to underground during 1975 emergency. When he surfaced, he had decided to abandon politics to cinema. His first film Rangula Kala (A Colorful Dream), is about a painter whose life and work are in contradiction. Its only when he begins to paint his own experience and surroundings that he evolves into a genuine artist. Rao played the lead role himself and the film won a National Award.

The film that won Rao critical respect is Daasi (Bonded Woman 1988). Set in 20's, it chronicles the unenviable life of a housemaid, who was in custom then, came as a part of dowry to a rich Zamindar's house. She goes through the back breaking routine of household chores as well as being expected to entertain zamindar and his male guests. When she gets pregnant, she is forced to abort. Narsing Rao, with the help of his cameraman AK Bir, recreates the graceful lifestyle of the privileged in limpid, sensuous images, as when the wife of the zamindar is bathed and coiffeured by her maids, and contrasts it effectively with his bleak suffocating world of the housemaid, whose world is not her own. This film won five National Awards, including the one for Best Actress, won by Archana who played her role with consummate skill.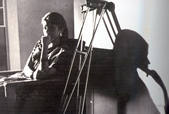 A film maker who seems to have sit upon the right mix of entertainment and purposeful cinema is Singitham Sreenivasa Rao. He was the executive director of Samskara and in 1977, he made one of the earliest 'new' films in Telugu, aptly called Taram Marindi ( The Wind Changes). Photographer by Balu Mahendra, it depicts the brutality of social forces in a village society where a young girl is forced into a marriage with an elderly, alcoholic widower. Mayuri (1985) about a young paraplegic dancer's battle to overcome her handicap, was based on the true life story of the lead player, Sudha Chandran. Rao put his considerable talent to further test with Pushpak Vimanam (Flower Chariot, 1988), a silent film in which Kamal Hasan plays a Walter Mitty-type character who fantasizes about riches. An unemployed wastrel, he lives in a seedy tenement, where incongruous posters of Rambo and Karl Marx adorn the walls. He abducts a drunken millionaire and pretending to be him, takes his place in a posh hotel. From there the film moves at a brisk pace incorporating its plot elements of black humor, outrageous comedy as well as sobering comment on urban greed. The enormously popular film earned it's producor Rs 10 million.
Following a similar approach to cinema but with a different thematic concern is K Vishwanath (b 1930), who worked as a sound recordist before directing films. He shows a special talent for musical subjects evident in Shankarabharanam (The Jewel of Shiva 1979) which popularized the classical mode of music and dance. Similar concern for tradition marks his next film, Sagara Sangamam (The Confluence, 1983), which features Kamal Hasan in the role of dance expert who is obsessed with the aesthetics of classical dance.