September 13, 2006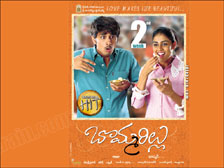 Its official! Bommarillu turned out to be the biggest hit in USA by breaking all the records. 65,000 people are said to have watched this movie in USA so far. Read our special report -
2006 is a landmark year for Telugu Cinema. Not only has the volume of business and successes increased in India, even the overseas territory is growing with each passing movie. While Sri Ramadasu, Godavari and Pokiri have emerged solid hits, and Siddardh latest flick Bommarillu is a mammoth success in overseas. Dil Raju's Bommarillu has shattered all previous records in Overseas and emerged as the biggest grosser ever.
Without doubt, overseas is the hottest territory today! Siddharth has always been the poster boy in overseas with his debut NVNV creating furor. His flop film Chukkallo Chandrudu also turned out to be a profitable venture for both exhibitors and distributors in USA. But Bommarillu is a radically different story all together.
Rama of RK Films, the overseas distributor of Bommarillu, is laughing all the way to the bank along with their exhibitors. Debutant Bhaskar's outing Bommarillu is on a record-breaking spree in the entire overseas.
To cut short the success of Bommarillu. It's a miracle! It's unbelievable! It's incredible!
Idlebrain is proudly presenting trade report of the biggest hit and read what the exhibitors and distributor have to say on their own words.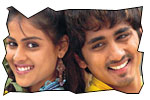 New Jersey is the biggest centre in USA for Telugu movies and Bommarillu just hits the bull's eye in this area. Probably this is the first movie that went on housefuls for 3 weekends in NJ area. People are just pouring in at the theatre like there is no stop. As per the sources of Idlebrain.com, Bommarillu has been watched by more than 8000 patrons in the Clearview Edison Cinema's in the Oak Tree Road in Edison which is popularly known as Moviecity. This movie has potential to run for at least 5 more weeks in this area and expected to cross the magic count of 10000 patrons very soon.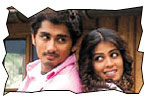 IMC6 Theatres at Sanjose, CA is being the major theatres/centre for Telugu movies in Bay Area. As per Raman Sanchula, exhibitor and theater owner, "Bommarillu is the biggest hit in Bay Area crossing all previous movies count. It is a movie of the decade and got tremendous response from all types of crowd. In first week of its release, it attracted massive crowd numbered 3423, which is highest for any Telugu movie in Bay area. The success saga continues even in second week with a record breaking number of 1216 patrons. An unbelievable miracle happened on 3rd week of its screening as 2296 patrons thronged to the theatre (This could be due to the long weekend). We are currently running this movie for 4th week and the count is already crossed 550 and expecting more. This movie in all probability go for next 3 weeks simultaneous screening in our theatre and set a new record by running first telugu movie to have a 50 days run in Bay area. As of now the count for Bommarillu crossed 7500 and I can not predict the numbers in the next three runs"
Upon asking his comments on this phenomenal run he giggled and told that jeevi rating is the driving force for this kind of crowd and the mouth talk is spreading like a wildfire. First time many people are coming for this movie and feedback from Indian relatives and friends also causing this increased count in the repeat runs.
Virginia is being another major centre in USA and attracted more than 4200 count in 2 weeks of its release and again it sets a new record for the big heroes to chase these numbers.
The scenario is Detroit is no different and as per the exhibitors Srini and Ramesh, this movie has crossed all previous movies records within 3 weeks of its run. The counts for 3 weeks are as follows, 2496, 1317, and 1189, crossing 5000 mark and Srini find it difficult to obtain print for 4th week of screening at Detroit. The movie is such a big hit that the last show screened on week day attracted 131 patrons, which is a phenomenal feat for a Telugu movie.
As per Kodandarami Reddy of Atlanta, "We have seen and screened many movies in Atlanta, but the response and the crowd is simply terrific. In the first week of screening it self it was attracted crowds that were little less than 3 weeks crowd of the previous blockbuster". I am very much satisfied with the crowd in the second week of its run and planning for a 3rd week screening in this week"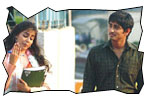 As per Ravi Raju Jampana from Los Angeles, Bommarillu got more than 1500 patrons and they are again hoping another 500 + in this week screening. As per Mr. Ram from Charlotte a very small centre has got more than 350 in numbers. Suresh Yaddanapudi had to struggle to get the extra theatre for the Bommarillu as he had originally planned one show in Richmond VA. The crowd numbers is all time high in Boston, Minneapolis, Connecticut, Dallas, Seattle, St Louis, Kansas and all most all centres. Repeat runs are going at full fire in almost all centres.
In Portland, a small town in USA drew extraordinary numbers for Bommarillu, the exhibitor surprised to see these many Telugu's in this area. Bommarillu got close to 800 numbers in this town and the latest sensational Blockbuster movie could able to draw 470 patrons in this town.
Bloomington is another small centre in Illinois state attracted more than 750 people and so far no other movie had a repeat run in this centre and exhibitor Siva Busa is planning for another show in this weekend. Houston is another centre in Texas state and it has got huge crowd on its release and about 1200 patrons watched the movie in one week and it beats the earlier highest movie by 450 count.
You name the centre; the response from the exhibitors and the crowd are awesome. Be it A, B or C centre in 70 + centres in USA, Bommarillu comfortably sits on the top and enjoying the biggest grosser tag.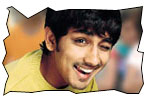 When it comes to Mr Rama, the overseas distributor has no words to say about this. He is enjoying every moment of the movie success and busy in counting the money and trade aspects of Bommarillu moreover his forthcoming movie MUNNA starring Prabhas and Illeana is ready for a theatrical release in the month of November 2006. He said "I released Bommarillu with 6 prints in USA, which was very high in number for stature of Hero Siddardh, after the stupendous success we added 3 more prints to reach the count to 9. Now we regret for not adding more prints as the demand for the reruns is very high. We almost ran the movie in all centres for once and repeat and reruns are currently going on.
On the survey from Idlebrain team in USA, a total of approximately 65000 people watched Bommarillu in USA alone (which grosses to approximately Rs. 3 crore) and expecting minimum 4000 people in the next weekend. What a hit in overseas! This count is going beyond imagination of the distributors and exhibitors in USA.
Tailpiece: All the people who are involved in the screening were very happy as the movie is given for through away prices in almost all centres and every body churning out huge profits out of it. To their surprise repeat and reruns are also drawing crowds at par with initial run.
IB coverage on Bommarillu:
• Triple Platinum disc function
• Jeevi Review
• Postmortem by director
• Srinivas Kanchibhotla Ramblings
• Chitchat with producer Dil Raju
• Success Meet
• Audio Launch
• Audio CD Launch
• Photo Gallery
• On the sets
• Wallpapers
• Trailers
• USA collections