October 4, 2006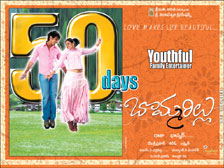 In the old days, audiences waited for months to watch a film of their choice. Today's generation believes in instant be it coffee or anything else. When they want to watch a film, they will watch it at any cost. That is the reason why even big blockbusters are unable to maintain a healthy box office run after completion of 50 days.
But Bommarillu is a different story all together. As per the latest trade reports, the collections of Bommarillu are strong even after fifty days. Trade pundits are expecting Bommarillu to have greater collections that any film in the recent past.
For example, Bommarillu is the only film that showed houseful collections in the entire Vizag city for today's (4th October 2006) morning show. It clearly indicates that Bommarillu has what it takes that too without unnecessary hype and publicity, which often results in overkill.
In Hyderabad, Bommarillu still commands great collections with all the three shows being houseful at Shanti cinema. Prasad multiplex boasts of all five shows houseful that too after a fifty-day run. As of now, all shows have been booked in advance.
Even in B and C centres, where this film was lagging behind, report a spurt in collections. The main reason for the success of this film is its family oriented theme with a youth angle thrown in it. Director Bhaskar has focused on the universal theme of father-son relationship and depicted it in an unusual way that has been hugely appreciated both by the family audience and the younger generation.
Other trade stories on Bommarillu:
• Bommarillu is the biggest hit in USA
IB coverage on Bommarillu:
• 50 days function
• 50 days meet
• Triple Platinum disc function
• Jeevi Review
• Postmortem by director
• Srinivas Kanchibhotla Ramblings
• Chitchat with producer Dil Raju
• Success Meet
• Audio Launch
• Audio CD Launch
• Photo Gallery
• On the sets
• Wallpapers
• Trailers
• USA collections