Tell us about how Dollar Dreams happened?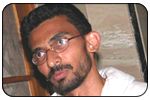 I did my graduation in Mechanical Engineering at Osmania University, Hyderabad. Then I went to USA to do my MS in Computer Science at University of New Jersey. I am a hardcore movie buff watching all Chiranjeevi movies on the first show of the first day. But what made feel that I am capable of making films is that I could able to see things differently compared to others. I think I have a philosophical angle to my nature and the way I observe the things.
I spent so much time watching things and I am capable of seeing and analyzing things differently. Hence, I decided that I should enter the field of moviemaking at one point of time. I wanted to join a film institute in USA. But I did not have money. I decided that I would earn money and then join a film institute to hone my skills.
I do love the country USA absolutely. There is lot of scope to broaden yourself. I am not speaking about the power of dollar. One can make money anywhere and anytime. They have tremendous attitude. Whatever they like to do they would do it. They have completely different mindset. I always wanted to return to India because I am attached to parents and I love Hyderabad. So I set my priorities right. Do job. Earn money. Go to film school. And return to India.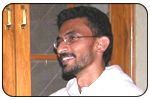 I had a very simple life in USA so that I could save money. When I started saving money, I applied for a film school at Howard University. I wrote in the statement of purpose while applying for film school that I tend to think about the things which people tend to ignore when they try accomplishing the materialistic needs. And I love small things in life and enjoy watching the tender feelings exhibited by kids and thoroughly love the things showered by nature upon us. That's what seems to have impressed the Chairman of the film school. He called upon me immediately and offered me admission into institute. I wanted some financial assistance. But they made it clear that its not possible in any film training school. I was one of the best students in the class. When we made small films, there was no ego or hierarchy. We used to work collectively. I used to be the light man sometimes, cinematographer or editor while learning the direction of the film.
I did thesis in my final semester and I did my thesis on screenplay. I have chosen the subject of Anand as the basic story of my thesis screenplay.
Finally I got my MFA (Master in Fine Arts) degree. Its not a 6months course. It's a 3 years (60 credit course) master degree. I had two degrees in USA. One is MS in Computer Science and other one is MFA. After 5 years of stay in USA, I returned to India.
That was in 1999. There was a tremendous boom in software field. As everybody was going to USA to earn dollars, I returned to India to do a job in Citicorp. I slowly started meeting people related to film industry.
There was so much of exodus from Hyderabad to USA in 1999. My sister is a gynecologist. She told me a strange incident that happened in her hospital. A lady was requesting my sister to do a 4th month abortion to her because she would be going to USA a year later and she want her kid to be citizen of USA by giving birth to him/her in USA. I felt that it was heights of insanity. That incident really inspired me. And that's what they taught me in school. Chose the subject of your film from an inspiring incident. I did not think about budget. I did not think about marketing my film. I did not think about the total outcome.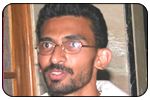 At that point of time 'Hyderabad Blues' was released. That genre inspired me. I pooled up money from my savings and borrowing from my friends. We started a banner called 'Amigos Creations' (Amigos means friends in Spanish). We cast people who are new to film industry for the freshness. The characters in 'Dollar Dreams' speak in 3 languages (Hindi, English and Telugu). I registered the film as English film. At that time I was not aware that I would have got subsidy for the film if it were registered as Telugu language. By the time I completed 1st copy I spent around Rs. 16 lakhs. When I started marketing the film, the distributors were putting questions like 'who is the hero? Who is music director? Which language film is this? I was totally zapped, because I did not have any satisfactory answers for the questions posed by distributors. Still, I has tremendous confidence and guts to continue my mission.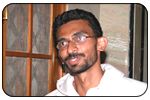 Then I approached the management of Sangeet theater in Secunderabad and told him that my film is a film that people would love to watch in Sangeet theater. I asked him to have a preview show and buy it if he likes the film. But he is pucca commercial man. He said that he would rent theater at flat rate of Rs. 10,000/- per show and he was not interested in buying the film. I had to finally agree for it and I booked Sangeet theater for one show a day for 28 days. We used to go to all corporate houses and fore sell the tickets of the film. It ran for 4 weeks nonstop. Then 20th Century Fox people saw the film and agreed to release it nationwide. He asked me to dub the Telugu dialogues in English. Then we started spending money on other things. We got lots of visibility at national level. But the icing on the cake was National Award (Swarna Kamal) for the best debutant director. Since then things started rolling for me. I sold the satellite rights of the film. I have lots of rights unsold for Dollar Dreams. I am confident that one day I would be breaking even on that project. I lost around 4-5 lakhs on Dollar Dreams. But I am very much satisfied for all the things that happened because of Dollar Dreams.
After Dollar Dreams, I started meeting producers to tell stories. All of them wanted a storyline. When I told them storyline, they used to feel that its too simple. Then I used to give them bounded script of Anand. They used to read a few scenes and tell that its OK. But nobody came forward. Actually a script cannot be read in pieces. Just like you watch a film continuously in a theater for 2 and half hours, one had to read the script continuously from 1st page to last page at a stretch to understand the content and the underlying feelings completely.
How did you get the funding from NFDC for Anand?
I met somebody at one of the film festivals and he suggested the name of NFDC (National Film Development Counsel). I applied for NFDC. Earlier they used to give 100% funding. But most of the makers used to take 50-60 lakhs as funding and spend only 10 lakhs to produce inflated bills. Hence, they wanted to see some accountability from director as well. Hence they came forward to fund 50% of the project. I also liked that idea and I believe 'Anand' would start a new trend in Telugu film industry in terms of funding.
Tell about the casting in Anand?
I felt that artist Raja has sharp looks and good smile. He is also a method actor. He does not have any melodrama in his acting. When I personally met him, I came to know that he had formal training in Florida as an actor. I am also impressed by the passion he has for cinema. He trusts my abilities as a director. Its nice to work with an actor who trusts you than the actor who is more interested in number of songs and locations of the songs.
We cast all non-established actors as character artists in Anand. We have been in this process for the past 3 months. Casting the heroines is a big problem. We went to Mumbai and Bangalore and could not get the appropriate one. Then I came to know about a Bengali girl Kamalinee. Did a screen-test to her and she is perfect.
Why did you chose to construct the set at a private land in Padmarao Nagar, unlike traditional outdoor studios like RFC and Nanakram Guda?
I visited RFC and Nanakram Guda and could not find the right place. I need a big house and an outhouse situated adjacently. I stay in Padmarao Nagar. Hence, I have more proximity by having the set here. Kamalinee is also put up in a house at Padmarao Nagar now. Raja would shifting his residence to Padmarao Nagar for the shoot of this film soon. We all are working on simple things with commitment for an effective result. I am not a typical filmy person. I am not used to studios in Jubilee Hills and Banjara Hills. I want to get the things done in a simple way. 40% of the film's shooting would be done in this set. We have a very homely atmosphere in that set. I want to get out tender feelings from actors and transfer it on to the screen.
Why did you name your film as Anand?
The word Anand means joy. If I were to put a caption to this film I would have kept 'the way of life'. Because every film that is churned out today are having captions, I did not have any caption for Anand.
Being a different director, how did you fall prey to 6-song tradition for Anand?
Actually I wanted to keep a couple of montage songs in the film to advance the story. When I sat with Veturi I realized that I could see 1000's of expressions expressed as 2 words in lyrics. Hence we fixed upon having six songs in 'Anand'. All songs are written by Veturi. Veturi is known for efficiency in writing spontaneous lyrics. But he took 30 days to write lyrics for Anand.
Tell us about the music?
I went back to old songs. Its not that we copied any old songs. But we implanted the flavor we find in golden oldies in this film. They also elevate lyrical value. I am writing dialogues myself because I want the dialogues to be natural.
Who is your favorite actor, actress and director?
I am great fan of Chiranjeevi since my childhood. Bapu is my favorite film director. I like Tabu a lot. She has great histrionic abilities and sensuality. When I searched for a heroine for Anand, I told the people that I was looking for a junior Tabu.
Did you get any appreciation from regular Telugu filmmakers?
When we held that Anand's pressmeet, director Krishnavamsi called me and wished all the best and told a few good words. It was a wonderful moment for me.
Are you feeling tensed because you are making movie by putting your hard-earned money?
No. I am feeling secured, because I have my job of software profession in tact. I took vacation from my company and working over this project.
If Anand becomes a hit, would you continue as a full fledged director?
I prefer staying the way I am now. I don't want to churn out continuous films just because my film has become hit. I would prefect to encourage people who worked in my direction departments. I would produce films by making them directors.
How did you come to know about idlebrain?
I guess every Telugu software engineer knows about idlebrain. All of us surf idlebrain in every first hour of our day in office. I find the name idlebrain very catchy. Idlebrain is very up-to-date and current. But I don't know how you make money. I heard that big software firms in India like Wipro, Satyam and CTS firewalled idlebrain.com, which is a pretty good compliment.