Tell us about your background?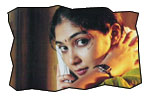 I am Kamalinee Mukherjee. I am born and raised in Kolkota. I am a graduate in English. And I have been living in Mumbai for the past 3 and half years. I came to Mumbai to do workshop in theater as I had a very strong theater background. Later, I did lots of ads such as Neelkamal Furniture, Parachute hair oil, Fair and Lovely and Ayush hair shampoo. I just completed doing my first feature film in the direction of Revathi in Hindi. It has Salman Khan, Abhishek Bachchan, Shilpa Shetty and me in the main leads. My second film is 'Anand'.
What made you to choose theater?
Theater is my passion. Theater and dance come to me spontaneously. I am a trained Bharata Natyam dancer for the past 8 years.
You worked for a project each in Hindi and Telugu. How different are the environments?
I don't think there is much of a difference. The only difference is the language. I am more comfortable working for 'Anand' as the entire team of cast and crew belong to same age group. We learn together. We discover new things everyday. For Revathi's unit it is different. I am acting with three big stars and I am a debutant actress.
Tell us about your experience in working with Revathi?
Revathi is fabulous. She is in control of every situation. I think what really works for her is the fact that she is such a good actress herself. She knows exactly how to extract what she wants. The film is fabulous. I hope I have done a good job. Revathi is emotionally driven.
About Sekhar Kammula?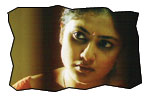 He is very passionate about his work. He has very good aesthetic sense. At the same time, he injected commercial elements. Anand is in a genre film making which has not been experimented for a while. It has got very fresh and clean feel to it. It has got laughter, tears, fights and comedy. Script of 'Anand' is very strong. This film is not about the plot, it is about the people instead. All the characters are well rounded. They are there for a purpose.
Tell us about your character in 'Anand'?
I play the character of Rupa in this film. Rupa is very strong and matured. She is been through so much that she is very defensive. At the same time, she is very soft. Her reactions are very compassionate. She goes through very bad experiences which make her wary of the people and situations around her.
Tell us about the film Anand in few words?
Anand deals with smaller things.
What are your strengths?
I am very expressive and spontaneous. I am very persistent. I love acting. Don't you want to know my weaknesses?
Yeah. Tell us?
I am very stubborn. I can be very impatient, when it comes to what I want. I am very sarcastic.
Have you watched any Telugu films?
I have watched parts of a film called Okkadu. I also watched Appudappudu - a film of my co-star Raja. I really liked Okkadu. I have watched lots of good Hindi remakes of Telugu blockbusters and I know the kind of feel Telugu people have. What I like the most in Telugu films are superb dances.
How do you like the city Hyderabad?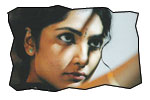 I have been living in Padamarao Nagar, Hyderabad for the past 3 months. I really like Hyderabad. I come from Kolkota. It is called as city of joy. But it's a dirty city. Even Mumbai is a dirty city. In Hyderabad, all I see is greenery and cleanliness. I had never seen such a place like Hi-tech city. It is really impressive. I also like flyovers, hussain sagar and food.
What are your hobbies?
I love reading. I am an avid reader. I love dancing. I do paint. I like poetry. I am a complete film buff. I watch films on constant basis. There are even times when I watched 3 movies a day in Mumbai when I have nothing else to do.
What kinds of books do you read?
I read any thing that I can lay my hands on. Right now I am reading a book, which is actually a true story report on the crimes of these two brothers called Krays. I read lots of spiritual stuff. But I hate science fiction.
What are your favorite cloths?
I love jeans. I am more comfortable in jeans. Jeans and t-shirt is my normal ware.
Do you get any encouragement from your parents while choosing the acting career?
In the beginning, they were little apprehensive. Now they are very supportive. They trust me so much.
You are performing for a rain song now? How is it like drenching yourself for hours together in rain?
In winter, it is terrifying. In summer, it is fun. I had a few scenes that were shot in winter. Now I am doing a rain song in this summer. I am having quite a blast.
Who are your favorite actors and actresses?
I like Amitab Bachchan a lot. I worship him. I love Guru Dutt. In the recent times, I liked Ajay Devgan. Among the actresses, I like Madhuri Dixit very much.
What kind of food do you like?
I am a complete foodie. I like Chinese, Biryani, Thai and everything. I just dote on food. I love Hyderabadi biryani and I also like spicy food in Hyderabad.
What about fish?
Every Bong grows up on fish. And I am not an exception. I love fish.
What is your favorite word?
"Happy News"
What's your motto?
My main motto in life is to spread happiness. If I spread happiness, it comes back to me. I do it very consciously and unconsciously.
Do you have any boy friend?
I do not have any boy friends. I am not into any relationship and I don't want to involve in it. It is time consuming and energy consuming. I think I am not ready for it yet.
Any message to the visitors of idlebrain.com?
I love that name idlebrain.com. It represents my state of mind more often than not.