SJ Surya, a 32-year-old creative director, made just two films, Vaali and Kushi. But these two films show the class of the director. Idlebrain.com met him in his office at T Nagar, Chennai and spoke to this charming, hospitable and creative director at length. Here are the excerpts of the interview that took more than one hour!
Tell us about how you landed up in films?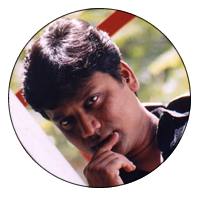 I am basically from down south of Tamil Nadu. I was very much interested in watching films since my childhood days. At that time, I wanted to join films. After finishing my +2 I came to Chennai and joined B.Sc (Physics) in Loyala College. I did not join my engineering though I got a B.E seat in Madhurai, as stay at Chennai can facilitate a chance to meet film directors.
After graduating from Layola, I decided that I not should be living on my parent's money. Hence I worked in all kinds of hotels as a cashier and steward to earn my living. I used to work for 8 hours a day in Hotels and keep the rest of 16 hours to get my dreams realized, i.e. to meet all the directors and learn about direction. After six years of struggle, I got an offer as an apprentice for a Bhagyaraja film. After that I worked with Mr. Vasanth as an assistant for Ajith's film 'Aasai'. Then I worked with Mr. Livingston for 'Sundara Purushan'. Later on, when I was working for Ullasam, I met Ajith again. At that time, Ajith asked me if I was still an assistant director. He asked me to give him a good script and he would make me a director. Then I narrated the script of Vaali to Ajith and he approached Mr. Chakravathy, the producer to make a film. That's how 'Vaali' happened. Mr. Ajith helped me a lot and I am very thankful to him.
After watching the premier show of Vaali, Mr. AM Ratnam offered me another film. That's how Kushi is shaped up. I have approached Vijay and narrated the script. Then we took Jyotika as the heroine.
Tell us about how Telugu Kushi happened?

We were searching for proper heroine for Tamil version of Kushi film. We went to meet Amisha Patel (She was acting in Badri with Pawan Kalyan) as we considered her as heroine for Tamil version at that time. During that time, we met Pawan Kalyan and narrated story for him for 3 hours and 10 minutes. After the narration is over he clapped and told that he would do the film. He postponed two of his projects and gave preference to Kushi. He also told the press that the film would become super hit even if Pawan Kalyan has performed half of what Surya expected him to do. He also told that initially he was avoiding Surya and Ratnam before listening to the story and after story narration hopefully Ratnam and Surya should not avoid Pawan Kalyan.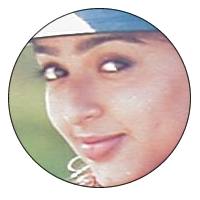 Why did you prefer Bhumika Chawla for Telugu version?

In Tamil version, Vijay is bubbly. Jyothika too is chubby. So they make a great pair, where as Pawan Kalyan is lean. I can't pair Jyotika up with Pawan, as it looks odd. At that time, I happened to see Yuvakudu and I liked Bhumika in that film. We took a screen test for her. Since she is also lean like Pawan Kalyan, we have signed her as heroine in Telugu version.
What are the differences that are made in Telugu and Tamil version of Kushi?

Let me give an analogy. When we made Tamil Kushi, we have the feet and we have to tailor the shoe to suit the feet. For Telugu version, we had the shoe and tried to fit in the feet into it. The second process is difficult. It's pretty tough to remake a film. We have to get the fit perfectly. And it worked for Telugu Kushi.
Since Pawan kalyan is a star in Telugu cinema, he requested me to add three more fights in the film. I was not interested in putting fights in the story as I felt them to be unnecessary. It's the grammar of films to have fights. We can always break the tradition and deliver the hit.
Since, he insisted upon fights, we sat together and discussed about it. He wanted an introduction fight. We prepared a slot for it. In original, there is one fight. He can have that too. He wanted one fight on eve teasing. I made another slot. We made sure that the fights do not disturb the story and narration. I asked him to direct the fights in the film, as I was not interested. I was not even present at the shooting spot during the shooting of fights. I asked him to give the edited version of the three songs (Ye Mera Jahan, Premante Suluvu Kaaduraa and Aaduvari matalaku) and fights so that I can insert them into the film at the end of editing.
He has done a pretty good job. I should appreciate him for that. But, for story sake they are not required. Later on, I had to change my opinion after I watched the film in the public theaters. Crowds, especially kids, did enjoy the fights immensely. In that aspect, Pawan proved right. The first twenty-day crowds get satisfied as the film has fights, since fans storm the theater. After that, when public audiences poured into the cinema halls, what mattered for them was the story and screenplay.
Since Telugu version is my second try at the same subject, we made necessary changes make the film more matured.
There is a rumor that Pawan Kalyan interferes a lot in the direction? Is it true?

As I told you earlier, we divided the film between us. I would direct the original Kushi. Pawan Kalyan would direct fights and three songs. He never interfered in my work. I don't think he can interfere in the director's work if the director is doing his job right. And I do not allow any interference in my films. That's reason why I asked Pawan to direct the fights and songs. I was very clear with what I was doing. He was also satisfied with my work. Directing stars is not an easy task. I have two scripts for my films. One is for the film. The other script is about how to handle a star!
I have seen both the versions of the Kushi. I feel the Tamil songs are pretty good compared to the Telugu version. What's your opinion?
Even I have the same feeling. Mr. Mani Sharma initially said that we would take three songs from the original version. Later on Mani Sharma asked me to keep faith in him and convinced me with his tunes. After the final mixing of Telugu version, I was happy about all the songs except for the last song (Holi song). It was not like the Tamil song 'Kattipudidaa', which was a mega hit. It gives the perfect touch for the pre-climax scene.
The heroine's introduction song is not there in Telugu. 'Ammaye Sannaga' song's lyrics are translated into Telugu with different tune. 'Chelia Chelia' song is better than the Tamil counterpart. 'Aadavari matalaku' is the highlight of the film, which is a remix of Old film 'Missamma'. It suited the theme of Kushi also, since the film Missamma too has same tinge (love pair quarrel). 'Premante Suluvu kaaduraa' is a newly added song and it's also nice. Hero wanted an introduction song for himself. He wanted to talk in between the song over the track. I suggested Mani Sharma some tunes and 'Ye Mera jahan' happened. This song is also a big hit. But I prefer 'macerena' (Tamil heroine introduction song), as I don't like giving messages. There is a small message in the film that there should not be any ego in a relationship. The medicine has to be given with the honey.
Whose idea is it to have you in that mystical man's role that appears twice in the film?

Actually, I was searching for a suitable actor for that role in Calcutta. Jeeva, the cinematographer, suggested that I should do that role. AM Ratnam promptly seconded it.
In Vaali film, the way you inserted the fictional character of Jyotika and shown her from the eyes of Simran, who imagines it while listening to Ajit's description is fabulous. How could you manage that?
It's the basic psychology. There are two ways of telling any thing. If you love somebody, you can directly say 'I Love You'. In other way, you can say that you were in love with some girl in the past and you treated her in a special way. There by, you can cause a pang of jealousy in this girl and make her feel bad that she did not have a lover like you. It is also an indirect way of telling her that if you love me, I would treat you the way I did the other girl. It's a trick and it worked.
What makes your films different?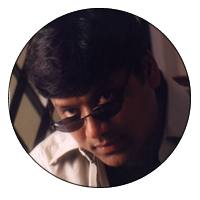 If you take Vaali, it's a duel role film. Let's analyze all the films with duel roles as the themes. There is one 'Nerum Nerukkum', an MGR film in which he played duel role. One role is darker one and another role is fair looking. If you take 'Apoorva Sahodarulu', one role of Kamal Hasan is a short one and another one is normal. In other films the duel roles acted as rich and poor, father and son etc. I wanted Vaali to be different. So I created one character as deaf & dumb and other as normal one. I made one character as a negative one and other one as positive. People perceive the two roles are different ones. But for me, these two roles represent the good and bad personalities of the same human being. Every person has a split personality. There is a good man in every person and a bad man too. Audiences enjoyed these two roles. They matched themselves with the negative as well as the positive character of Ajith in that film. People felt like they are watching themselves in a mirror. That is the reason for the success of Vaali.
For the next film, I wanted to make a love story. I have looked at history and analyzed how the love films are made. There were films in which the lead pair was separated due to religions, economical inequity (rich-poor) or parent's enmity. But no body projected the love as lover's problem. The problem is between them. Their parents did not have any problems. They are willing to marry the kids off. But the ego of the lead characters is the problem for their love. The feeling between the lead pair in Kushi is more like 'Husband - Wife' feeling. They do behave as if they are husband and wife. That is the secret of different treatment meted for the Kushi film.
Even if you look at the time period, the popular perception is that the love happens at the age ranging from 20 - 25. They show the hero and heroine today and the couple fall in love tomorrow. But nobody touched the time line from childhood to the age of 20 years. The directors, in the past, felt that love cannot be projected during this period. I have captured that point and developed that area and projected the love between the lead pair right from the day they were born.
I am doing Kushi in Hindi with Fardeen Khan and kareena Kapoor as the lead pair. Boney Kapoor is producing this film. Anu Malik provides music.
Right now, I am directing and producing my third venture 'New' with Ajith as hero. The approach for New is completely different compared to Vaali and Kushi. Everything is new in that film including the producer, which is the reason why I named that film as new. Deva composed ten tunes for this film.
The basic themes of the films 'Vaali' and 'Kushi' have sensuality attached to them. In 'Vaali', you explored the taboo angle of incest where the elder brother lusts for the wife of his younger brother. In 'Kushi', the entire story is spun around the basic interval point where heroine gets mad because the hero did not confess that he ogled at her midriff. There is a thin line between sensuality and sexuality. Without crossing that line, you have exploited these two sensitive issues with deftness, which were appreciated by all the sections of audiences. Can we expect the same kind of sensual stuff in your future films too?

Everybody enjoyed that stuff including girls. There is no obscenity at all. It is natural. I will not repeat the scenes or concepts. But sensuality would be shown in different dimension in my forthcoming films. It is like spice. Without spice, our Indians do not like the food. The infatuation, sensuousness or sex is one of the driving factors in this world. Without these things, the world would not be the same. Its as natural as blood flowing in our veins and as natural as breathing. (He giggles. Probably thought about the scene in Kushi, which Bhoomika accuses Pawan of 'Oopiri Peelchadam')
Tell us how you develop a story for the film?

First we decide upon what kind of movie we should make. Is it a love story, comedy story or action film etc. Then I look at the films made in past and analyze how they are made. How the directors in the past have dealt with those subjects. If we show any thing fresh and different in our films, they will become successful. The scenes in the film should not feel like we are forcing them on the audiences and make them believe. The scenes in the film should be natural and believable.
What is new in 'New'?
The story itself is new. It is based on one sensitive point. And I can't reveal it now. It would be definitely better than Vaali and Kushi. I would like to give a punch line.
- > Every human being has positive and negative aspects in him or her - That is Vaali
- > Every human being has his or her own ego - That is Kushi
- > Every man has a child inside him or her - That is New.
How old are you?
I am 32
Are you married?
No. Not yet!
I heard that you are in love with Bhumika Chawla? Is it true?
Let it be a rumor.
No. You have to tell us either 'Yes' or 'No'
Hmm. She is a good friend of me.
Are you dating her?
There is something between us, which is more than just friendship. We have not decided yet if it is love or something else.
Is it 'Kushi' kind of attraction?
(giggles) She is continuing her job as heroine and I am doing my job as director. We have not decided anything yet.
Are there any chances that you might land up in marrying each other?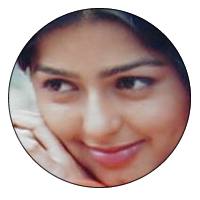 If everything goes well, after two or three years we may get married to each other. I don't want to spoil her profession. She is a star now. Becoming star is not a small thing. Let her enjoy the stardom.
Lets take an analogy, if college students fall in love and get married, their studies do suffer. Likewise, in the peak of the career, if the filmy people fall in love and get married, their professional careers suffer. There are many instances in the past where the heroine spoilt the director's life and director spoilt the heroine's life, because they have fallen in love. Lets wait for three year. Let me make my mark in the industry. Let her make a mark a heroine. If everything goes well, then we will get married. In the destiny, if something has to happen it will happen.
When you look back, how do you feel about the struggles you had before becoming a director?
Struggles would always be there. Lets take an analogy. If I want to go to Bombay from my hometown, I have to travel from my hometown to Madhurai in a bus. From there I have to take train to Chennai. From here I have to take a flight to Bombay. Its painful to travel in a bus and comfortable to travel in a plane. It's all the part of journey. Since becoming a director is my ambition, I did enjoy all the pains I had in that process. If you get a success without paining yourself, you wont enjoy it.
How are finding the addition role of producer now? Is it not an extra burden?
If I do not have any tension in life, I don't work properly. At present, if I want to direct a film, there is no problem for me. I can get a hero and producer. I will get money. But, in this process I may become lazier. That's why I want to take more risks. Taking risk is the easiest way to get a success. I follow the principle - 'No Pain! No Gain!!'
Can you give us the break-up of time spent for the pre-production, production and post-production processes?
I take one year to make a film. Two month would be spent on the script making process. I will make myself absent from the public life and spend time in doing the script work. One month would be taken to do the casting and selection of the crew. Six month will go into production. I would take two more months for postproduction activities. One month for the prerelease activities.
By now you are quite popular and people do recognize you by face. A director is an observer and he would love to observe the people and learn how they behave. The moment you become a celebrity, you lose the chance of observing the people. How do you manage it?
Even if Mani Ratnam, the top director, makes a public appearance, he may get some attention. But it's not comparable to what a hero gets. None of the technicians carries a public image here. When it comes to the public recognition, the first one who hogs on the limelight is hero. Next comes the heroine followed by director and producer. We might think that we are great directors, but in the public perception it is always the hero who gets the major share of public adulation.
Moreover, I watch a film a day, which is enough to capture the human nature. That is the input for my direction. I have been watching at least film a day for the past few years. I have seen a Bhagyaraja's film for more than 100 times. Even Mr. Bhagyaraja would not have seen that film for so many times. I like him a lot. You can a few shades of his direction in my films.
What is the most valuable thing in a film?
Hero or director of a film does not have any value. What values for a film is script. Without good script, nothing works well. A film with good script will become a hit any day. If the hero is good, then the film becomes bigger hit. But, if you take the marketing angle, the business starts with hero. Then the director combination with that hero would be considered.
How is the business for your 'New' film?
Though lots of distributors are approaching me with aggression, I have not sold the film for any area except for the audio rights.
Do you have any words of wisdom for the director wannabes who visit idlebrain.com?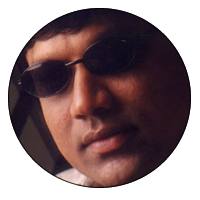 Every year there are 90 films getting released, out of which 3 are super hits and 5 are normal hits. This is the fact. You have to make sure that your film is there among the eight successful films that are released in a year. It's a pretty competitive world. It's very tough to get into films line. You have to work very hard to reach the destination. We should think practically.
You have to lose your young age and other comforts to become a director. I have sacrificed my life between 20 years to 28 years, as other people enjoyed their youth. I suffered a lot. I don't mind all that, as it was my ambition to become a director. That kind of self-motivation and single-minded-devotion you should possess. In Mahabharata, there is one example. When Arjun asked to aim at a fruit, he could see only the fruit and not the tree, birds and leaves. Though, it's an old story, it has got a good message.
Everybody has got his or her own strength. We must identify what we are good at. Directing a film is not a joke. We must have terrific script sense. If we don't have it, we can develop it by watching more films. We have to acquire the practical knowledge by working as an assistant in the films. We must know how to market our talent. We have to convince the producer to invest six crores of his money on the script we have developed.
I am also a new comer to the industry. I have not crosses three films yet. A music director can bear 10 flops. A hero or heroine can bear six flops each. If a director delivers one flop, the industry will throw him away. The morale of the story is that you have to work hard in the right direction to become a director!