30 July, 2012
Hyderabad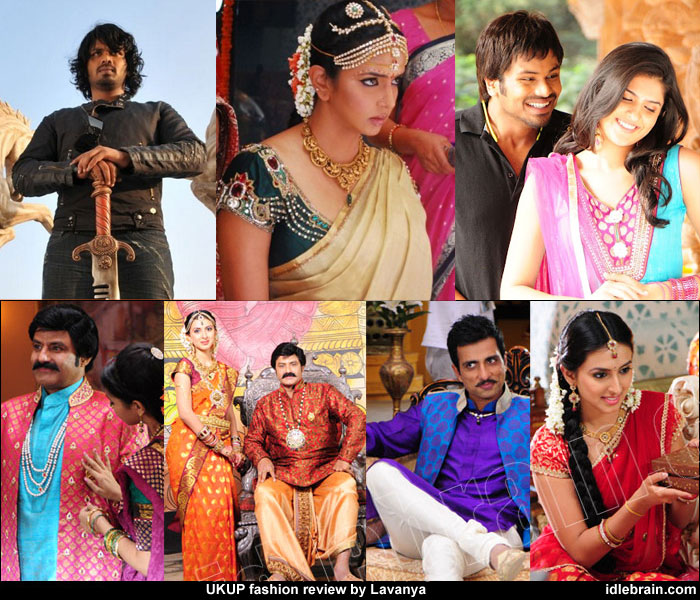 U kodatara? Ullikki padatara? Fashion review.
Costumes: Ganesh Nallari
The multi starrer trend has begun in tollywood. Balakrishna and Manoj playing lead characters in UKUP is released. With a big cast and crew, the movie has come with a different story. Lakshmi prassanna produced and acted this movie and she got applauds for both her impressive acting in this movie and dynamism in producing a multi starrer movie. Fashion review of this latest movie is before you.
Balakrishna Nandamuri:
Balakrishna in his new royal look treats audience with his presence. In the entry scene, he appears in a Meroon raw silk top on a dhoti...his pearl chains adds to the majesty of his look. His moustache curled, "korameesam", his hair style and accessories presented him in a dominating royal look. It suits his dynamic role perfectly. Great personal care and proffessional styling work can be observed in his styling in the movie. His costumes are mixed kind of both royal costumes and trendy designer wedding costumes with heavy embroidery work. Fabrics used are raw silk and banaras with "maggam" work. Balayya appears in sherwanis with nice hand works in scenes inside house while he appears with a banarasi coat on a sherwani in the scenes outside house. In some scenes, kurti and pyjama are used which also looked royal. He also wears various diamond rings in the movie. A nice work went behind in showing balayya in a bit north Indian style without losing the native look of south Indian in dhotis.
Manoj Manchu:
Manoj hits the screen in a new experimental look like he always liked to. Entry of manoj is in Korean leather blazer on a torn jeans with goggles and long boots on a Harley Davidson bike. He uses all kinds of Korean blazers in black shades. First song, being a fantasy song, different looks like 80's look, samurai and Adam look are tried. In second song, a new fashion in tribal look is presented with the accessories made of bone and fabrics that look like animal skin. In second half first song, he carries the party mood with trendy velvet coat. Though he appeared in blazers all through out, he never missed a chance of wearing a tee ( especially v - necked) where ever possible. Goggles and hats are also worn along with tees, which brought a trendy look. Coming to hairstyle, experimental hairstyles are used by him. Curled style both short and long in first half, spikes style in songs and regular style in second half are trendy.
Laxmi Prassana:
Lakshmi Prassana appears in an apt costume in her entry scene which shows a women who has not changed clothes over years, which should be appreciated and hats off to her professional ethics. She wore 2 sarees one of which is red coloured banaras, georgette fabric while other is cream saree with green border, which also have good works on it. The jewellery on the cream saree, being a wedding costume suits the scene perfectly. Even with these few costumes also, she was able to tackle the character powerfully. With all jewellery and accessories in the climax scene, she plays a split personality role which is really an impressive work.
Sonu sood:
Sonu sood plays a role against balakrishna. He mostly wears sherwanis made from banaras fabric with kundan works. A complete north Indian look is achieved using chudi type pants in styling him. A good care was taken regarding sonu sood's costumes which does not dominate balakrishna's costumes by using fullhanded sherwanis without exposing his muscles. His entry costume in blue and lavender looked good on him. Lavender coat over a blue sherwani in bridal costume gave him a good look. Minimal accessories are used as already embroidery work is used on costumes.
Sai kumar
Sai Kumar plays a role of a funny villain. The funky nature is depicted through the colour of costumes he wore. Most of the costumes he wore, he uses primary colours. A jamindari look is given to him through his costumes. He uses kurti and pyjamas in primary colours with a long waist coats on all the dresses he wore.
Deeksha Seth
She plays a trendy girl role in the movie. She looks modern and glamorous in the first half while the look changes to traditional in second half. The traditional costumes include the chudidars, half sarees and lehangas with embroidery works on them. In songs, the glamorous look bounces back. She looks not only trendy, but also traditional, with native girl look.
Special Attractions
Balakrishna and manoj in climax wear a special caped costume with chocolate colour metal armour, leather and hosiery fabric stands as the special costume in the whole movie. Manoj in his entry scene, prassana in all her costumes, Sonu sood and all other casting helped create a royal looking movie.
Conclusion
A lot of patience, hard work and commitment is observed in styling this movie. Lots of blue colour is observed in second half of the movie. In flashback scenes, banaras fabrics with nice embroidery are used. A remarkable attempt in bringing out a royal looking movie is appreciable.
Other Fashion reviews:
• Eega
• Endukante Premanta
• Gabbar Singh
• Dhammu
• Racha