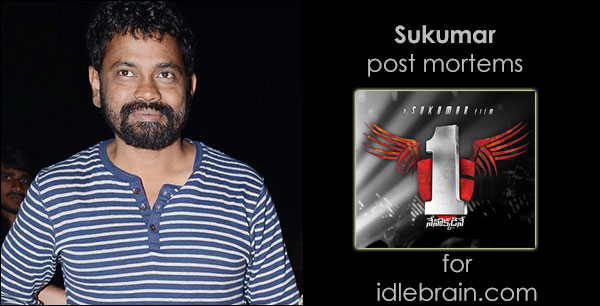 What is this post mortem?
Idlebrain.com is starting this exclusive, explosive and exciting section called Postmortem, where we conduct a postmortem of the latest releases. We shall be discussing and analyzing the strengths and weaknesses of the movies with their respective directors as to why those films have become hits/flops. We request the directors to give us their honest and frank opinions.
18 January 2014
Hyderabad
Mahesh Babu's latest film 1 Nenokkadine is creating a great buzz for attempting unusual subject and excellent technical values. This stylized psychological thriller is a much talked about film in recent times. Sukumar postmortems his latest film 1 Nenokkadine for the readers of idlebrain.com
The hero character in all your movies has some psychological problem. Why is it so?
I am obsessed with observing people. Every human being has a psychological disorder. But it's alright as long as he/she stays in limit. It will become problematic only if that disorder gets out of limit.
You said that every human being has a psychological disorder. What's your disorder?
I have OCD (Obsessive Compulsive Disorder). I am obsessed with numbers. Until four years back, I was obsessed with even numbers. I prefer only even numbers whatever I do (like watching TV channels with even numbers). I wanted to change the habit and I switched to odd numbers. Now I am obsessed with odd numbers. I have the habit of repeating things. I tend to do most of the things two times.
Tell us how 1 Nenokkadine project formed?
Mahesh Babu liked Jagadam film a lot and he called after Jagadam's release. He had asked me to prepare the story. During the time of 100% Love shoot, Mahesh Babu called me again and made producers of 14 Reels pay me advance for the film.
What is the reason for selecting a storyline with hero having psychological disorder?
I can't do normal films. I get restless the moment I start doing regular stuff. I want to do challenging things all the time. My friend Hari Prasad and my associate Pratap were discussing about this psychological disorder. I liked it and we started doing screenplay. Since Mahesh is already fixed as hero of the film, we used larger than life elements.
We don't have the culture of rock stars in Telugu with humongous fan following?
We wanted a larger canvas which includes shoot in various countries. Hence I thought rockstar profession to aid in story play.
Tracing of phone number by looking at photos is quite creative? 
I love to chase mystery by using clues. My friend asked me how james bond shot the person behind him by not looking at him; it is so because Bond has seen the image of follower in the glass panel in front of him. I was hooked by it and started thinking about clues most of the time. This idea is generated about my orientation about clues.
Hero solving rubik's solution and juxtaposing it with joker falling on ATM glass is very effectively done?
That's the reason why we had a joker face to the guy who falls on ATM. We want his face to be registered during chase and audience might think that it might just a fancy shot. When we show rubik's solution and joker part together, their recall value and thrill will be higher for the audience.
Interval episode of the film is one of the best scenes written in Telugu films. How did you arrive at it?
The hero is looking for his parents' killers right from the beginning. He gives a word to heroine that he would stop imagining about villain. That is when the real Kelly Dorji surfaces. We wrote this scene to happen in a car parked outside the office of heroine. But we had some practical problems during the shoot day and decided to change venue. Thats when we got the idea of shooting in the restroom of Westin, Hyderabad. The intricate situation coupled with terrific acting by Mahesh Babu got a lot of applause.
What are your favorite scenes?
1.The climax of the film starting from school bus episode 
2. Graveyard scene
3. Interval episode
4. scene in which hero tells heroine 'prema kante bhayam goppadi'
How did you differentiate the imagination scenes from real scenes?
Hero imagines only 3 characters in the film. All other scenes involving other actors are real. If you look at it carefully, we have given a hint for the first episode. After coming out of rock concert, Mahesh looks at the hoarding consisting BMW car. Villain drives the same car in the next shot indicating that he is imagining it from the hoarding he saw. Like wise, during the first chase, hero's bike has lights on and villain's car lights are off. Water splashes on road when hero's bike drives on it and it doesn't splash when villain's car drives on it. We have no shots from villain's perspective in the entire episode. I had a few shots for police station episode with blood stains on bottle, but decided not to include it in the final cut.
There is one scene in Goa where villain tries to kill heroine with gun and when hero tries to injure villain, you have heroine sitting in place of villain. Is it not very confusing?
My interpretation was that heroine was walking to hero's table and sitting on it. As heroine approaches the table, hero imagines that the imaginary villain is going to shoot heroine with his gun. I have shot a few shots to suggest that heroine is nearing table, but deleted them for creating a bit of thrill.
Tell us about Mahesh Babu's performance and the scenes he has surprised you with?
1. Mahesh Babu finds out that heroine is cheating on him by playing two roles by looking at camcorder. But he talks casually before confronting her. During those casual talk scenes, you can see smile on his face and feeling of pain in his eyes. It was a normal scene on paper, but is extraordinary on scene due to Mahesh's performance.
2. The final scene of Mahesh killing Nasser. I asked Mahesh to shoot all bullets continuously in that shot. But, Mahesh shot just one bullet ferociously and looked at villain with terrific expression. That was a great improvisation by Mahesh Babu.
3. Tears roll down on the face of Mahesh Babu in final scene where he looks at the book. I am so engrossed into it that I didn't say 'cut'.
A subject of this kind is a high risk proposition. And you shot it on a humongous budget. Wasn't there any unspoken friction among and you and producers?
The producers interaction with me is same throughout shoot of the film and even after the release of the movie. After shooting 30% of the movie, I stopped asking for anything, because producers are so passionate to make the film on ultra slick style on a high budget. Gopichand Achanta used to be there at sets and he has complete trust on me. Ram Achanta is like my mirror off the screen.
Technical front: 
Devi Sri Prasad has given terrific background score for the film. I used to ask for improvements from DSP in my earlier films, but he is so perfect for this film that I didn't get a chance to ask for improvisation. Ratnavel's cinematography is an asset and he used lighting that helps the mood of each scene. Lot of people are complaining about the editing of Karthik Srinivas and Sravan. If duration bothers audiences, I take blame. It's director call. They have done fabulous job at editing.
Talking about music, what's the name of musical instrument you have shown in film's titles? Talking about music, what's the name of musical instrument you have shown in film's titles?
We have shot the film in a 500 years old house in Belfast. That's where we found that musical instrument. I too don't know the name of that instrument. It's an old instrument that can play 12 tunes. Incidentally the nursery tune composed by DSP is very much closer to one of the 12 tunes.
Is there anything in the film that is not upto your satisfaction?
Yes. I thought the boat chase episodes should have been cut in a better way. I will re-cut that episode for DVD version.
Are there any shots in the film you are really proud of?
Yes. The freezing shots where Nasser people attack Mahesh in his house in the first half. I loved those visuals. However, I would have preferred a slower shots when the same thing is replayed in the second half.
The psychological disorder you have shown in the film is more like schizophrenia, but you explained it as integration disorder?
Schizophrenia is perceived as an offending term for most of the people. Integration disorder is more acceptable term. It's just like how people use physically challenged to handicapped.