Ranganath Vanaparthy
27th December 2004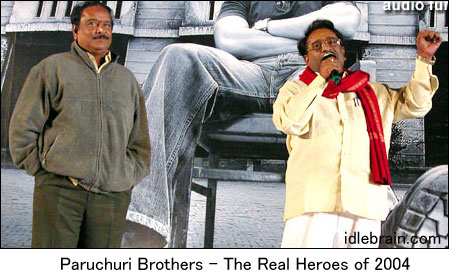 "Kumara Swamy, Venkata swamy, Narayana Swamy, Kanaka Swamy, Amara Swamy
Ani maa amma puttina biddalaku peru pedithe vaallu puritilone chani poyaru
Eesari Putte bidda Champe Vaadu Kaavale Kaani Chanipoyavadu kavaddu
Ani pettindira maa amma na peru Lakshmi Narasimha Ani"

Ani Balayya tho Powerful dialogue cheppinchali anna
"Meeru ala gala gala navvutunte ganga nadi paravallu tokku tunnattu
Jalapaatam jala ralu tunattu, pakshulu kila kilaraavalu chestunnatu
Hamsalu haayiga viharistunnatu, ladlu chengu chenguna gentu tunnattu
Naa gundello raillu parigedu tunnattu anipistundi
I love you, I love you Radhaaa Radhaa Radha..."

Ani Chiranjeevi tho Oka prasa tho koodina comedy dialogue cheppinchali anna
"Nammakam Leni Chota Prema Undadu"
Ani Prabhas tho oka sentiment-kopam mudesina dialogue cheppinachali anna
"Mee iddarini choosthe naaku gasu dani pakkana unna cylinder laa undi"
ani Nagarjuna tho oka chilipi dialogue cheppinchali anna
"In front there is crocodile festival"
ani innovative ga telugu samethalani english lo marchi prekshakulani navvinchali anna
vaati venuka unna creative thinking Paruchuri Sodarulade. As the year 2004 comes to a close, idlebrain introspects the real heroes of 2004. Yes, the real heroes of 2004 are these dynamic duo who have a series of block blusters linked to their names. In my personal view, paruchuri brothers are those real heroes of tollywood who can give any type of reel heroes a hit to keep under their belt.
If you consider the top ten hits of 2004, which in my view are Lakshmi Narasimha, Varsham, Malleeshwari, Arya, Nenunnanu, Yagnam, Venky, Shankardada MBBS, Anand and Mass, five of them had their dialogues department headed by Paruchuri Brothers. Lakshmi Narasimha, Varsham, Nenunnanu, Shankardada MBBS and Mass were written by Paruchuri Brothers. Let us see how Paruchuri Brothers have shaped these movies to hits.
Natives of Meduru, Krishna District, Paruchuri Venkateshwara Rao and Paruchuri Gopalakrishna were christened as Paruchuri Brothers by none other than Nataratna Dr.NTR himself. The brothers have been in tollywood mesmerizing the tollywood audience with their dialogues for more than 27 years now. 2004 Sankranthi witnessed the release of two of their films, Lakshmi Narasimha and Varsham. Varsham was a love story of Venkat (Prabhas) and Shylaja (Trisha), both natives of Warangal in this movie. The way Shylaja tells "Varsham, naa friend" depicts the manner in which Paruchuri brothers establish the characters in their movies. The ruthlessness in Bhadranna's character was also well prepared for Gopichand by the duo. Lakshmi Narasimha, the story of a rebel cop who frames his own rules to provide justice to the natives of Vijayawada. The establishing of Asin's character as a girl who is content eating Perugu-Aavakai for her lunch, the depiction of royalty thru Balayya Babu's dialogues in the movie are feathers in their caps.
Come Ugadi, Paruchuri Brothers wrote the dialogues for Nenunnanu, a story of an orphan Venu (Nagarjuna), who saves Anu (Shriya) from her suspicious lover and later falls in love with her and marries her. The credit of establishment of a sensitive character like Anu and a bubbly character like Shruthi along with a positive and a go-getter attitude of Venu goes to them again. Of particular interest in the movie was Ravi Babu's character.
Dasara witnessed the release of Shankardada MBBS, this year's biggest revenue getter. The movie had Chiru donning the role of Shankar, a street rowdy with a tender heart whose parents are insulted by Prof Lingam when they ask his daughter's hand in marriage for their son. The street rowdy decides to study medicine and once he gets into medical college, uses his own philosophy of treating patients. Megastar's character excels in this role. The movie saw Telugu proverbs getting translated into English as they are for the first time in tollywood's history. These chirpy one-liners created a laugh riot in the movie contributing immensely to the movie's success.
Mass, released on the eve of Christmas saw the introduction of dance director Lawrence as a director. On the audio release function of Mass, Paruchuri brothers said that whenever they wrote the dialogues for the first film of a director, the movie turned out to be a blockbluster and they proved that once more with Mass. The establishment of Raghuvaran and Rahuldev's characters and the stylish characterization of Nagarjuna are influenced by them to a considerable extent.
Paruchuri brothers also tasted failure with films like Adavi Ramudu etc this year. This year as in yester years, they proved that they can write mass/class as well as comedy/sentimental dialogues with ease. While 2004 witnessed more flops than hits, these brothers provided a ray of hope for tollywood. Idlebrain.com salutes these two brothers for their outstanding contribution to tollywood and wishes them good health and success for many many years to come.