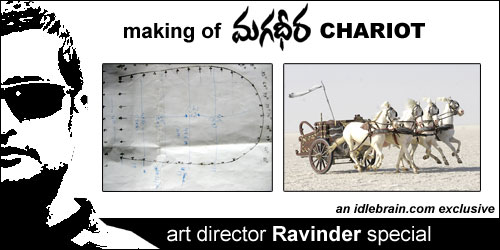 16 August 2009
Magadheera movie became a landmark film in the history of Telugu cinema by collecting unheard amounts at box office. Magadheera is a technicians' delight and we are in the process of getting their special interviews. In an exclusive series of interviews to idlebrain.com, art director Ravinder R explains us about various sets he has done for Magadheera movie.
Chariot making for Magadheera film
Chariots represent the regal stature of the kings in wars and chariot chase sequence is one of the most vital sequences in the movie. One movie that strikes us all about chariot race is Ben Hur. Hence we deliberately decided that chariot design in Magadheera shouldn't resemble that of Ben Hur movie. South Indian filmmakers have been making films with war backdrop for decades and there is a specialist in making of chariots for movie shootings in Chennai. Our director SS Rajamouli summoned me to go to Chennai and give detailing of our requirements to chariot-maker. We ordered two chariots. When I went back to have a look at the iron skeletons chariots, I was thoroughly disappointed.
I convinced Rajamouli that I will do the chariots myself and came up with three models of chariots. I did iron skeleton first and used fiber material to do the exteriors. There is a scene in the movie where neither hero nor villain was present on the chariot. In order to control the horses, I made a secret chamber for a guy who would be sitting in that chamber in chariot and would be controlling the horses. He is a short guy. I took his measurements and designed a secret chamber (photo here).
Making chariot is very difficult because this chariot would be pulled by four horses. And if the height and weight is not proper, the neck of horses will be severed. I prepared three models of chariots with different heights so that each one could be used as per the camera's location and to assist other technical requirements.
The chariot race sequence was shot in Dholavira, Gujarath where there is ample sand was available. The quick sand where chariot sinks was taken at a set consisting of three acres in Ramoji Film City.
We had some minor hiccup with the painting on chariot and I have taken a couple painters from Hyderabad to Gujarath on flight with my personal expenses.