Hyderabad
September 4, 2008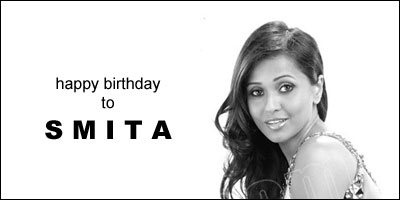 Today (4 September) is the birthday of pop diva Smita. Idlebrain.com wishes her a great birthday. Here is an article about her journey -
Journey to Pop World
Smita was four years old when she performed for the first time at her school annual day function at Vijayawada. She sang "Do a dear" from the film "Sound of music" which she had watched countless times. She went on to the stage, stood in front of the mike and sang the song very confidently. She was seen tapping her feet and her body swaying with the rhythm. She got a lot of applause and got noticed by everyone.
As she grew, she started going for many competitions and always returned home with some prize. She went to Bishop Cottons in Bangalore during her 6th and 7th standard. Usually the school took students from 8th standard onwards in the school choir but seeing Smita's enthusiasm and talent, the music teacher took her in the quire though she was in 6th standard. These two years played a vital role in honing her singing skills. At home she used to spend a good amount of time watching music channels on TV and used to sing and emote like the stars. By this time her parents knew for sure that she was going to do very well if she gets in to singing and performing arts, but major challenge was to find the way forward.
When she finished her school and joined in intermediate in Maris Stella college at Vijayawada, a reality show by name "Padutha Theeyaga" on ETV was making waves. This is when her mother made a cassette of her song from one of her stage performances and sent to ETV. Smita got a call after one year to come for preliminaries. On 5th June 1997, she participated in the show and made her own mark. Her confidence, style and ease created a new trend in that programme. She not only won the preliminaries but also won the quarter finals, semis and mini finals. She somehow lost in mega semis. Though she was disappointed about getting eliminated, her passion and determination were intact.
Around this time she started trying for some playback opportunities and she did get to sing a few playback songs. This is when her parents advised her that it was more apt to choose pop singing as a career as she had a style which is more suited for making of a pop artist. "Hairabba" was a result of this decision. It was purely her talent and commitment to the project that got a company like Archies Music to launch the project.
There was no looking back after that. Many albums followed and became blockbusters. She created a market for Pop music in Andhra Pradesh and Tamil Nadu and kept the Pop music alive for almost a decade now.
She also rendered many playback songs for films. Some of them became big hits. Her song "Evariana Choosuntara" from Anukokunda oka Roju got her the prestigious film fare award.
Highlights in this decade of singing career
1. Success of "Hairabba" changed her name to Hairabba Smita.

2. Her first remix experiment in Telugu "Masaka Masaka" did enormous sales, thus creating a market for non film music albums.

3. Tamil album "Kalakkal" created waves in Tamil nadu and they started calling her as Kalakkal Smita.

4. Filmfare award for her song "Evaraina Choosuntara" from Anukokunda oka Roju got her laurels.

5. First Indian Pop artist to release an album in three languages simultaneously with a prestigious label like Sony BMG.
Smita as a business woman
Besides perusing her career as a pop artist, she ventured in to business in the year 2002 by starting "Bubbles Hair & Beauty" at Jubilee Hills, Hyderabad which went on to become a landmark in the beauty segment in Hyderabad. She started one in Vijayawada in 2006 and also added a fitness centre by name "ICE". Soon she is planning on opening a branch at Guntur.
I Candy Entertainments Pvt Ltd; is a new addition to her business. This is a production house started by her recently. This company is currently producing a popular show by name 'Tata Indicom-Dance With Me' for Maa Tv.
The qualities in her that paved way to her success.
1. Extremely hardworking and dedicated to her profession.

2. Her determination and belief.

3. Being a perfectionist, never compromises on quality.

4. Very innovative.

5.Always ready to face challenges.

6. Her down to earth and helping nature.

7. Smita never saw obstacles as she never took her eyes off her goals.