June 17, 2008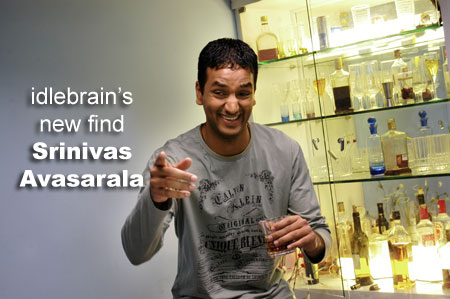 Casting calls on idlebrain.com are turning into useful resources for the Telugu film industry. Sekhar Kammula's casting call for Happy Days on idlebrain.com resulted in the selection of Varun Sandesh for the role of Chandu. After the stupendous hit of Happy Days, Varun Sandesh diary is full for the next couple of years with quality projects from huge production houses of Dil Raju, AVM, MS Raju and many more.
Idlebrain.com ran another casting call for the national award winning director Mohana Krishna Indraganti's film on 12 October 2007. And Srinivas Avasarala from USA bagged one of the male leads in Mohana Krishna's film 'Asta Chemma' featuring Colors Swati as heroine.
The shooting of the film is complete and Asta Chemma is going to release soon.
Mohana Krishna Indraganti about Srini Avasarala
Director Mohana Krishna Indraganti said, "There are two male leads in Asta Chemma film. We had already selected Nani as the main lead by then and we were looking for the second male lead. I was looking for a guy who looks odd and who delivers deadpan humor. We ran a casting call on idlebrain.com. We received tons of CDs/emails for the casting call. I am amazing by the genuine talent we could get through internet. I found many good guys and girls among the applicants. But they did not suit the profile we were looking for. Srinivas Avasarala sent us with a show reel video. I found him to be extremely gifted as an actor. He also loves Woody Allen kind of humor like me. He underplays humor. And he had an unusual height of 6' 4". At that time Grahanam film was screened in NY and I went there. I met him during that time and auditioned him there itself. I was initially little intimidated by his height. He is like Ramana Reddy of old films with better looks. When I had shown the showreel to Ram, he was impressed. Besides, Srini is also a good writer. He improvised his character with his writing. He also gelled well with the rest of the cast and crewmembers. We shot a retro song in this film which shows the transition of film industry from black and white age to the contemporary films. His portrayal in that song is amazing. He fits well for all seasons. Srini is one of the best finds of Telugu cinema in the recent years. His character in this film is like that of Relangi character in old films. Relangi was not the hero, but his character drives the entire story and he runs the show. We also did rehearsals and reading of scenes before going to the shoot."
Idlebrain.com wishes Srini Avasarala a great future ahead in Telugu film industry.