Hyderabad
September 7, 2006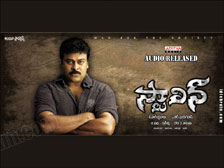 Unequivocally, the mega star's event, public or private, film or function, is often a mega attraction in tollywood, as it acquires mega-crowds and mega-media-attention, paid or unpaid. The latest Stalin's amazing audio launch on his 50+ b'day is no exception, even after a couple of 'not-so-super' movies (Jai Chiranjeeva & Andarivaadu). Indeed, post-padmabhushan ceremony, this was as a big a grand gala event in 'LalithakalaThoranam' amidst the cheering mega fans & family members, as last year's 'Jai Chiranjeeva' audio launch on Silpakala Vedika amidst Dr. Dasari, Sridevi & Boney Kapoor. Not-so-surprisingly, half of the Chiru ji's speeches these days focus on social awareness. Sounds good! Chiru ji seems to be more socially-conscious than ever, and his penchant for Mother Terissa-kind of activities is well-known & well-appreciated, culminating with Padmabhushan award & First Citizen's personal visit. Back to Stalin, alas, the audio outcome hasn't been as grand as the launch. No probs, Tagore's audio too didn't match the preceding flick 'Indra'. Still, Tagore did wonders @ BO, with its slick screenplay focusing on the novel point of 'a professor kidnapping & killing the most corrupt fellow' while matching chiru's age & stardom. So, who knows, 'Stalin' may make miracles in the same way, and so as we wish.

Producer's phone would've started ringing on the day of the muhurat shot itself, and with Mr. B.Madhu (of Tagore/Ghazani fame) seemingly spearheading production & publicity in his own style, Stalin is now set to hit about 400 silver screens around the globe on the day one itself(including 20+ overseas screens - 16 in USA alone - thanks to the aggressive marketing style of KAD, the leading overseas distributor of telugu movies). But u know what, behind the scenes, every exhibitor, if not the distributor, might be as anxious as anybody else in the film-crew, since it involves so many crores, so many families and so many future plans/projects. The anxiety continues till that fateful Friday, sorry Wed'day, with questions such as - would the buyer & viewer come out with smiley faces! Would it live up to the standards set by Chiru's earlier flicks 'Indra & Tagore', or even surpass the potential 'Pokiri' figures! Would 'Stalin' reiterate the real BO power of the reel-mega star! Or would it turn-out a dud as was the case with previous two flicks! Keen to know 'what is up with 'Mr. Stalin, man for the society' (is he also a 'man for the future politics' as some predict!)! Here is a sneak preview with some points pondering over Stalin vis-à-vis an average movie buff's expectations on a paisaVassol entertaining end product.
The theme: Whatever the crew & rumor-mills say, the basic point should gel well with the audience while matching the credible caliber of chiru's screen-stature. Per Mr. Chiru's own words, it is about - 'Desamunu preminchumanna, manchi annadi penchumanna' (courtesy: great Gurajada). Seemingly, the subject of Stalin is on 'Sevaa vaadam' - focusing on "what one gives to country rather than what one gets from it". Service-conscious Stalin (being a retired Major General with glimpses of Kargil war backdrop scenes in the 'tring -- tring -- rings-rings--flashback' set-up) apparently aims to do all-goody activities in the most feasible & peaceful way possible (unlike Tagore's kidnapping & killing style), and gains popularity & public support in the lines of a CM with his innovative 'one-help-two' theory. Per director – the seed of the story was formed when he witnessed mega crowd at the mega star's 'Indra' celebs and hence the 'Stalin' concept is based on a real life hero (read Chiru ji) and the crowd. The basic line is fine on paper, but the way it is packaged onto celluloid decides the fate of the film.
Script, Screenplay, Dialogues & Direction: Mr. AR Murugadoss - upon assisting Kalaimani, Uday Sankar, and Suryah's Vaali & Khushi followed by an average dream-debu(Ajith's 'Dheena in 2001) - hit the bull's eye with his 2nd & 3rd movies, Ramana (Tagore's tamil version) & Ghazani. And there u go, overnight he was identified & approached by the biggies. Recall the USPs of those two blockbusters - it is his script with slick screenplay, racy narration and engrossing execution aptly supported by excellent lead performances, effective editing etcetera that fetched him laurels. Now the set up is different, a new environment full of star-centric images, a new language, and a whole new set of people. So, can he match his earlier flicks and bring the best out of the crew he has got for Stalin! With his proven skills he can do it, provided he had a freehand at what he is best at, with no compromise on the quality what so ever. But, if at all he had to succumb to starry egos or whatever, then the end product would have a bearing on its quality. Also, powerful punch-based 'Parachuri brothers', who are out of form of late, need to come up again with scene-based dialogues, rather than the star-centric ones that often dominate/divert the proceedings. And if they could do so, it would certainly boost this socio-political subject.
Characterization & Casting: Proven from age-old days, convincing characterization and correct casting make movies more plausible on screen, so if u miss this basic funda, u would pay for it. And chiru's previous two flicks paid a great price for ignoring this factor, be it Jai Chiranjeeva's inconsistent hero portrayal, or Andarivaadu's sole focus on one character ignoring most of the other characters around him, including younger chiru, weak villains, and naïve 'heroine-cum-bahu' etc. So, if Stalin considers all the other characters with the significance and screen-time they deserve, then half of the job is done. Or else, having hero frame after frame won't push the script much, and the outcome would certainly be uncertain. Any guesses, who the villain is! Whoever it is, that one z supposed to match the stature of the star, character-wise as well as acting-wise. Seems PrakashRaj is acting the role of his life, an octogenarian (CM – the lines of okeOkkadu!)! Since a Major General can't be a younger lad, is chiru acting his age or dual roles! Where does the teenage heroine 'Trisha' fit into, a lover-cum-life partner or an admirer again! Wonder, how significant is 'Khushboo's role - as hero's sister! Anyway, with Sarada, Prakash Raj, Khushboo, and Trisha in the line up, a lot of emotional drama & powerful performances are expected.
Hero-heroine on-screen chemistry: Though getting aged, Mr.SivaSankaraVaraPrasad is still active, and with all those digital gimmicks he looks younger than ever. It is the hero-heroine reel-romance that would do wonders on-screen as is proven innumerous times(Pokiri being the latest). Unfortunately, for Chiru - Bhoomika, Sameera, Rimmi Sen couldn't make up an intimate lovable 'jodi', and it proved to be a costly factor in the outcome too. So, now with much younger, lean & lively 'Trisha' coupled with our bubbly chiru, let us see how the screen sizzles. If they can click as a convincing couple, at least while roaming on the roads of Austria/Italy/Rome (of course on-screen), it would appeal to the audience who know how to appreciate. Remember, it was 'Surya& Asin's appealing on-screen chemistry that worked well for Ghazani, and even in Tagore, Chiru-Jyothika jodi appealed more than Chiru-Shreya - good that they were professor & student activist, and danced in dream only.
Mass-masala elements matching chiru's mega-image: As the audio got no raving reviews, it now depends more on the picturization of songs, chiru's ever-enthusiastic dance bits, and of course powerful fight sequences to compensate those mixed music reports. Remember the gaga over that 'veena-bit of Indra' and the dancing waves it created all over, a kind of that stuff is a long awaited one. Per audio, Stalin comprises six formula-fitting songs(2 romantic + 1 marriage hungama + 1 item number + 2 image-build-up fast & patho bits), and they may look better on-screen if executed & distributed well into two halves! Wonder, how an item number can fit into this kind of message-oriented flick! Might be a commercial compulsion if not a required ingredient! With the 'Parare' tune coming up in the image-build-up scenes of Stalin's social services, 'patho' tune('SUryudE') might appear as a twist-cum-tempo build-up tune just before or after the interval. Rain-cum-action scenes are a norm in Murugadoss movies, and a couple of wired are sure to hit u(in an aluminum factory or on brownie hills)with that graphic stuff, u know.
Finally, IMHO, 'SainikuDu-cum-SEvakuDu' sounds good, 'SEvakuDu-cum-nAyakuDu' also makes sense, but it is the 'nAyakuDu to rAjakIya nAyakuDu' thread, if there is one, that needs to be handled carefully with script-based scenes & situational dialogues without any overdose. If 'Stalin' takes care of the aforementioned factors, well who knows - 'a mega star with a Murugadoss-treated socio-commercial package of Shankar (aka OkeOkkadu)' might be on his way. BTW, as Mr. Murugadoss himself admitted once, well-written script is behind the success of any film anywhere. Actors can make good openings but it is content that determines the long run & success of a film. So, maximum prints may bring the max. possible returns and guarantee the investments through houseful collections in the initial weeks. But ultimately, it is the longevity of the movie that makes everybody(producer-distributor-exhibitor-viewer) happy with heavy cash bags too. So, will 'Stalin' have that longevity content with paisaVasool entertainment value! Let us wish so…
By Ramesh Babu
Stalin links:
• Audio Launch
• Photo Gallery
• Wallpapers
• Trailers