Hyderabad
3 February , 2010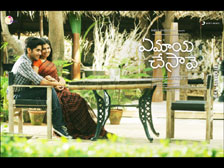 Music: AR Rahman | Lyrics: Ananth Sreeram
1. Kundanapu Bomma
Kundanapu Bomma translates as "Beautiful girl".…Jessie-our female lead is a simple, conservative girl from Kerala who the male lead-karthik falls head over heels in love with at first sight. Karthik follows her to Kerala and is completely captivated by her simplicity and beauty and can't help himself but call her his 'beautiful girl'.
The song has been shot at some never before seen locales at New Hope, NJ and is a visual treat for audiences from around the world. Presented differently with stylized choreography and cinematography, it captures the sublime chemistry between the lead pair.
Special Malayalam lyrics have also been written to add to the authenticity of the character and the film. Sung by Benny Dayal with Kalyani Menon adding to the Malayalam flavor, Kundanapu Bomma is a sure favorite for all ARR fans wherever!
2. Manasaa
A song of celebration! Shot at some of the best places in New York, this song tribute love and to the passion that the lead pair share. It's the kind of composition that you will your replay button on, listening to it over and again. And you still wouldn't have enough.
Shot at the Brooklyn Bridge, Time Square, New Hope, Bridge Water and other iconic places across New York this song is a mark of celebration that only a creator like Gautham can pull off with finesse along with musical brilliance by A.R.Rahman.
The lyrics marks and celebrates the bond of two people sanctified in marriage. Devan and Chinmayi have lent their voices to this beautiful song with an energy that is truly felt in the music.
3. Swaasye…..
If there is one word alone to describe this song, it would be 'character'. From the way it's been composed, to the way Karthik has sung the track, and not forget the simple yet stylish programming. The song has been edited beautifully to showcase the intimacy between the lead pair and the intricacies of their relationship.
4. Hosanna
A song that brilliantly captures the "Love at first sight" concept-that we as Indians and diehard romantics are completely sold on!
Dum-stuck by looking at this classy, beautiful yet simple girl – Jessie, Karthik is filled with an emotion that doesn't have a name in his dictionary! His feelings cannot be described with mere words and only breaking into poetry could do justice to him, to Jessie, to Love.
Shot against the backdrop of Princeton, the song has some taking visuals that projects Princeton in the best way possible!
The song begins with such a beautiful melody and then progresses into a fast number with English rap! A spectrum that ARR covers with such ease and genius.
Sung in a rap style by Vijayprakash (singer of the Academy Award Winning Song "Jai Ho" from Slumdog Millionaire), along with Suzanne and Blaaze (who has contributed with his flavour of English rap) and beautiful strung words by Anantha Sriram that bring in a regional/local sensibility to the otherwise very international tune.
5. Aakaasam….
Lyrics and Production Design are two things that stand out in this song. Artistically visualized by Rajeevan, the production designer, the idea has taken shape as four different set designs which have to it some brilliant lighting by Manoj Paramahamsa and stylish choreography by Flexy Stu.
Naga Chaitanya and Samantha are sure to win applauds with their performances in this song which has an underlying tension and eroticism running throughout.
Creatively directed by Gautham himself, the song has a dark shade to it which comes out brilliantly in the audio and video!
6. Aaromale
Compositions that blend seamlessly with some important scenes in the film – this signature track of the film. Well orchestrated and programmed, you need to hear it to believe it. Every frame which has been shot for this music accentuates the mood of the situation hence making it more realistic for the viewer to relate to the story. A travel song as we call it, it blends into the listener leaving behind the strong sounds that the song holds… Sung by Alphonse and special Malayalam Lyrics added by Kaithpram, this song is a sure watch out for…….
7. Vintunaavaa
One of the most favorite combinations has finally made comeback with this album – Karthik with Sherya Goshal!
Ever since fans have heard that two are teaming up together once again, anticipation levels have soare.
Anantha Sriram has written some brilliant lines for the song which has aptly captured Jessie's predicament – being madly in love with a boy and yet causing him pain…. Which also portrays the happiness in the two of them when they're together!
Shot at Hyderabad at various locations, the song has some lovely moments between the pair completely, madly in love.