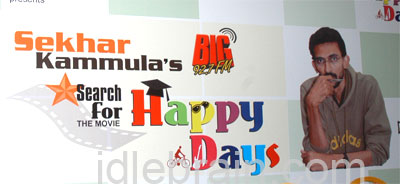 Amigoes Creations and Big 92.7 FM are conducting the first ever Reality star search on Radio in AP. The star search across Hyderabad, Vijayawada and Visakhapatnam will discover the lead actors for Sekhar Kammula's next movie "Happy Days".
Slated for the release in the summer of 2007, "Happy Days" is a young, urban college based film targeting today's youth. It is a story of youngsters symbolizing their different styles and attitudes at the same time portraying the diverse and effervescent tastes of the present time.
Reliance Communication is the presenting sponsor for the star search. Since inception Reliance communications always supported the film industry across the country.
Pantaloon has joined hands as the merchandizing partner for the movie.
The interested applicants can apply though email over here or dial 1234 on Reliance and say 'happy days' and record his/her one line dialogue followed by name, age, college and city.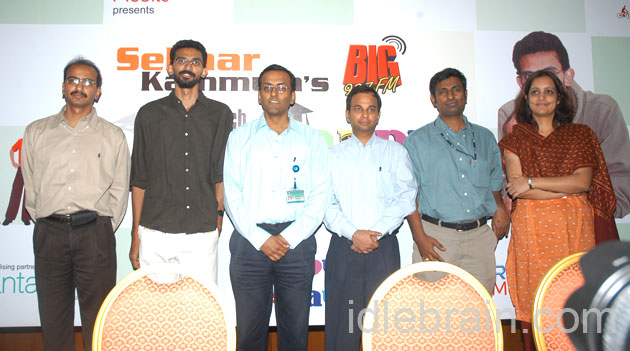 Sekhar Kammula organized a press meet to announce this star search. Aswin Padmanabhan (Station head of Big FM), Swapna (Program manager of BIG FM), Ashok Ghosh (Reliance Communications) and Chandra Sekhar Kammula (executive producer) attended this press meet.
Happy Days is going to change cinematic perception of college youth – Sekhar Kammula
Sekhar Kammula said, "I described my earlier films as my daughters. My next film 'Happy Days' will be like my son. Happy Days will be more forceful compared to my earlier films. The first hurdle for any of my films is to decide whether a story is good enough to make as film. Happy Days passed that hurdle. There is a comment that I make films that appeal more to female audience. This time I am making a film that caters to college students. There is a misrepresentation of college going youth in Telugu films. Generally college students are shown as people who always indulge n group fights and elope without listening to their parents. But Happy Days is going to change that cinematic perception of college youth. Happy Days will trigger a small change in the trend of filmmaking."
4 girls and 4 boys are needed for main leads – Sekhar Kammula
He also added, "We don't have complete brand associations with corporate companies like in Hollywood and Bollywood. The corporate company is involved only after production is over. Here we are attempting to involve corporates even before the commencement of shooting. We are associating with Big FM, Reliance Mobile, Pantaloons, Glitz (event management) etc. We are looking for 4 boys and 4 girls to play leads. We are also looking for people who could do character actor/actresses roles. Happy Days is going to be a trendsetting film. It will be my kind of film in which I will put my heart and soul."
Sneha (Big FM) anchored the event.