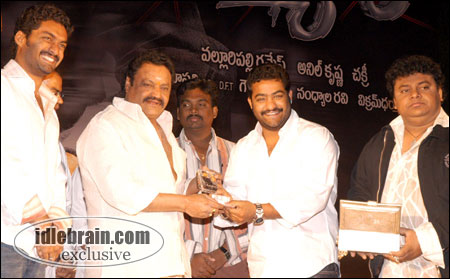 Audio of Kalyan Ram's latest film Asadhyudu was held at a function arranged at Annapurna studios on the night of 25th January. Lots of Nandamuri fans thronged to the venue to have a look at two successful heroes of 3rd generation of Nandamuri on the same stage. NTR released the audiocassette and gave the first unit to Hari Krishna. Rama Krishna was also present at the function. Chakri scored music and Aditya bought audio rights.
Kalyan Ram and NTR are like my eyes - Hari Krishna Nandamuri
Hari Krishna released the video promo of Asadhyudu. Speaking on this occasion Hari Krishna said, "I am happy to see both Kalyan Ram and NTR on the same stage. Kalyan Ram is elder brother of NTR. It is a rare occasion to see younger brother releasing the audio of elder brother's film. I am proud of them. Both Kalyan Ram and NTR are like my two eyes. Janakiram Nandamuri - eldest son - is my heart. It is the people of Andhra Pradesh who gave us hits and brought us to this stage. Nandamuri fans inspire me to work hard every day. I hope that the public of Andhra Pradesh would make Asadhyudu a bigger hit than Athanokkade. Music director Chakri has done good work. Fans should also take care of their parents and respect them."
Asadhyudu film will be a sensation - NTR
Guest NTR said, "It is Nandamuri fans who made what we are today. We dedicate all our films to fans. Asadhyudu is going to create sensation. Chakri gave an unforgettable mass song like Nai Re in Andhrawala film. He gave nice tunes to Asadhyudu film. Lots of people expressed their surprise over Valluripally Ramesh being the producer of Ashok. I want to say to everybody that I am really proud to work in a film that is being produced by Ramesh. Both Asadhyudu and Ashok films are going to be unforgettable films"
Producer Valluripally Ramesh Babu said, "My dream was to produce a film with the legend NTR. But I could not raise to that level in the past. I am very happy to have produced two films simultaneously with the grandsons of NTR. I am also going to do films with the remaining Nandamuri heroes soon.
Director Anil Krishna said that there would be lots of punch dialogues in the film like 'Nenu mamuluga deniki fix avvanu. fix aithe drop avvanu.' in this film. I am very much indebted to Kalyan Ram and Valluripally Ramesh for giving me this opportunity
Music director Chakri said, "I scored 7 songs in the film out of which 4 songs have mass orientation. I am introducing two lyricists Venkatesh and Chandu with this film." He also rendered sibiram sibiram - edalo mogina edo naadam song.
Hero Kalyan Ram thanked all the fans in a brief speech and took the feedback about songs from the fans who visited the audio function.
Sattenna and Reshmi anchored this event.
Asadhyudu links
Photo Gallery
Working Stills
Wallpapers
US release

More photographs to be kept later.