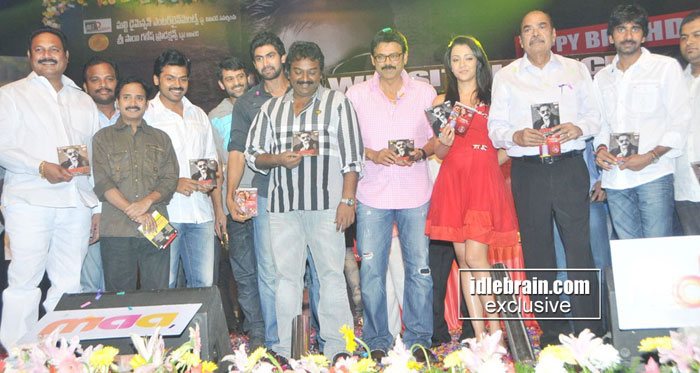 Music of Venkatesh's latest movie Bodyguard was launched at a function organized in Shilpa Kala Vedika on the night of 13 December on the eve of Venkatesh's birthday. Thaman composed music. Bellamkonda Suresh is producing this movie in the direction of Gopichand Malineni. Trisha plays female lead.
The entire cast of the film is present. Prabhas, Rana, Karthik and VV Vinayak attended this function as guests. Thaman has give performance along with his team of singers and live orchestra.
VV Vinayak launched the audio CD and gave the first copy to Prabhas. Rana launched memory card and Karthi launched the official website.
Good film for Sankranthi - Venkatesh
Speaking on the occasion, Venkatesh said, "I am very happy to have audio launch on my birthday where my fans have come from all over the state. I would like to thank all my fans and well-wishers for encouraging me for the past 25 years from Kaliyuga Pandavulu to Bodyguard. Bodyguard will be a good film for Sankranthi."
Premieres in USA on 9 Jan - Bellamkonda Suresh
Bodyguard film has come in Malayalam, Tamil and Hindi. But I feel that this subject suits better to Venkatesh in Telugu than any other actor in other languages. I wanted to release this film in September/October. But fans wanted me to release Bodyguard for Sankranthi as it will be a festive season. We are planning to release Bodyguard on 9 January in USA, a 3-days ahead of Indian release on 12 January."
VV Vinayak said, "It is like my own banner. Bellamkonda Suresh puts lot of passion and sincere efforts in making movies. Venkatesh is known for nice selection of scripts and a sound judgment. Music by Thaman is superhit. I am impressed with the fights composed by Ram - Laxman. Gopichand M will become a big director in the future.
Music director Thaman said, "I had immense job satisfaction working for Bodyguard. It is a big responsibility to score tunes for Venkatesh's film. I have seen the rushes and the chemistry between Trisha and Venkatesh is very good. This film is going to be a huge blockbuster."
Director Gopichand Malineni said, "Bodyguard is a good script and a good music will help the movie. I am feeling happy to direct a film with Venkatesh in his 25th year as an actor. The script is a tailor-made one for Venkatesh. Trisha has got equally important role in the movie."
Prabhas said, "Gopichand worked as an associate for Billa film. With a small framed body, he used to look like a small rebel. I thought that he had qualities to become a big director."
Rana said, "All Venky's remakes are hits. I am sure that Bodyguard will become a bigger hit than in other languages."
Karthi said, "It's like a celebration here. The music of Bodyguard is rocking."
Meher Ramesh said, "Gopichand has worked as an associate for Kantri and Billa. He is a silent guy who lets his work speak. His is a hard-worker and projected Venkatesh very well in this movie."