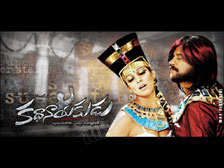 Music of superstar Rajnikanth's bilingual film Kathanayakudu (Telugu) and Kuselan (Tamil) was simultaneously released at an impressive function held at Le Meridian Hotel in Chennai on Monday late in the evening. Produced by Ashwini Dutt in Telugu, it is directed by Chandramukhi sensation P. Vasu (both versions). AR Rehman was the chief guest at the colorful gala. His newphew G. V. Prakash scored music for this bilingual project.
Jagapati Babu, Sunil, Ali, Ashwini Dutt were among the prominent who made their presence at the music launch. P. Vasu prompted the music release in style, with each of the guests and the invitees totaling to a swirling 3000 and odd to get the album and presenting it to the best of their friends.
Rajnikanth said that the film got encouraging reports everywhere right from its launch and this brought some anxious moments for him. He said that the film would bring the best results to one and all. He termed the young composer GV Prakash as a mix of Rehman and Maestro Ilayaraja. On this occasion, Rajni thanked AR Rehman for gracing the occasion.
Director P. Vasu said that Rajnikanth is one and the only life example of true friendship. Rajni's mentor K. Balachander spoke at length about his tie with Rajni, comparing it with that of the "guru-sishyan" relationship between Ramakrishna Paramahamsa and Swami Vivekananda. Jagapati Babu, who played the friend to Rajni in the film, said he couldn't believe his prospects co-starring the superstar, which still "looks like a dream to me."
Kathanayakudu links:
• Film launch
• Photo gallery
• Wallpapers