Audio of Neeku Nenu Naaku Nuvvu (N4) was released today. The unit of N4 met the press today and explained about the film. Here are the excerpts …..
Based on the noble human trait called 'Forgiveness' - Paruchuri brothers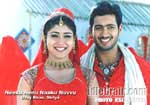 Paruchuri brothers said that they did 30 films so far for Suresh Production banner. They said that director Rajasekhar has given brilliant storyline. The film revolves around five main characters of Uday Kiran, Shriya, Krishnam Raju, Sujatha and Suman. The casting in this film is so appropriate that after watching this film, everybody would come to a conclusion that no other artist would do justice those roles except for the chosen ones. There are also good comedy episodes picturised on Brahmanandam. This the basic storyline of this film is based on the noble human trait of 'forgiving attitude'. Paruchuri brothers said that the climax of this film is excellent.
K Raghavendra Rao worked for a song on Telugu language for N4 - Suresh Babu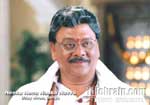 Producer Suresh Babu said that he was not getting proper theme for the hero's introduction song in this film. Hence he approached K Raghavendra Rao and asked for an idea. K Raghavendra Rao suggested him that since this year is a Telugu Adhikara Basha year, a song explaining the greatness of Telugu language would be apt. K Raghavendra Rao has also taken initiative and summoned Chandra Bose to write lyrics for the same and suggested RP Patnaik about few musical notes about this song - 'Telugu Basha' sung by SP Charan. Suresh Babu said that this film explains how a small bad behavioral trait effects the life of others. This film is slated for the release on 14th August 2003.
Two inspired songs in N4 album - RP Patnaik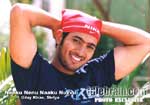 RP Patnaik said that there is a great scope for having good situational songs in this film. He expressed his happiness in scoring music for Uday Kiran for seven films. He said that the 'Telugu Basha' song would be become a long standing songs like the golden oldies. RP Patnaik said that he is a great admirer of Ilayaraja and with his permission, he reused the 'Balapam patti' tune for the 'Gummare Gummare' song written by Peddada Murthy. RP Patnaik has also used popular Hindi tune 'Hum kaale hain per dilwale hain' for a song titled 'Pelladi Teeralannaru' written by Chaitanya Prasad.
Everything is positive about this film - Uday Kiran
Uday Kiran said that all the characters are positive-oriented in this film. And all the characters possess great human values.
Suresh Babu wanted to drop this project in the middle - D Rama Naidu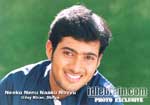 Dr. Rama Naidu said that Suresh Babu wanted to shelve the project halfway because it was not shaping up well. He has taken some time, and then reworked on the script to make this film a complete one. This film is made with rich production values. Rama Naidu said that he does treat success and failure with the same spirit and goes ahead making another film, where are Suresh Babu can't handle failures. Hence Suresh Babu makes sure that everything is perfect till the last moment of the release of the film.
I am playing foreign brought-up girl - Shriya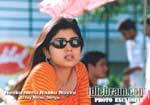 Actress Shriya said that she is playing a foreign brought-up girl in this film. Though she is educated in abroad, she is very down to earth and simple girl. Every Telugu girl can associate herself with this role. Shriya had a special compliment for Uday Kiran that he is a very good dedicated artist.
Suresh Productions is an institution - Raja Sekhar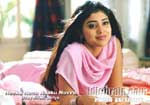 The Tamil lad Raja Sekhar - who is directing this film - said that it's a life time opportunity for him to make his debut as director with a production house of this stature. He observed that Suresh Production House is like an institution itself and one can learn a lot about film making by working with people like D Suresh Babu.