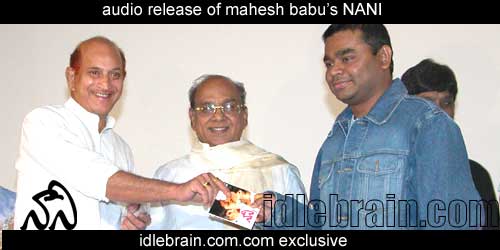 Audio of Mahesh Babu's Nani was released today in style at a function arranged at Screen 5 of Prasads Multiplex. AR Rehman - with a summer hair-do - is the special attraction of this function. The celebrities who graced this function include ANR, Krishna, D Rama Naidu, K Raghavendra Rao, Vijaya Nirmala, Keerti Reddy, Aswini Dutt,MS Raju, D Suresh Babu, Jayant C Paranji, Guna Sekhar, KL Narayana, Ashok, Jayabheri Kishore, Trivikram, G Adiseshagiri Rao, Prabhas, Prabhu Deva, Uday Kiran, Sumanth, Ramesh Prasad, KC Sekhara Babu, C Kalyan. Hero Mahesh, Producer Manjula and director Suryah were also present.
All the songs in the film were played on speakers. Two full songs (Chakkera and Vasta Nee Venuka) were projected on a big screen. Here is the description of the songs.
1. Chakkera: This song is shot in outdoors in the dance direction of Raju Sundaram. Mahesh Babu and Amisha would be wearing folk dresses and black goggles. It's a complete mass song with a couple of suggestive steps. This song would be having the hue of gray for certain locations and hue of blue for some other.

2. Vasta Nee Venuka: This is an arresting class tune. This song is shot in indoor sets in the dance direction of Raju Sundaram. Mahesh Babu would be wearing suits. The song has 4 colors (black, blue, white and red) of attires for lead pair. Mahesh Babu is looking extremely handsome. Amisha Patel is utterly sensuous with her cute antics and lovely expressions. The set work for this song is trendy.
ANR released the audiocassette and gave the first copy to AR Rehman. Krishna released the audio CD and gave the first copy to AR Rehman. Sunitha anchored this event. Aditya music has bought the rights. Pepsi sponsored the show. This function was held in a simple manner without having any speeches.