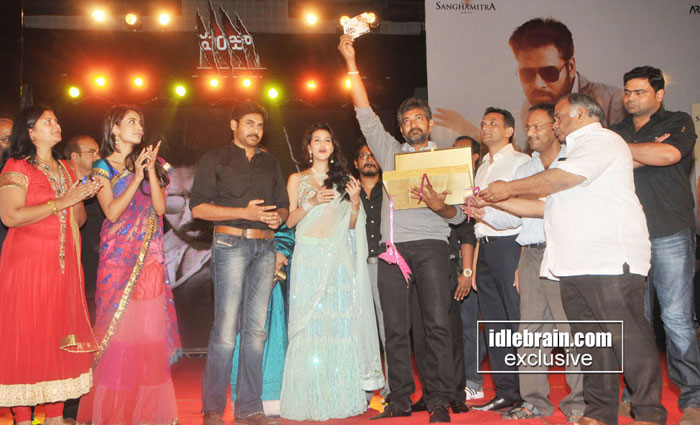 Music launch of Pawan Kalyan's Panjaa was launched in the indoor stadium of Gachibowli, Hyderabad on the night of 19 November 2011. This function is attended by cast and crewmembers. The guest list include K Raghavendra Rao, SS Rajamouli and MM Keeravani.
It was a high voltage function mainly due to young Pawan Kalyan fans who created an electifying atmosphere with their presence. Ali (wearing Pawan Kalyan's beard get-up from Panjaa) and Suma anchored the event on the stage. The ground anchoring was done by Ravi and Soumya.
All India IIT topper Pruthvi Tej received medal from Pawan Kalyan. Incidentally, he is a great fan of Pawan Kalyan. The producers have conducted Pawan Mania contest on youtube and winners were called onto the stage. Pawan Kalyan hugged each one of them.
Rajamouli launched the audio CD and Pawan Kalyan launched 2G memory card. Since lots of fans bearing the passes were stranded outside, Pawan Kalyan tendered an apology to all the fans who missed the function.
I don't believe in Varasatvam - Pawan Kalyan
Speaking on the occasion Pawan Kalyan said, "I wanted to become a hero in my teens. But before expressing it to anybody, I said to myself why should people watch me as a hero just because I am the brother of Chiranjeevi. I had waited for 6 years before getting confidence and expressing it to the elders. I don't believe in Varasatvam. You will make it only on your talent and hard work, not on varasatvam. I sincerely want to act in many films. I also know that I couldn't satisfy you (fans) in few films. But I am putting my 100% effort and dedication in all my movies. I never tell that my film is going to be hit. If people like it, then it will become hit. Surya recommended me to Vishnu Vardhan and he has come up with a nice subject. He is a passionate director and he has put in amazing efforts for Panjaa. Yuvan Shankar Raja worked for the film despite losing his mother since he doesn't want audio release to get affected. Producers of this film are my fans and they did a fabulous work. I loved Brahmanandam's role in this movie. Lots of people asked Rajamouli when he is going to direct me. I am not a kind of guy who goes to directors for films. I never did it. When time comes, it happens."
The key for our combination is with Pawan Kalyan - SS Rajamouli
Rajamouli said, "Pawan Kalyan knows the pulse of audiences like a doctor knows the pulse of a patient. Producer Shobu is my friend and he used to pitch titles for this movie and I didn't really liked any of them. But when he said Panjaa, I said that title is superb. I went to meet Pawan Kalyan when I was recently in Kolkata, but he didn't come to sets on that day. I am happy to meet him now at this launch. (mean while fans asked when Rajamouli is going to direct Pawan Kalyan). The decision of our combination film lies in the hands of Pawan Kalyan."
Dialogue writer Abburi Ravi said, "There is a dialogue in trailer - Saayam pondina vaadu kruthgnyatha chupinchakapovadam entha tappo, Sayam chesinavadiki kruthgnyatha korukovatam kooda anthe tappu. This dialogue reflects the personality and thinking pattern of Pawan Kalyan. He is a gem of a human being."
Brahmanandam said, "I have done the role of SI Paparayudu in this movie. There is a song in my combination. Pawan Kalyan has done a wonderful dance for that song. This film is going to be full meals for the movie lovers."
Producer Neelima Tirumalasetti said, "I am a big fan of Pawan Kalyan. It was my dream to meet Pawan Kalyan in person. It looks remarkable that I have produced a film with him. I would like to thank every body who have helped me out in the process."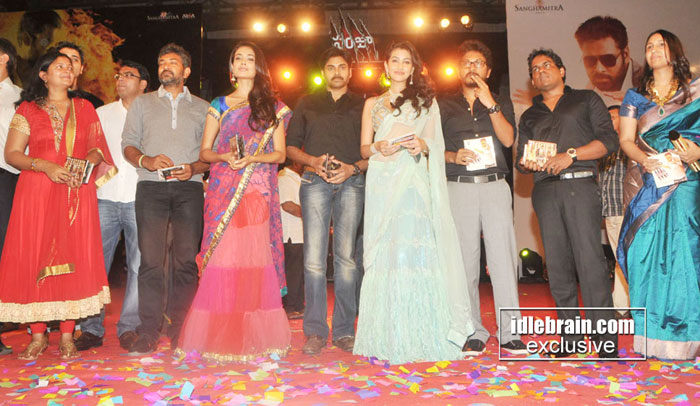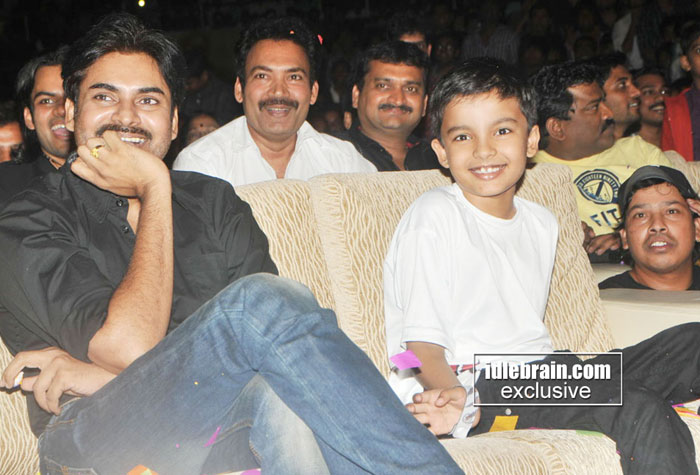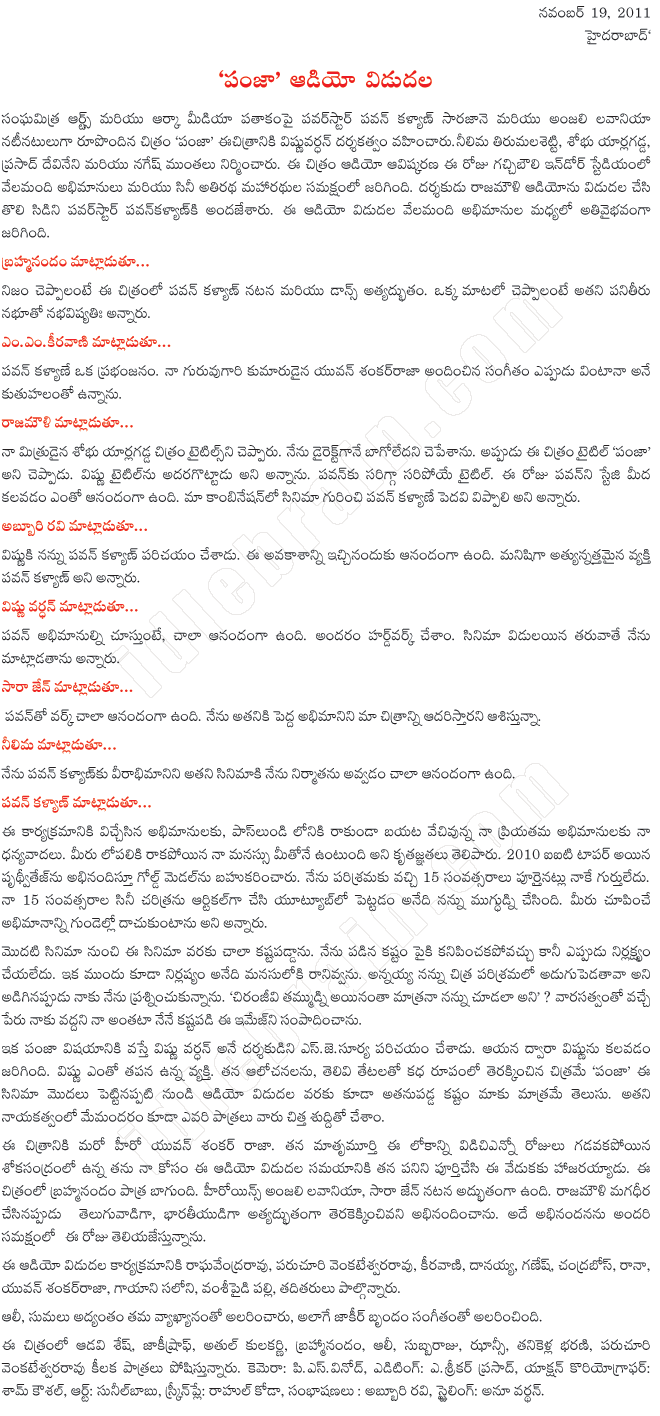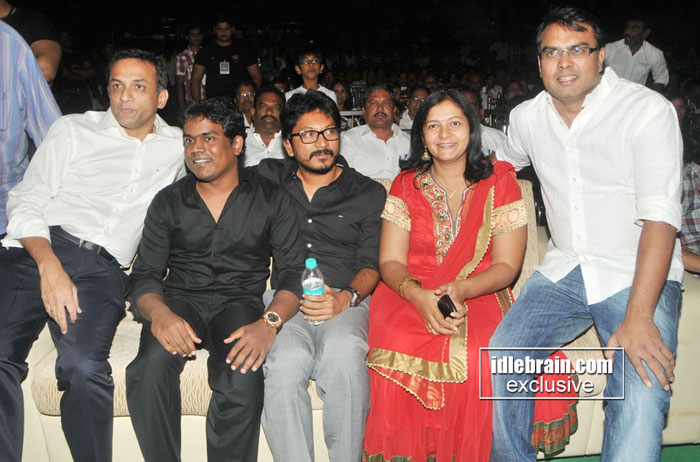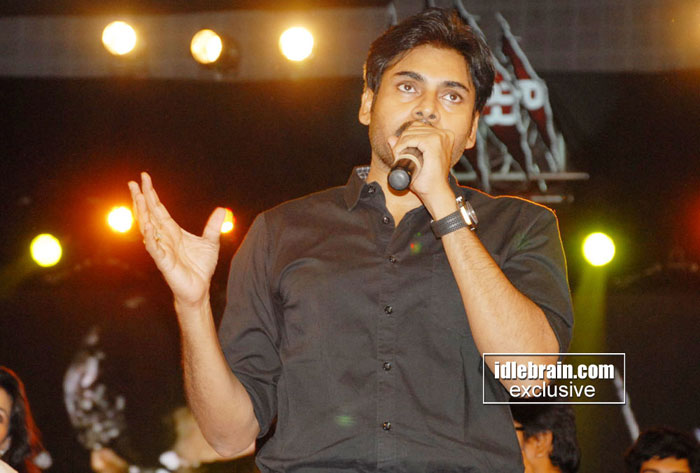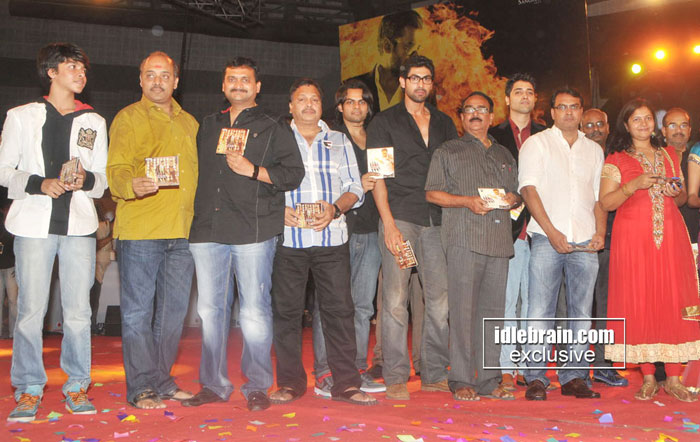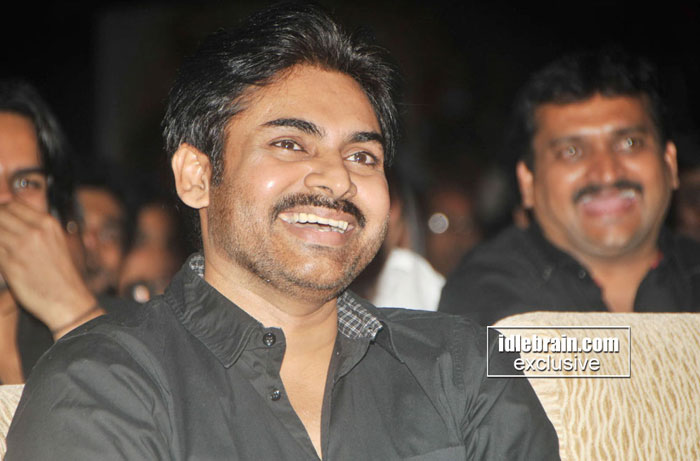 Panjaa music launch function tweets