Kodali Movies Private Limited
SAMBA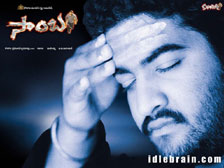 Cast: NTR, Bhumika Chawla, Genelia, Prakash Raj, Vijay Kumar, Tanikella Bharani, Chalapati Rao, Ahuti Prasad, Mansoor Ali Khan, Hemanth Ravan, GV, Jessy Singh, Ali, Venu Madhav, LB Sriram, Krishna Bhagavan, Malladi Raghava, Prasanna Kumar, Brahmaji, Subbaraju, Nutan Kumar, Sameer, Master Teja, Vijay, Sitara, Sukanya, Sukumari, Vijaya Singh, Pragati, Kalyani, Shirmili, Saraswatamma, Reshmi, Baby Greeshma, Baby Abhinaya
Story: GS Rao
Dialogues: Kona Venkat
Cinematography: K Ravindra Babu
Music: Mani Sharma
Art: Srinivasa Raju
Fights: Vijay
Editing: Gowtam Raju
Lyrics: Bhuvana Chandra, Chandra Bose, Sahiti & Suddala Ashok Teja
Choreography: Prabhudeva, Lawrence, Raja Sekhar, Ashok Raj
Executive producer: Arikepudi Sivaji
Producer: Kodali Nani
Screenplay - direction: VV Vinayak

NTR celebrated his 22nd birthday on 20th May 2004 at the 'Samba' audio function venue of Taj Residency. B Gopal, Raja Mouli, D Suresh Babu and KL Narayana were invited as chief guests.
NTR cut the cake and fed it to Kodali Nani and other guests at the venue. Genelia also attended the party along with her mother. All the crewmembers of Samba attended the event. Fans over NTR and Kodali Nani assembled at the venue to cheer up the birthday boy NTR.
B Gopal and Raja Mouli released the audio and gave the first and second cassette to D Suresh Babu and KL Narayana respectively.
Speaking on the occasion oriducer Kodali Nani said that they released the audio of Samba on NTR's birthday 20th May as a sentiment as Simhadri audio was also released on the same day n the last year. The audio would be available in the market on 24th May.
My life is dedicated to my fans - NTR
NTR said that he is grateful to his mother, cinekalama talli, brother and his backbone Nani, heart legend NTR, industry people and his fans. NTR dedicated his life and cinemas to his fans all over the world. He had a special mention for Kodali Nani who has met him when he was 10 year old kid. Since then Nani took care of NTR. He described Kodali Nani as a man of rough appearance and a golden heart. Nani had two dreams. One is to become a politician, which he has attained. The other one is to make a film with NTR which is going to be realized in the next month. He commended Nani's ability to judge the film. It was Kodali Nani who predicted the success of Student No.1, Aadi and Simhadri before their release.
Dialogues from Samba film
Chaduvukune vaadiki sthomata akkarledu. Telivitetalu vunte chaalu.
Kotiswarudu inko koteeswarudini tayaru cheyyaledu. Kaani oka graduate inko 100 graduates ni Tayaru cheyya galadu.
Panchekoddi taggutundi dabbu. Panchekondi perugutundi chaduvu.