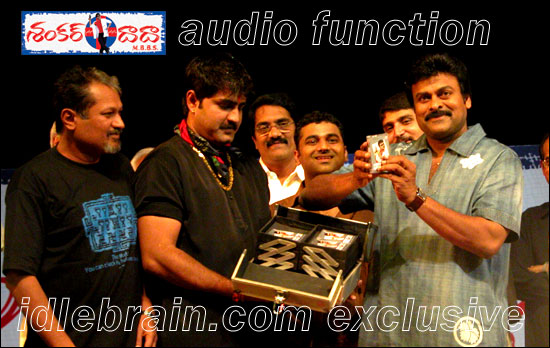 There has never been such an electrifying and exciting audio function celebrated ever with the true spirits and terrific fanfare. The audio function of Shankar Dada MBBS turned out to be a sensational fare in spite of the change of venue at the last hour. The audio of Shankar Dada MBBS is expected to be held at Taramati - Baradri in Golkonda. Taramati - Baradri is the place where all musical related events used to be held during Nizam's rule few centuries back. The sound generated at Taramati - Baradri used to be audible to the entire fort of Golkonda because of its strategic location. The producers of Shankar Dada MBBS obtained special permission to hold this event at such an historical venue. But rain played the spoilt sport and it rained cats and dogs for 3-4 continuous hours in Hyderabad. The organizers changed the venue to Shilpakalavedika, Madapur.
The spoilsport played by rain has become a blessing in disguise for Chiranjeevi and Chiranjeevi's fans. It rained heavily during the release days of Indra and Tagore. Both these films went on to become stupendous blockbusters. This time calling by the rain has come bit early for the audio function of 'Shankar Dada MBBS'. Chiranjeevi's fans interpreted this rain as the blessing of Lord Indra which showed the same for Indra and Tagore.
The total credit of making this function an electrifying one should go to the livewire music creator Devi Sri Prasad. The association of Devi Sri Prasad in Chiranjeevi's films goes a long way. It was Devi Sri Prasad who penned and sang a rap bit in Chiranjeevi's 'Ata Kavala Pata Kavala' in Annayya film.
I will speak on 100th day - Jayant
Though a shy guy when it comes to publicity and social behavior, Jayant C Paranji cheered the fans by chanting 'Shankar Dada MBBS. He said that he would speak about the film on the venue of 100 days celebrations.
Shankar Dada MBBS would remind the entertainment value of Donga Mogudu - Paruchuri
Paruchuri Gopala Krishna played it to the galleries with his speech. He compared the fame of Chiranjeevi to the moonlight of the moon. He compared the weight of the earth to the stamina of Chiranjeevi. He said that he felt bad for not writing dialogues for Donga Modugu film. He shared his happiness over getting the opportunity to work for Shankar Dada who has the entertainment value equivalent to that of Donga Mogudu.
A tribute to the blood donors
The audio is released by Chiranjeevi himself. And the guests of honor for this occasion are the blood donors who donated blood for most number of times. Narasimha Rao (Warangal) and KM Sudhakar (Hyderabad) donated blood 153 times and 130 times respectively. These two gentlemen were the recipients of audiocassettes released by Chiranjeevi. They also received mementoes from Chiranjeevi on behalf of Chiranjeevi Charitable Trust.
Srikanth said that he has been a fan of Chiranjeevi since his childhood and he is extremely thrilled at the opportunity of dancing with Chiranjeevi in Shankar Dada MBBS. He playing a role called ATM (Any Time Murder).
Shankar Dada MBBS is what fans prescribed for me - Chiranjeevi
Chiranjeevi opined that holding of an audio function for Shankar Dada MBBS is unnecessary. But for fans, he had to agree to it. He opined that this audio function is the most entertaining audio function ever. He remembered the incident when a 60 year old lady came to him after watching Daddy film and suggested that he should stick to commercial and entertainment-based films because the audiences come to Chiranjeevi's films expecting entertainment. Chiranjeevi said that he has decided to do the films that have all ingredients fans prescribed for.
Shankar Dada MBBS is like full meals
He said that Shankardada MBBS film would be in the mold of Rowdy Allu, Gharana Mogudu and Donga Mogudu. He assured fans that Shankar Dada MBBS would be like full meals to them. This film would be entertaining from the 1st frame to the last frame.
Watch story
Chiranjeevi fondly remembered his association with Devi Sri Prasad. Satya Murthy - father of Devi Sri Prasad - asked Chiranjeevi to listen to the compositions of Devi Sri Prasad when he was in Chennai. After listening to the original compositions of Devi Sri Prasad, Chiranjeevi gifted his wrist watch to Devi and blessed that Devi Sri Prasad would become a big music director. After the released of Anandam film, Chiranjeevi congratulated Devi Sri Prasad over his success. Then DSP shown him his watch. At that time the watch was not functioning. Then DSP jocularly commented that 'ee watch lo time aagi poyina, mee blessings valla naa time baga jarugutundi'. At MBBS function Chiranjeevi observed the watch on DSP's wrist and said that the watch he presented has become an antique. Chiranjeevi took out his wrist watch and presented it to Devi Sri Prasad amidst thundering applause of fans.
One tune per song
Chiranjeevi also said that music directors come up with 7-8 tunes for each song, in general. But Devi Sri Prasad came up with one tune per song and all the songs were okayed in the first listening itself. He opined that 'Chaila' song is the number one song in this album.
I am a slave to my fans - Chiranjeevi
Chiranjeevi completed his speech by saying that he is a slave to his fans and would do whatever they wish for!
Title song is truly sensational
Title song of this album is truly sensational followed by Chaila. Supreme Music released the audio of Shankar Dada MBBS. The albums would be available for public on 6th September in stores.
The celebrities who graced this occasion include K Raghavendra Rao, D Rama Naidu, C Aswini Dutt, KL Narayana, KS Rama Rao, Allu Arvind, Vijaya Bapineedu, Shyam Prasad Reddy, C Kalyan, KC Sekhara Babu, Tagore Madhu, Dil Raju, Ashok Kumar, Chanti Affala, Arjuna Raju, Burugapally Sivarama Krishna, VV Vinayak, Seenu Vytla, Satya Murthy, Allu Arjun, Ali, Rohit etc. Raghu Kunche and Bhargavi anchored this event.