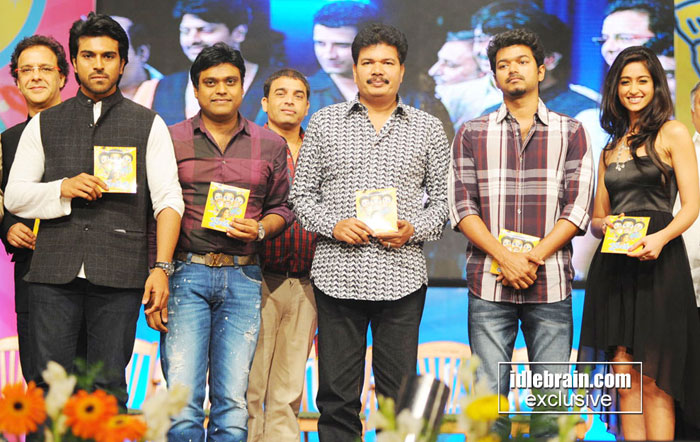 Music of 3 Idiots remake Snehitudu (remade in Tamil as Nanban and dubbed in Telugu as Snehitudu) was held at Shilpa Kala Vedika on the night of 19 January. It was attended by Ram Charan Tej, Raj Kumar Hirani, Vidhu Vinod Chopra, Vijay, Shankar, Ileana, Sreeram, Harris Jayraj, Satyaraj, Gemini Kiran, Dil Raju etc. Udaya Bhanu and Venu Madhav (dressed in Robo and Aparichitudu get-ups). Ram Charan Tej launched the music CD and Vidhu Vinod Chopra launched theatrical trailer.
Forget my past films and watch Snehitudu with fresh mind - Shankar
Shankar said, "This is my first remake. There are reasons why I have done this remake. I was shooting a few vital action chase sequences of Robo when 3 Idiots was released near Pune. A day's shoot was cancelled as we couldn't procure permissions. I was extremely upset. The unit members decided that we should watch a movie in free time. All of us went to a theater in Lonavala. Though I was watching film, I was thinking about next day's shoot. That is when I noticed that entire theater was laughing and enjoying the movie. I decided to put stop to my worries and started enjoying the film. I was relieved of my stress and tension by the time film was over. It was a rare feeling. I want all the people in south India experience the same feeling, hence I decided to remake the movie. Snehitudu has a good story and a good screenplay. The original version had only two songs. We had inserted a belly dance in second half and it comes as a situational song. It is very easy to get carried away by original tunes and reuse them. But Harris Jayraj has decided to start work from afresh and score new songs. Gemini Film Circuit is the banner that prefers story over stars. Abburi Ravi penned dialogues for Snehitudu. Bommarillu is my favorite film. Vijay is like a boy next door. He is as punctual as superstar Rajnikanth. Jiva is like a corporate employee with lot of casualness. He maintained perfect balance in this work. Sreeram worked very hard and I cried by looking at his performance in a scene. Ileana has worked hard to match with the performance of Kareena. Times of India wrote that she did better than Kareena in drinking scene. I have selected Satyam after a lot of auditions and he has delivered well. Sunil dubbed his voice. I would like all of you to forget my earlier films and watch Snehitudu with a fresh mind. Snehitudu doesnt have action sequences and graphics like in Robo."
I had declined 3 Idiots - Ram Charan Tej
Ram Charan Tej said, "I would like to thank producers for giving Shankar Dada MBBS to my dad. When my dad was doubtful about my dancing skills, I performed to Chikbuk Raile song from Gentleman to convince him that I am a skillful dancer. I am a huge fan of Shankar since Gentleman film. I was invited by Vidhu Vinod Chopra and Raju Hirani for a private screening of 3 Idiots much before it's release. I was offered to play the role of Amir Khan for south version. I was not confident of donning to shoes of Amir Khan and I declined the offer. After a few months, Shankar was roped in to direct the movie. That's when I felt that I missed a good opportunity. I am happy that my friend Vijay has done it and I wish the film all the success. To remake a film like 3 Idiots, the producers should have real guts. Gemini Film Circuit have shown it again that they are quality producers."
Vijay who spoke in nice Telugu said, "I love Telugu films and Telugu audiences supported my movies."
Raju Hirani said, "I had never seen such a lively music launch function in Mumbai. I think we should take the crowds from here to Mumbai for music launches. I had seen the South version a couple of days back and I am impressed."
Sirivennela said, "I am a fan of Shankar because he mixes commercial elements with conviction to give a message-oriented entertainer. I had seen around 100 Hollywood films. Robo is better than 90 of 100 Hollywood films I had seen. I admire him more because he follows the same conviction in real life too."
Sunil said that he has dubbed his voice for Satyam character in Telugu (Balatkar in Hindi).