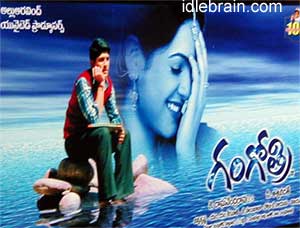 Audio of K Raghavendra Rao's 100th film 'Gangotri' was released in grand function organized at Annapurna Studios on 16th February 2003. The film 'Gangotri' would be hitting marquee on 29th of March 2003. The artwork for the dais was done by Ashok. The who and who of Telugu film industry graced the occasion. The shooting was done without giving any information or holding press meets. Aswini Dutt and Allu Arvind are producing this film on 'United Producers' banner. Allu Arjun (son of Allu Arvind) and Aditi Agarwal (sister of Arti Agarwal) are making their debut through this film.
ANR, Chiranjeevi, Mohan Babu, Hari Krishna, Nagarjuna, Venkatesh, Srikanth, Nepolian (Tamil), Mahesh Babu, Prabhas and Vishnu Vardhan are the heroes who graced the occasion. The audio release of this album is done in a unique style. K Raghavendra Rao has dedicated each of the songs to his parents, producers, technicians, actors, press, distributors-exhibitors and audience. Chandra Bose penned six songs and Veturi wrote the title song.
Giving the welcome address, Allu Arvind explained how the project was conceived. KRR is a director who is respected by all the producers who had produced films earlier with KRR and hence all of them decided to produce 100th film of KRR together. Allu Arvind and Aswini Dutt formed 'United Producers' banner on behalf of all of them. KRR did not see Allu Arjun for a couple of years and when he saw Arjun at a party, KRR is said to have mentioned to Arjun that he has qualities of becoming a hero. In a gap of two days, Aswini Dutt approached Arjun with a proposal and that's how 'Gangotri' was conceived.
Talking on the occasion, ANR said that he is a fan of Keeravani for the melody he provides. He also mentioned that directing 100 films is not a milestone. But directing a good number of meaningful films is more important. He said that the film Annamayya is enough for K Raghavendra Rao to prove his mettle. He also jocularly said that Annamayya gave a fitting reply to those critics who ridicule that KRR is a director who concentrates more on navel of heroines. ANR praised Chandra Bose by saying that he has good qualities of becoming a singer.
Hari Krishna said that he is like a brother to KRR. Hari Krishna worked as production controller for films - Driver Ramudu, Satyam - Sivam, Pattabhishekam - directed by KRR on Rama Krishna Horticulture banner. Hari Krishna praised KRR as DB (Darshaka Bishma).
Mohan Babu said that he is a lucky hand. He gave opening clap for 3 films and all of them became super hits (like Osey Ramulamma). He graced only one audio function so far for Allari Priyudu, which became a blockbuster. He said that 'Gangotri' is his second audio function and wished that it would become a big hit. He said that he approached KRR in 1990 when he was financially broken and requested KRR to direct 'Alludu Garu'. Mohan Babu claimed that because of 'Alludu Garu' his acting career continued as hero. Mohan Babu said that he is very fond of Allu Arjun. He also mentioned that Allu Arjun once told him that he likes his action more than what he likes in Chiranjeevi.
Chinni Krishna said that he prepared the story of Gangotri to direct it. But, he was afraid that he couldn't do justice to it as it needs a director of KRR caliber. Chinni Krishna is proud of Ganga River and is feeling sad that Ganges is not flowing in AP. He wished that KRR would get Ganges in form of 'Gangotri' in all the movie halls in AP. He also mentioned that special credit should be given to the crew and cast(Allu Arjun, Aditi Agarwal and Prakash Raj) for the 2000-feet climax.
Nagarjuna in his short speech mentioned that KRR is the most comfortable director to work with. KRR also possesses good PR qualities and he pampers his cast and crew. He suggested that all the new breed directors should go for training at KRR about how to behave before directing the films.
Venkatesh humbly mentioned that he was a rookie when he acted in his first film 'Kaliyuga Pandavulu'. It was KRR who taught Venky everything about acting. He also felt that he had difficulty working with other directors after he made his debut through KRR.
In a brief speech in English, hero Allu Arjun thanked everybody. On the contrary non-Telugu girl Aditi Agarwal wished everybody with 'Andariki Namaskaram' and thanked each and every crewmember in helping her to perform better.
Chiranjeevi started his speech with good humor. He moved away from the place where other heroes are sitting and jocularly commented that 'Dushtulaki dooramgaa vundali!', because the heroes have been teasing others from back when somebody is delivering speeches. He said he missed acting in 100th film of KRR along with Nagarjuna and Venkatesh because the story did not work out. Allu Arjun was lucky enough to grab that offer. Chiranjeevi said that he had to wait for seven years to act as hero in KRR film (Adavi Donga). He also said that KRR calls him as 'babai'. Talking about the friendship between KRR, Allu Arvind and Aswini Dutt, he said a funny event that occurred. During the release of Paradesi, these three people were traveling in car and it stopped at Punjagutta traffic post. A girl was begging for money by approaching all cars. But when she approached these guys car, she ignored them and moved on to the next car. KRR immediately commented that 'may be that girl came to know that we lost all our money because of 'Paradesi' film's flop.
Talking about Allu Arjun, Chiranjeevi said that Arjun is a very good dancer and he has shown some glimpses of talent through the dance bits in Daddy. He said that Arjun has got the best qualities to become a good actor. He has fear and reverence towards work. At the same time he is extremely confident when he faces camera. Chiranjeevi said that even after working for so many films, he never had a good sleep when he had a difficult scene to be shot on the following day. Likewise, Allu Arjun also had many sleepless nights before he appeared for important scenes in the film. During the shooting of Lankeswarudu, Chiranjeevi observed the 7-year-old Arjun going towards the cheetah, which was brought for the shoot and playing with it.
Talking about Aditi Agarwal, he said that she is a wonderful actress and was lucky to get a performance-oriented role right in the beginning of her career.
At the end of the function, Arti Agarwal distributed a cassette each to the people who were present on the Dias.
Sidelights:
1. Allu Arvind mentioned in the beginning that no questions about Johnny should be asked.
2. Tanikella Bharani and Suma anchored the event. Raju Hirwani is the audio producer. Allu Arvind accompanied all the guests to the dais and Aswini Dutt gave flower bouquet to the guests. Keeravani explained the situation of each song and Chandra Bose sang a couple of songs with good modulation.
3. When Srikanth entered floor, anchor Tanikella Bharani commented that after seeing India's performance in Australia in world cup, one gets an idea that Tollywood cricket team could play better.
Fact File:
Out of 100 films directed by KRR so far
1. KS Prakash handled camera for 63 films
2. Satyanand wrote dialogues for 42 films
3. Paruchuri brothers wrote dialogues for 20 films
4. Chakravarthy scored music for 44 films
5. Keeravani scored music for 17 films .