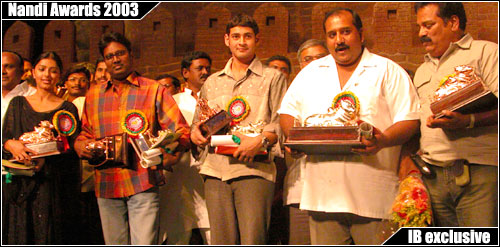 Nandi awards for year 2003 were presented by the Chief Minister of AP, Dr. YS Rajasekhara Reddy on 10th November 2004 amidst spectacular crowds at a function organized at Lalithakala Thoranam. Public Gardens, Hyderabad.
Dasari's speech:
Speaking on the occasion, Union Minister for Coal and Mines Dr. Dasari Narayana Rao said that Congress party helped Telugu film industry from moving Chennai to Hyderabad. It was initiated by Kasu Brahmananda Reddy and completed by Marri Chenna Reddy. During the campaign period of recent elections none of the film personalitied from Telugu film industry came forward to do promos for Congress party, though Congress Party did a great favor to Telugu film industry whenever it was in power. The artists should cooperate with government and there is no harm in it. But they should not behave like office bearers to the party. Even then Congress party did not stage any revenge activities on the celebrities who neglected Congress after coming to the power. Dasari Narayana Rao said that the government is taking appropriate decisions to help film industry.
Dasari also suggested that Telugu film industry should do introspection about why it is going through slump. Very few films are becoming hit. They should also brainstorm about high budgets, rapidly increasing remunerations and high rentals by exhibitors. Telugu film industry should sacrifice a bit from their quarter in order to bundle itself out of the crisis. Dasari also cautioned about high ticket rates that are scaring away regular audiences.
Dasari Narayana Rao also said the lack of award winning films in Telugu. He recommended that Film Development Corporation (FDC) should finance around 10 films a year with a budget of 50 lakhs each, which would be made only with the purpose of winning awards. Funds for these films could be extracted from the entertainment tax collected by Government from exhibitors.
VB Rajendra Prasad's speech:
Winner of Raghupati Venkaiah award - VB Rajendra Prasad recollected that he won his first Nandi award in 1965 for his film 'Anthastulu' from Kasu Brahmananda Reddy. He also said that Marri Chenna Reddy gave 90 acres of land as residence area for the people of Telugu film industry, which is now known as 'Film Nagar'. In this year, Film Nagar came up with a daiva sannidhanam in 18 months with 9 idols in single complex. VB Rajendra Prasad thanked DVS Raju, Gummadi Venkateswara Rao and TL Kantha Rao for selecting him for this honor.
YS Rajasekhara Reddy's speech:
YS Rajasekhara Reddy said that he has not seen any film in the past 20-25 and is completely out of touch. He referred to the speech of Dasari and report of Gummadi to explain what need to be done for Telugu film industry. He stressed the fact that though filmmaking is a business, the producer should not forget to make films with social awareness and social responsibility. YSR said that the celebrities from Telugu film industry have met him a couple of times to take stringent action against video pirates. YSR assured that a government ordinance would be brought up as soon as the committee submits its recommendation (30 to 45 days). During the completion of the speech, YSR gave a mild retort to Dasari by saying that government collects entertainment tax to serve the state (for improving infrastructure and give basic amenities etc), but not to invest it back in making art films. And he suggested FDC take any action or give any recommendation which does not involve asking money from the government.
Speaking on the occasion Mahesh Babu said that his Nandi award belongs to his father. Bhumika Chawla thanked all the Telugu people and declared that she certainly feel to be a part of Andhra Pradesh.
Roja Ramani and Murali Krishna anchored this event. YS Rajasekhara Reddy, Dasari Narayana Rao and G Adiseshagiri Rao are the guests of honor for this function.
Click here for Nandi Awards 2002 (last year) function coverage