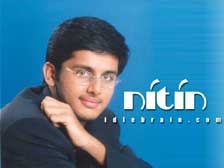 The birthday party of Nitin is celebrated in style in the Viceroy Convocation Center of Hotel Viceroy. The well wishers of Nitin and press attended this party to wish Nitin. The triple platinum disk function of 'Dil' film is also celebrated along with birthday function.
The guest list of this function include Teja, VV Vinayak, MS Raju, Burugapally Sivarama Krishna, Gemini Kiran, K Vijaya Bhaskar, Trivikram Srinivas, Dasarath, Tammudu Satyam, Asian Sunil, Kodali Naani, Sudha and Neha (Dil heroine).
Nitin cut the birthday cake. Umesh Gupta - MD of Aditya Music - distributed the shields. Later on the clips of 'Dil' songs were projected on the screen. Dil is releasing on 4th of April 2003 as Ugadi special.
| | | |
| --- | --- | --- |
| Nitin with Neha | Nitin with Kodali Naani | |
| Nitin with Teja | Nitin with Giri (One of Dil producers) | Nitin with VV Vinayak |
| Dasarath, Sudha, Giri (producer), VV Vinayak, Nitin, Neha & Sudhakar Reddy | Neha, VV VInayak, Nitin, Raju & Teja | Nitin, Teja, Sudhakar Reddy & VV Vinayak |
| Nitin with Bday cake as Sudha comes in | Nitin feeding cake to his dad Sudhakar Reddy (of Venkata Ramnana film distributors in Nizam) | Producer Raju taking shield from Umesh Gupta |
| VV Vinayak taking shield from Umesh Gupta | Key board player Anoop taking shield from Umesh Gupta on behalf of RP | heroine Neha & hero Nitin taking shield from Umesh Gupta |
| The team with the shield | MS Raju with flowers | Son of Producer Raju dancing to title song of Dil |