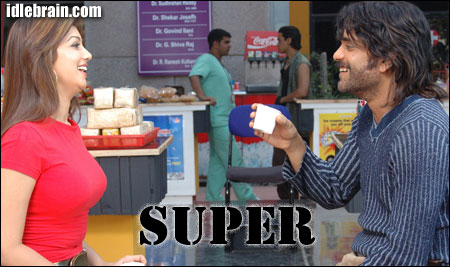 Director Puri Jagan has arranged a press meet at his newly-constructed ultra posh office on 7th May to explain the progress of his film with Nagarjuna as hero. This film is titled as 'Super'. Checkout the details of press meet -
About Super
Title of Nagarjuna's latest film is confirmed as 'Super'. This title has got caption associated with it which would be announced later. This film has Nagarjuna and Sonu Sood playing friends. This film deals with interesting incidents happen between them. This film has got many scenes involving chases and robbery. This film has got the backdrop of Mumbai, Goa and Hyderabad. Climax of the film was shot in Goa. Chase sequences were canned in Mumbai. Anuksha and Ayesha Takia are paired up with Nagarjuna.
Is the title Super is related to story
There is no relation between the storyline of the film and title Super. Super film would be a class entertainer after stylish film like Mass from Nagarjuna.
Not related to Dhoom
Though chases and robberies remind us of the film Dhoom, Super has not connection to it.
Hotel California musician for Super
Jay Oliver who worked for the haunting English song 'Hotel California' has worked for the music of super. This film would have six songs with westernized music. Sandeep Chowta scored music. The songs in this film are going to be trendsetters.
Imported bikes
Since this film has many bike chases, several bikes of Rs. 10 lakh worth each have been imported from abroad. Three Australian champion race bike riders have been employed to work for this film.
Taking in Hollywood style
This film has Hollywood style of ultra modern taking. Incidentally Super is the costliest film from Annupurna banner.
Super release in Jlne 2005
Shooting of this film is complete but for 3 songs and 2 days of talkie. The unit is moving to Mauritius on 8th of this month and shoot 2 songs over there. The film would be releasing in the month of July 2005
Future films of Puri Jagan
Super is the commitment that was given after Shivamani film. After Super, Puri Jagan would be directing Mahesh Babu. This film would go to floors in the month of June 2005. There is also another film in pipeline with Sairam Shankar as hero.