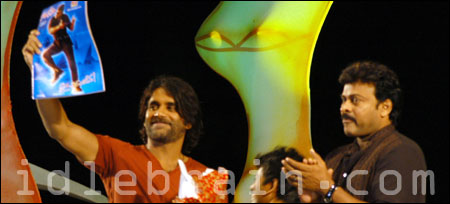 Santosham film magazine presented Santosham Film Awards 2005 on the eve of its third birth anniversary on 2nd August 2005. The function was celebrated in a Gatchibowli Stadium with Chiranjeevi and Nagarjuna being the centers of attraction. Here is the list of award winners
S. No
Category
Winner
Film
1
Best Actor
Chiranjeevi
Shankar Dada MBBS
2
Best Actress
Trisha
Varsham
3
Best Film
Varsham
MS Raju
4
Best Producer
Nagarjuna
Mass
5
Best director
Chandra Siddardha
Aa Naluguru
6
Best Mass Film
Mass
Nagarjuna
7
Best Young Performers
Allu Arjun
Prabhas
Nitin
Arya
Varsham
Sri Anjaneyam
8
Best first film hero
RP Patnaik
Ravi Krishna
Seenu Vasanthi Lakshmi
7GBC
9
Best first film heroine
Kamalinee Mukherjee
Anand
10
Best first film director
Sukumar
Lawrence
Arya
Mass
11
Best first film lady director
Suchitra Chandrabose
Pallakilo Pelli Koothuru
12
Excellent performer
Rajendra Prasad
Aa Naluguru
13
First best film producer
Kousalyendra Rao
Swarabhishekam
14
Life Time Achievement Award
Kaikala satyanarayana
-
15
Allu Amaraka Award
Rama Prabha
-
16
Best experimental film
Anand
Sekhar Kammula
17
Best family director
Kodi Rama Krishna
Puttintiki Raa Chelli
18
Best male supporting actor
Srikanth
Shankardada MBBS
19
Best Villain
Pradeep rawat
Sye
20
Best comedian
Venu Madhav
Sye
21
Best Tasteful Producer
Prem Kumar
Aa Naluguru
22
Best new comedian
Venu
Jai
23
Best male character actor
Kota
Aa Naluguru
24
Best Studio
Annapurna Studio
Nagarjuna
25
Best Art director
Thota Tarani
Arjun
26
Best Choreographer
Prabhudeva
Varsham
27
Best item dancer
Abhinayasri
Arya
28
Best costumer
Kumar
Arya
29
Best makeup
Kishore
-
30
Best female character artist
Swati
Puttintiki Raa Chelli
31
Best music director
Devi Sri Prasad
Varsham
32
Best Musical Hit
7GBC
-
33
Best male singer
Radha Krishnan
Anand
34
Best female singer
Chitra
Varsham
35
Best new female singer
Malathi
Arya
36
Best Lyrics
Sirivennela
Varsham
37
Best screenplay
MS Raju
Varsham
38
Best dialogues
Paruchuri brothers
Varsham
39
Best story
Madan
Aa Naluguru
40
Best dubbing film
Siva Putrudu
Subramanyam
41
Best costume designer
Renu Desai
Gudumba Shankar
42
Best cinematography
S Gopal Reddy
Varsham
43
Best fight master
Vijay
Mass
44
Best editor
Marthand K Venkatesh
Anand
45
Best audio company
Aditya Music
-
46
Best upcoming audio company
Madhura Entertainment
-
47
Best Production Manager
Tandava Krishna
-
48
Best outdoor unit
Taher
-
49
Best book on films
Vijetha (on chiranjeevi)
Srikanth Kumar
50
Best film critic
Pradeep
-
51
Best Photo Journalist
Janardhan Reddy
-
52
Best PRO
Venu Gopal
-
53
Best still photographer
Raja
Mass
54
Best Publicity designer
Dhani Aele
Aa Naluguru
The award function was marked with songs rendition by Mallikharjun, Sunitha, Raghu Kunch, Ghantadi Krishna, Malathi and Devi Sri Prasad. Smita (AOR, Masaka & Sye), Navneet Kaur (Akkad bakkad - Super), Abhinaya Sri (Kodikoora - Andarivadu), Sangeeta and Ali (Aparichitudu & Hungama). Among the dances, Ali's performance was more hilarious with his aparichitudu get-up for Remo song. Rajesh (Satyam fame) did a comedy skit.
After the presentation of the awards, Nagarjuna released the anniversary issue of Santosham and gave it to Chiranjeevi. Chiranjeevi and Nagarjuna together unveiled the vinyl poster of Santosham Suresh's first film 'Premiste' which is being dubbed in Telugu from Tamil blockbuster 'Kadal'.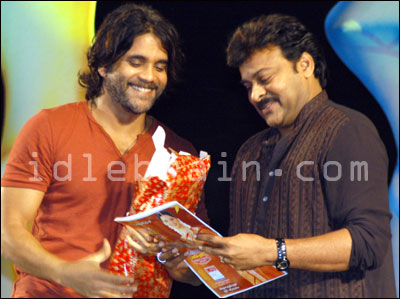 Lifetime achievement award winner Kaikala Satyanarayana said that he produced 8 films and acted in 772 films. He did various types of pouranikas, folklores, historical and social films. He is glad to have got this award as recognition to his service to Telugu film industry.
Hero Rajendra Prasad who won the excellent performer award said that he was fortunate to get such an author-backed role of Raghuram in Aa Naluguru. It was a memorable experience for him to do that role. The human in Rajendra Prasad was satisfied more than the actor in him for such a nice role.
Nice to get awards with Chiranjeevi - Nagarjuna
Nagarjuna who won 3 awards said that he and Chiranjeevi got best producer and best actor awards respectively in the last year. He is glad to see it repeating this year to. Nagarjuna wishes that the awards would be swapped next year. Nagarjuna wishes to act in a film produced by Chiranjeevi for which they would get the desired awards.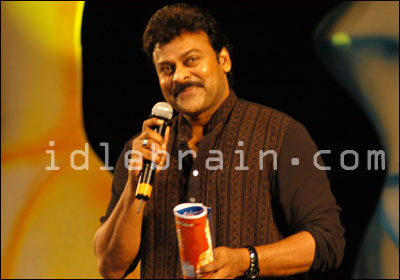 I will make a film with Nag as hero - Chiranjeevi
Chiranjeevi played it to the galleries when Tanikella Bharani cautioned crowds with 'Silence Please'. Chiranjeevi immediately responded by saying 'No Silence Please'. Without the hungama of fans, there would not be any life in functions. He said, "I get bored with Hyderabadi biryani if I eat it continuously. But the process of meeting my fans would never fail from being excited. It is nice to see that a Telugu film magazine giving awards by considering award films. I would promise to you all that I would produce a film with Nagarjuna as hero with in the next couple of years".
Swapna (TV9) and Tanikella Bharani anchored this event. MAA TV telecasted it live.
Click here for Santosham awards 2004
Winners List
Photo Gallery.