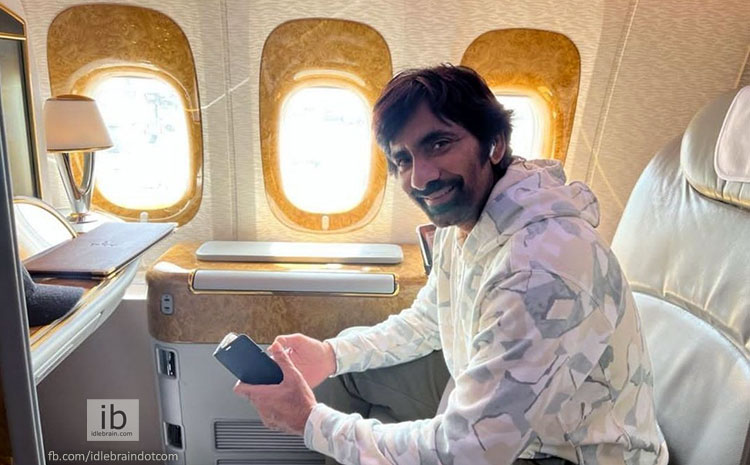 21 August 2023
Hyderabad

Mass Maharaja Ravi Teja after the blockbuster success of Dhamaka has collaborated for the second time with the popular production house People Media Factory for a first-of-its-kind movie Eagle being helmed by cinematographer-turned-director Karthik Gattamaneni. The makers earlier unveiled the title of the movie through a small glimpse which has set good expectations.

Meanwhile, Ravi Teja and the team jetted off to London for the new and important shooting schedule of the movie. The team will shoot some crucial sequences on Ravi Teja and other prominent cast in this schedule.

Ravi Teja plays a role with multi shades in the movie. As sown in the glimpse, he is a most wanted painter, a cotton farmer, and has other avatars too. Anupama Parameshwaran is the leading lady and Kavya Thapar is the other heroine. Navdeep and Madhubala are the other important cast.

Written and directed by Karthik Gattamneni, the movie has a screenplay written by the director himself, alongside Manibabu Karanam. TG Vishwa Prasad is producing the movie, while Vivek Kuchibhotla is the co-producer.

For this high-budget entertainer, a team of top technicians are taking care of all the crafts. Karthik Gattamneni is also the editor and cinematographer of the movie for which dialogues are provided by Manibabu Karanam. Davzand is the music director and Srinagendra Tangala is the production designer.

The movie Eagle is scheduled for Sankranti's release in 2024.
Cast: Ravi Teja, Anupama Parameshwaran, Navdeep, Srinivas Avasarala, Madhubala, Kavya Thapar
Technical Crew:
Written and Directed by : Karthik Gattamneni
Screenplay: Karthik Gattamneni & Manibabu Karanam
Producers: T.G Vishwa Prasad
Co-producer: Vivek Kuchibhotla
Banner: People Media Factory
Music Director: Davzand
Editor: Karthik Gattamneni
Dialgues : Manibabu Karanam
Lyrics Chaitanya Prasad, Rehman & Kalyan Chakravarthy
Co-Editor: Uthura
Co Director : Raam ravipati
Stylist : Rekha Boggarapu
Production Designer: Srinagendra Tangala
Action : Ram Laxman, Real Sathish & Tomek