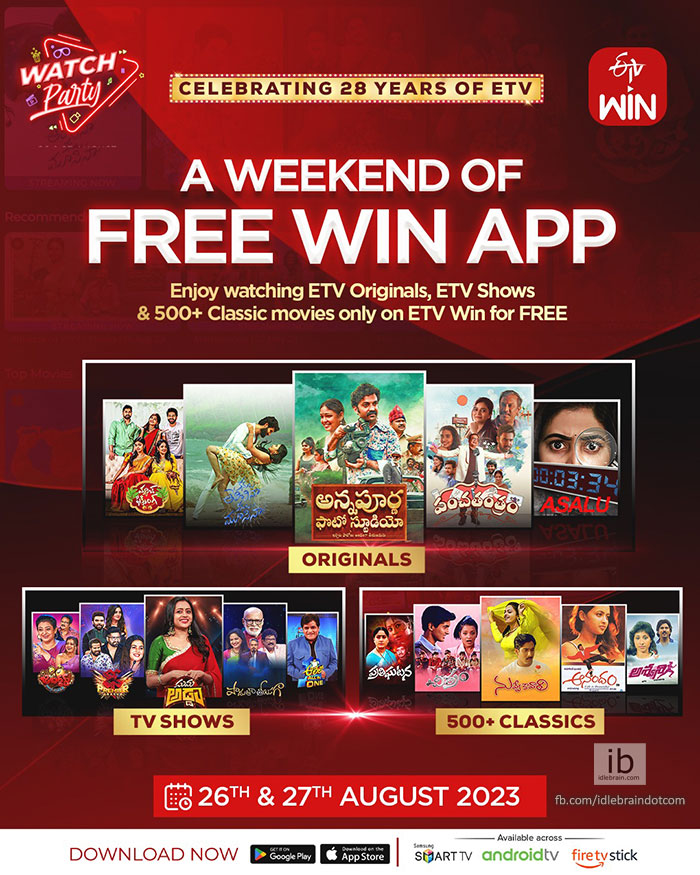 25 August 2023
Hyderabad

In a momentous celebration of its 28th anniversary, Etv is thrilled to announce a special treat for its viewers. ETV Win, the network's widely acclaimed over-the-top (OTT) platform, is offering a weekend of free content access on August 26th and 27th, 2023.
Launched in 2019, ETV Win has swiftly established itself as a dynamic and engaging platform, uniting diverse content offerings under one virtual roof. Since its inception, the digital streaming platform has been dedicated to providing an unmatched entertainment experience to its audience.
The platform ensures subscribers enjoy two new movie releases every month, enriching their cinematic journey. Additionally, ETV Win offers an extensive library of over 500 classic movies, making it a treasure trove for film enthusiasts.
Emphasizing viewer convenience, ETV Win provides a daily 10-hour catch-up TV content feature, allowing audiences to access their favourite shows before they air on television. The platform also brings the excitement of live TV, enabling users to watch their beloved shows and events in real-time.
Among ETV Win's notable recent releases are critically acclaimed titles like "Panchatantram," "Asalu," "Annapurna Photo Studio," "Police Story," and "Kannulu Terichina Kannulu Moosina," showcasing the platform's commitment to diverse and captivating storytelling.
One of the crowning jewels of ETV Win is its vast library of timeless classics, with iconic films like "Chitram" and "Anandam" providing an enriching cinematic experience to the viewers.
So mark your calendars and get ready to embark on a captivating journey of entertainment with ETV Win this August 26th and 27th. Join the celebration and experience the magic of quality content that ETV Win has been delighting viewers for the past 28 years.