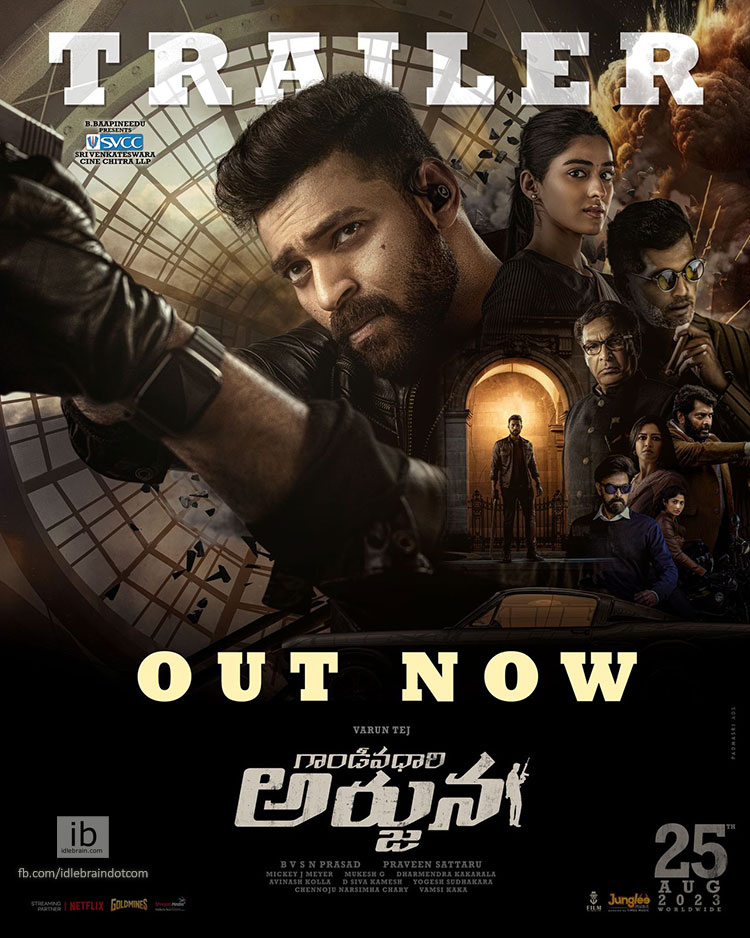 10 August 2023
Hyderabad

The trailer of Varun Tej-starrer Gandeevadhari Arjuna was released at Prasads multiplex in Hyderabad on Thursday. The event was attended by the film's cast and crew.
Playing out over two minutes, the trailer opens with the voice over of Aditya Raj (played by Nasser), who will be seen as Union Minister for Environment and Climate Change. The setting is London, as a convoy and an army of security personnel trail a high profile man. "In 25,000 years, the things that humans have developed have surpassed what God has created. Do you know how?" Aditya Raj begins. He is a high-risk target and Arjun (Varun Tej) is assigned the task of protecting him while he is on a summit in London. A character played by Sakshi Vaidya is dead against Arjun's inclusion in the security detail of the minister and asks "aren't there any other personnel in the agency for the job"? "There are," says a character played by Manish Chaudhari, "but only Arjun can take a bullet for his client". For Arjun, morals and ethics are above everything and if his client commits a blunder, he wouldn't hesitate to take down his life. He is tasked by the minister for a small favour. There's a ruthless businessman (Vinai Rai) operating in Europe whose selfish acts have resulted in the deaths of thousands of innocents and Varun has a personal connection with him. The rest of the trailer focuses on how Varun unleashes a reign of terror on the businessman and his henchmen.

In conclusion, the trailer is racy and served with slick action filled with chases, gun fights and hand-to-hand combat sequences, while promising to highlight a prevalent issue that is posing a threat to wipe off humanity. The pulsating background score by Mickey J Meyer heightens the tension around the proceedings. Varun seems to have infused a lot of energy playing his part Arjun and it seems to be a multi-dimensional character as well laced with dramatic beats.

Also featuring Vimala Raman, Vinay Rai, Narain, Roshini Prakash, Abhinav Gomatam, Ravi Varma, Kalpalatha and Baby Veda, Gandeevadhari Arjuna is scheduled to be released on August 25.