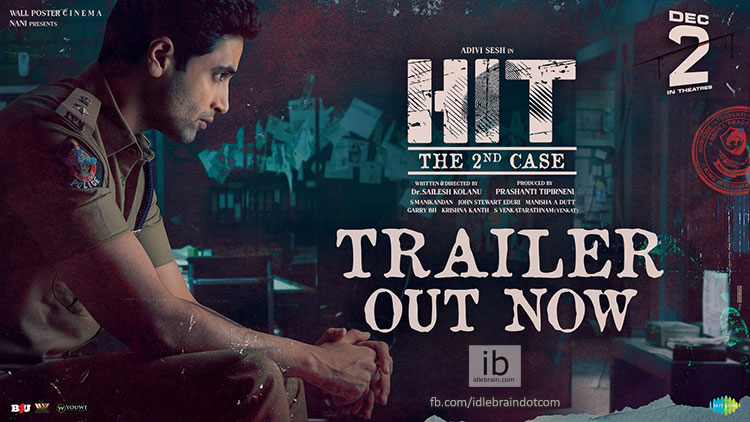 23 November 2022
Hyderabad

The trailer of HIT- The Second Case, fronted by Adivi Sesh, was released today in Hyderabad. While the teaser which was unveiled earlier this month introduced Adivi Sesh as cop KD, who has a rather chill attitude towards his profession, the trailer dives directly into the investigation part. A woman's body is dismembered and the killer is on the loose.
The two minutes 29 seconds trailer starts off with KD saying criminals are bird-brained and they can be caught in under five minutes. But soon he realizes that he is dealing with someone serious. The trailer soon jumps into him interviewing various people who Sanjana –the diseased–had an acquaintance with. A new lead emerges when he discovers that Sanjana was not raped and he is on it, while his superior (played by Rao Ramesh) wants the case to be transferred to law and order department under pressure. As candle marches and protests, demanding justice to Sanjana, erupt all over Vizag, KD has to race against time to nab the killer at large. Dr Sailesh Kolanu's taking, John Stewart Eduri's racy background score, Garry BH's fast cutting and Manikandan's cinematography add to the overall impact of the trailer.
Also featuring Posani Krishna Murali, Rao Ramesh, Tanikella Bharani, Srikanth Maganti and Komalee Prasad in supporting roles, HIT - The Second Case will open in cinemas on Dec 2. Kolenu has written and directed the second part as well. It is a joint production venture between Nani and Prashanti Tipirneni.