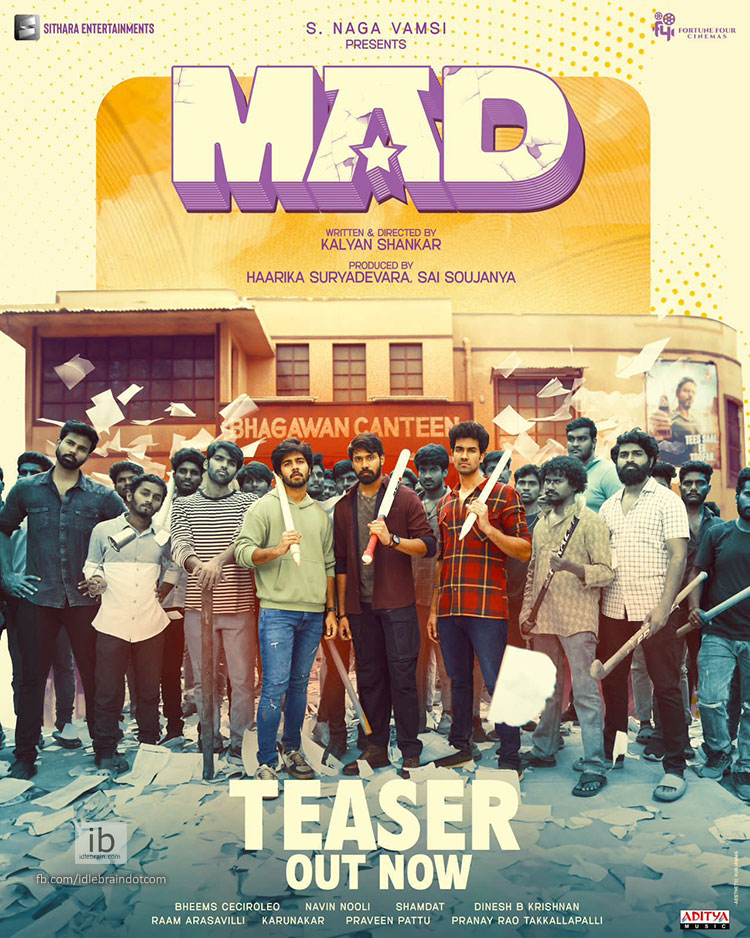 31 August 2023
Hyderabad

As S Radha Krishna, chief of Haarika & Hassine Creations turned a year older on Thursday, production house Sithara Entertainments dropped the teaser of their upcoming film Mad, featuring young faces Narne Nithin, Sangeeth Shobhan, Ram Nithin, Sri Gouri Priya Reddy, Ananathika Sanilkumar and Gopikaa Udyan in the lead roles. It is written and directed by Kalyan Shankar of Nenu Mee Kalyan web series fame.

The one-minute-35-second teaser opens with two gangs engaged in a massive fight. The setting is the Regional Institute of Engineering College and its hostel. The college has a sports club, dance club and NCC, with strict prohibitions on ragging. In reality though, ragging is prevalent as there is an adult-toned hilarious tube light scene involving a senior and juniors. The teaser narrates the story of three particular individuals from the college (Narne Nithin, Sangeeth Shobhan and Ram Nithin), their bond, their experiences at the college and their romances. The college and friends alter lives and the metamorphosis is shown in the character of Laddu (played by Taxiwaala fame Vishnu), who transforms from a naive lad to a cigarette-smoking youngster within months of joining the college, much to the shock of his dad played by Muralidhar Goud. A lot of emphasis is on the hostel life of the students and the situational humour that emanates from it.

Overall, Sithara seems to have pumped in a lot of money for a film featuring fresh faces as is evident in the rich look the film sports. The teaser is brimming with liveliness, college spirit and the jokes land, promising unlimited fun. While the target seems to be primarily teenagers and youngsters, everybody who had an active college life is also bound to connect to the writing. It is truly mad and effervescent.

Haarika Suryadevara is debuting as a producer with Mad. She is co- producing it with Sai Soujanya, Trivikram's wife, while Naga Vamsi is presenting. Bheems is the music director.