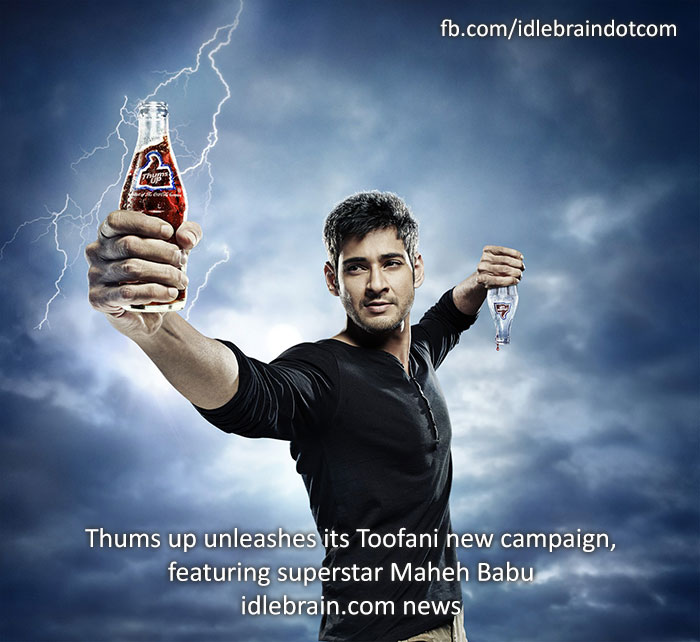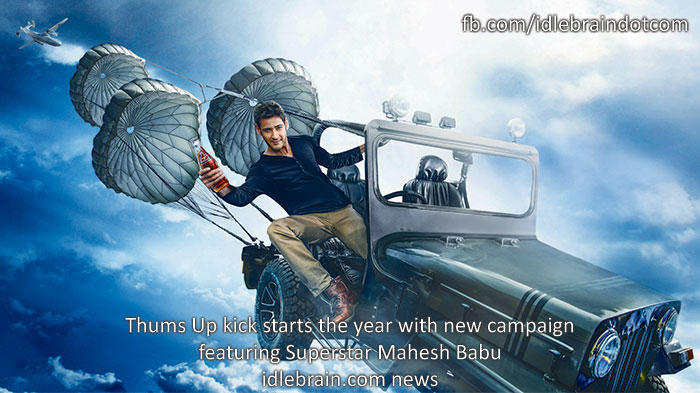 15 March 2014
Hyderabad
• Thums Up kick starts the year with new campaign featuring Superstar Mahesh Babu
• Campaign builds on the brand's core philosophy by urging the youth to push boundaries, pave their own path and to unleash their inner potential
• Conceptualized by Leo Burnett and directed by Julien Troussellierof Cutting Edge Picturesis all set to roll out on 14th March, 2014.

Hyderabad, 14thMarch, 2014:India's most iconic soft drink brand, Thums Up is back with a thunderous campaign to kick start the year, featuringSuper star and action hero, Mahesh Babu. With characteristic oomph and chutzpah, the new campaign reminds consumers to push boundaries, pave their own path and unleash the potential within, with the tagline "Vellutoofanarambhinchu, kevalammoothetheeyaalsiuntundi". This clarion call is a further build on the drink's iconic and much celebrated brand philosophy of 'Live Like Thunder'.
Speaking about his experience, Superstar and ThumsUp Brand Ambassador Mahesh Babusaid, "I am excited to be part of the next leg of the toofaniThums Up campaign. This time, the toofanis even more electrifying! I completely identify with Thums Up's new campaign thought – asking people to unleash the potential within them – bas dhakkan hi tohhatanahai. Thums Up stands for this inherent potential which is within each of us. It's about self-transformation, finding your true calling and unleashing ones Inner Potential!"
Speaking about the campaign, Debabrata Mukherjee, VP – Marketing, Coca-Cola India said,"EkToofanKhatam to DoosraShuru". In continuation of our Toofani philosophy, Thums Up is back with its thunderous campaign: 'Toofan to sab keanderhai, bas dhakkan hi to hatanahai'. The campaign builds the Thums Up philosophy of inspiring today's youth to recognize their inner potential and unlock the Thunder within. We are constantly trying to push boundaries to bring this message to our consumers and this year, we are setting the bar higher. The compelling visual narration portrays Salman unleashing the Thunder within, for his bottle ofThums Up".
Conceptualized by Leo Burnett, the TVC has been created by KV Sridhar, Chief Creative Officer India Sub-continent, Leo Burnett andSainathSaraban, Executive Creative Director Leo Burnett. The TVC has been directed by Julien Troussellier under the Cutting Edge Pictures production banner.
The campaign will be amplified through a 360 degree integrated communication plan. Commenting on the film, KV Sridhar, Chief Creative Officer India Sub-continent, Leo Burnett said, "The new campaign embodies the values of being adventurous and the ability to go beyond one's limit. The idea behind this whole approach was to convey that a true Thums Up drinker will go to all possible heights to experience the energetic and energizing taste of Thums Up. In the TVC Salman Khan shows the extent to which he can go for his Thums Up by achieving the impossible.
In line with the theme of the 2014 campaign, Thums Up has rolled out its extremely popular ruralmarketing initiative, ThumsUpToofaniJalsa in Rajhmundhary. This initiative, running nationally in its fifth year now, is a unique consumer engagement initiative, allowing Thums Up to connect and engage with its loyalists, giving them the opportunity to participate in and experience an evening of great entertainment and action. Thums Up Jalsa is one of the company's largest consumer connect initiative for Rural India and the response and encouragement that it has got from consumers over the years has guided us in making this event larger, better and more entertaining with every passing year.
About Coca-Cola India
Coca-Cola India is one of the country's leading beverage companies, offering a range of healthy, safe, high quality, refreshing beverage options to consumers. Over the last 20 years, ever since its re-entry in 1993, the company has been refreshing consumers with its beverage products - Coca-Cola, Diet Coke, Thums Up, Fanta, Limca, Sprite, Maaza, Minute Maid range of juices, Georgia and Georgia gold range of hot and cold tea and coffee options, Kinley and Bonaqua packaged drinking water, Kinley Club Soda and BURN. The Company along with its bottling partners, through a strong network of over 2.2 million retail outlets, touches the lives of millions of consumers, at a rate of more than 500 servings per second. Its brands are some of the most preferred and most sold beverages in the country – Thums Up and Sprite – being the top two selling sparkling beverages.
The Coca-Cola system in India has registered 30 consecutive quarters of growth, 19 of them being double digit. It believes in the long term growth potential of the country and this system is committed to invest US$ 5 billion in its operations between 2012 and 2020. The system already provides direct employment to 25,000 people and indirect employment to 150,000 people.
The Coca-Cola system in India is contributing in its own small way to building sustainable communities and reducing its own environmental footprint. Some of our community development programs include the "Support My School" program – a movement for healthy, active, happy schools, the 'Parivartan' and 'Pragati' retailer training program, Career Development centers to train youth and make them employable, women empowerment program as a part of the global 5BY20 campaign, Unnati – a sustainable mango farming project etc.