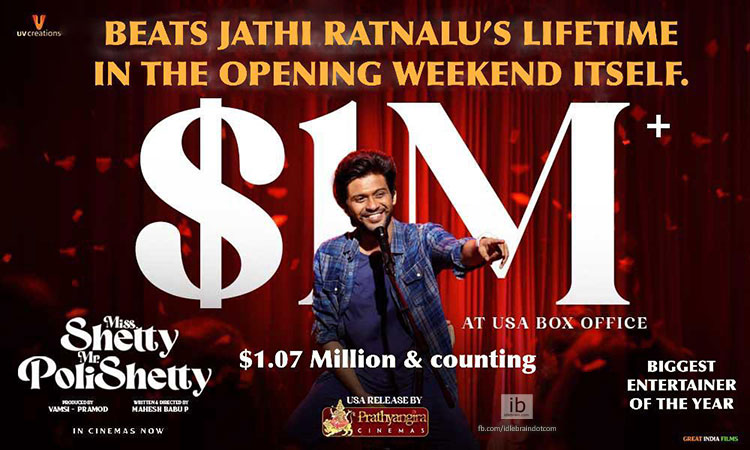 11 September 2023
Hyderabad

Bolstered by extremely positive word-of-mouth and favourable reviews, Anushka Shetty and Naveen Polishetty-starrer Miss Shetty Mr. Polishetty (MSMP) had a fantastic weekend in the US. Despite the Jawan onslaught, the UV Creations production held on to its own, registering an impressive haul of $1 million. After Jathi Ratnalu, it is Naveen's second film to do one million dollars at the US box office.

Until Sunday, the total gross from the US stood at $1.07 million. At the rate with which it is going, it shouldn't come as a surprise if it breaches the $2 million dollars club.
In the Telugu states too, the film is enjoying a decent run despite torrential rains. From Nizam, for a film of its pace, it collected Rs 6.9 crore gross in the first weekend, demonstrating how well it has been received. With no great competition in sight next week, the film should continue to draw in decent footfalls if the makers keep up to the vigors of promotions.

Directed by P Mahesh Babu, MSMP, set in Hyderabad and London, narrates the tale of a high-flying and happy single chef Anvitha Shetty (Anushka) who wants to become a mother with the help of artificial insemination. She enlists the services of an aspiring standup comic (Naveen) for it and what transpires between them over it is told in a humorous way with a touch of drama.