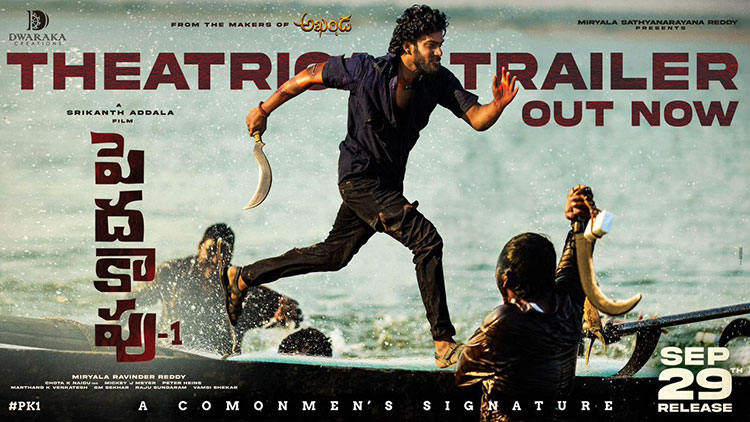 11 September 2023
Hyderabad

The trailer of Srikanth Addala's next, Peddha Kapu Part-1, featuring new face Virat Karrna in the lead role, was launched at RK Cinemax, Hyderabad on Monday.
The two-minute-24-second trailer opens with Rao Ramesh's part (a constant fixture in Addala's films) gazing sternly at a flag before it shifts to Tanikella Bharani's dialogue to a leader Naga Babu, "A girl fell into a well and with no one in sight to help, she dies. There are 100s of similar stories. Is your party devoted enough to treat a stranger as a family member and help him?" The setting is a rural village in Andhra Pradesh, where caste atrocities are at play, with the upper caste people burying people belonging to lower caste alive due to what appears to be the seeds of revolt. While Addala doesn't share much in terms of the plot, it does show how one average youth (Virat) rises to save his community. "If you have so much arrogance, how much we should have", he constantly recites in the trailer, showing that he is up for a fight to protect the interests and lives of his people. And fight he does to eliminate his opponents who are in numbers. Addala, in a first for him, is also playing what seems to be a negative role here. "Hack the heads of all the people who are standing on their feet. To hell with their self-respect", he declares at one point in the trailer.

The film looks like a political thriller set against the backdrop of caste supremacy, class struggle, oppression and confrontation, while cameraman Chota K Naidu's dark hues gives it an atmospheric feel and an earthy setting. Mickey J Meyer's zippy and haunting background score elevates the trailer's appeal a notch higher. Overall, the trailer looks terrific with top quality visuals and rich score, while the action seems to be gore. For someone who made soft films like Kotha Bangaru Lokam and Seethamma Vakitlo Sirimalle Chettu in the past, this project seems to be quite a transition.

Also featuring Pragathi Srivasthava, Rao Ramesh, Aadukulam Naren, Easwari Rao, Anasuya, Rajeev Kanakala and Brigada Saga, Peddha Kapu Part-1 opens in cinemas on September 29.