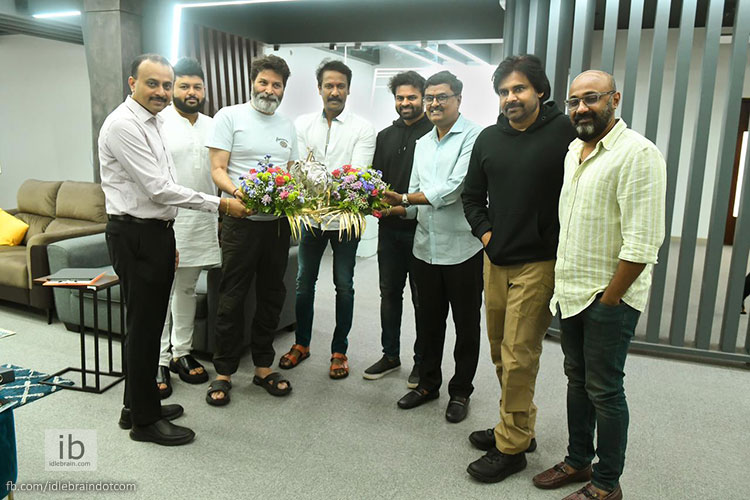 22 February 2023
Hyderabad

In-the-making for a long time, Vinodhaya Sitham remake, starring power star Pawan Kalyan and Supreme hero Sai Tej, went on floors in Hyderabad on Wednesday. Original director P Samuthirakani is on board to direct the Telugu version as well. The untitled project marks Pawan and his nephew Sai Tej teaming up for the first time for a feature film.
"Most ambitious & Powerful Combination #PSPK & #SDT project takes off today Keep your Bars High Bombarding updates on the way," production house People Media Factory, which is steering the film on the ground level, posted on Twitter earlier today. They are partnered by Zee Studios in this endeavour.
The Tamil original, a fantasy comedy released in 2021, told the story of a self-obsessed man (played by Thambi Ramaiah) in his 50s—also a control freak— who dies in an accident. At his request, "the time" (Samuthirakani) grants him an extension of 90 days to correct his ways. Ramaiah's role has been given a complete new spin by film's dialogue and screenplay writer Trivikram Srinivas to be played by Sai Tej, while Pawan will play "the time". The details of the supporting cast are awaited.
S Thaman is on board to compose the tunes for the project, continuing his association with Pawan Kalyan after Bheemla Nayak and OG with Sujeeth Sign, while George Williams is believed to be the cinematographer.
It's most likely that Vinodhaya Sitham remake will be Pawan's third release for the year after Hari Hari Veera Mallu and OG. Chances are that shoot-wise too it may take precedence over other films as it requires less number of his call sheets.