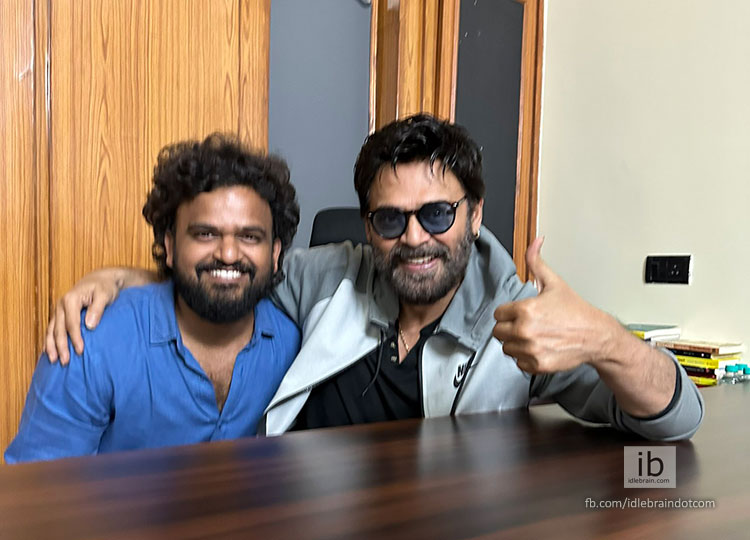 6 September 2023
Hyderabad

Remembering Teacher's Day on September 5, director Sailesh Kolanu penned an earnest note on X (formerly Twitter), cherishing his experience and learning from victory Venkatesh, on the sets of his next, Saindhav, which Venky is spearheading.

Describing the veteran actor as a golden man who is keeping him grounded and helping him stay positive, Sailesh wrote, "I have been lucky to find amazing teachers and mentors in my life right when I need them the most. Just when I have started to taste a little success in this field of work, I got this golden man in my life to teach me how to stay grounded, keep working hard, stay positive and consider everything I have in my life as a blessing."

He added, "#Saindhav is more than just a movie for me cos of @VenkyMama. Thanks a lot sir. Happy teachers' day."
The director accompanied the post along with a picture of him with Venky. Talking about it, he wrote, "This pic was clicked right after sir watched the last 18 mins of Saindhav. The smile says it all. Can't wait to show you all what we created :) Soon. Very soon."

Saindhav's new schedule began in Sri Lanka on Monday and will go on for another 16 days. The unit is there to film talkie portions, action, montages etc in this leg. It will be followed by work of four days, with which they should call it a wrap. Of the four days, two days are reserved for a car chase sequence under the supervision of Peter Hein master and the other two for patch work.

A high-octane action and emotional drama, the film is a production venture of Venkat Boyanapalli under Niharika Entertainment, while Tamil musician Santosh Narayanan is scoring the music. It is being made on a massive scale with a lavish budget and is believed to be the costliest film of Venky's splendid career.