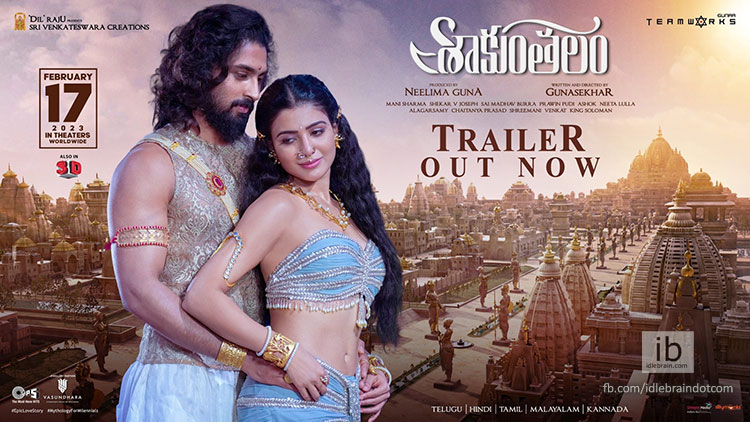 9 January 2023
Hyderabad

The trailer of Samantha Ruth Prabhu-starrer Shaakuntalam was released by the makers in Hyderabad today.
The two minutes forty seconds trailer offers a glimpse into the magical world of Shaakuntalam created from scratch by Gunasekhar, who is known to be a stickler for perfection. His stamp is evident in all the frames, ably transporting the viewers into an era gone by. It begins with a group of birds amid snow-clad mountains carrying a new born baby girl, who is the symbol of love between Menaka and Vishwamitra, and abandoning her in a forest. A sage (played by Krishnamraju) takes the baby under his wings and she grows up to be the ethereal Shakuntala (Samantha), who is destined at birth to fulfill a certain purpose. King Dushyanta's (Dev Mohan) imposing kingdom is introduced next, followed by a glimpse of him. On a hunting expedition, he sees Shakuntala – in what is a jaw-dropping introduction for the latter – for the first time and it's love at first sight for him. The haunting background score by Mani Sharma elevates the visual experience more. The visuals of their romance dot the trailer next. Soon Tapovanam, the place where Shakuntala resides, is engulfed by bad omen. Shakuntala faces the brunt of sage Durvasa's (Mohan Babu) anger due to her love story, while Kashyapa maharshi comes to her rescue. Now pregnant with Dushyanta's child, she confronts him at his kingdom, only for him to plead ignorance, saying he doesn't' know her. Her pain seems to take centre stage from now onwards. Gunasekhar also peppered the narrative with a war episode between Dushyanta and Asuras mounted on a lavish scale. The trailer ends with Allu Arha, who will be seen as Prince Bharata, riding a lion. Overall, the trailer has enough romance, drama and action to thrill viewers of all ilks.

Based on Kalidasa's acclaimed Sanskrit play Abhijnana Shakuntalam, Shaakuntalam is presented by Dil Raju via Sri Venkateswara Creations in collaboration with Gunaa Teamworks and is produced by Neelima Guna. The film will be released in Telugu, Tamil, Malayalam, Kannada, and Hindi on February 17.