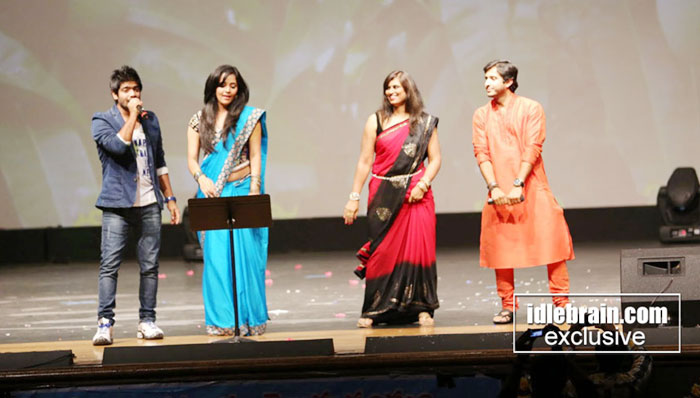 To feature your NRI communty news in idlebrain.com, please mail us at [email protected]
01 April 2015
Hyderabad
Los Angeles: TASC celebrated Ugadi and Sri Rama Navami in a grand style on Saturday March 28th, 2015 at Long Beach, California. There was festive atmosphere all around the venue with nearly 1,600 people joining the celebrations. The strength and foundation of this 44 year old TASC are it's members and once again they showed their love and affection by attending and supporting this event in such large numbers from all over Southern California. Event showcased our rich Telugu culture and traditions. This was a super successful event and has received tremendous response from our Southern California Telugu community in spite of having the world cup Cricket final on the same day and also being an afternoon event
The day started by welcoming the guests with Ugadi Pacchadi, Panakamu and Vadapappu. The main cultural event started with lamp lighting by TASC EC team and followed by kids performances. Our motive has always been to encourage local talent and provide a platform to showcase their talent. The fantastic show by our local kids proved that are equally good when it comes to talent, performance and entertainment. Audience were highly impressed with wide variety of programs by our kids of different age groups.
Then came our celebrity anchors and singers with big bang. The absolute entertainment package of Anasuya, Ravi, Khousalya and Revanth, mesmerized everyone with their anchoring, jokes, singing and games. The highlight of the event was the stage game similar to "Mondi Mogudu Penki Pellame" tv show. First time ever in our Southern California history a very popular TV game show has been performed on stage. Khousalya and Revanth captivated the audience with some great singing. It was an outright blast and has lived up to the Great Expectations of the people.
TASC President Mallik Bonthu thanked everyone for coming out and supporting this fantastic event. He thanked the entire EC team and the dedicated volunteers for this a mega successful event. Success is a great motivator and it provides great inspiration to work even harder for the upcoming events. Audience thanked TASC Executive Committee and all the volunteers and donors for organizing such a great memorable event.
EC team thanked to donors Dr. Prem Reddy, Dharma Reddy Gummadi, Lakshman Koka, Sreenivasa Reddy T, Prasad Papudesi and NATS Sambaralu.